Our partners & clients:
BBC Wildlife
Born Free Foundation
RSPB
Royal Photographic Society
Royal Institute of Watercolours
The Scout Association
Rotary Clubs of GB
Birmingham University
NFU
George Corderoy & Co
Les Routiers
Booker Wholesale Foods
Burlington Art Fair
Channel 4
The Artist Publishing Company
EMAP Active
Geographical
The Great Outdoors
Financial Times
Daily Telegraph
Bird Watching
Sir John Soane Museum
Ethiopian Wolf Conservation Programme
Mountain instructors & leaders
Alan Hinkes OBE
Dave Green
John Whittle
Pete Hawkins
Steve Elliott
Frag Last

Paint in Iceland with David Bellamy
20th - 28th Jun 2012
Join David Bellamy on a unique painting holiday to a place of monumental natural beauty and one of nature's greatest showpieces, where the quality of light, the spectrum of colours and variety of landscapes is unparalleled making this holiday a real treat for watercolour painters wishing to try something new.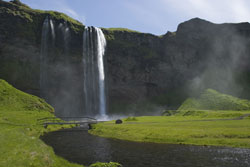 To maximise the range of painting material this will be a two-centre painting holiday commencing in northeast Iceland on beautiful Lake Mývatn. The lake is 37 sq. miles and has over 50 islands or pseudo-craters. The area offers diverse painting subjects; lava field and pillars, volcanic craters and hot springs. June is the best time of year for wildflowers and when the lake has thousands of breeding pairs of ducks and for whale watching off the northeast coast. Time permitting there is the option to paint puffins on Lundey Island.
It is a scenic drive along the Kjölur highland track, passing many waterfalls, beautiful mountain scenery, grassy meadows and isolated hamlets of traditional buildings to our second painting base at Gesyir in the heart of south central Iceland's geothermal area. Here your painting subjects will be spouting geysers, colourful hot springs, psychedelic algae and mineral deposits, the fantastic Gullfoss waterfall, lava deserts and the wild and sandy southern coastline, which is a great place for painting sea birds and the dramatic pounding of the surf. A full day will also be spent exploring and painting Iceland's second largest ice cap – Langjökull.

David Bellamy is a very popular tutor and well known for his watercolour landscape painting and love of wild mountain areas, so he is the perfect guest artist for this extraordinary painting holiday. He is known to many through his workshops, videos, books, and articles in the magazine. David will introduce you to the lighting, moods and aerial perspective of Iceland's diverse and dynamic landscape. He will show you how to make the most of the sublime views, how to suggest the immense scale of the place, and how to give power to your compositions. He will also look at how to introduce flowers, wildlife, figures and interest into a landscape.
You will be staying in 'luxury' accommodation for Icelandic standards, with a comfortable hotel on the shores of Lake Mývatn and at Geysir the hotel is directly in front of the thermal fields, so you will be able to paint the seismic activity as the light changes during the course of a day. Everything is organised for you by an accompanying escort and included are all meals, flights, hotels and a local Icelandic guide. To maximize the amount of painting time and minimize the amount of travelling an internal flight is included.

To learn more about David Bellamy click here
This holiday is on behalf of the Leisure Painter Magazine
Summary Itinerary
| | |
| --- | --- |
| 20 June | Fly from London to Akureyri. Drive to Lake Mývatn. |
| 21, 22 & 23 June | Painting in and around Lake Mývatn. |
| 24 June | Painting in and around Lake Mývatn. |
| 25, 26 & 27 June | Painting in the Gesyir and Gullfoss geo-thermal area. |
| 28 June | Late afternoon flight from Reykjavík to London. |

Dates: 20 – 28 June 2012
Price: £3,595.00 per person fully inclusive
Single supplement: £ 435.00
Number of students: 10 - 15