Our partners & clients:
BBC Wildlife
Born Free Foundation
RSPB
Royal Photographic Society
Royal Institute of Watercolours
The Scout Association
Rotary Clubs of GB
Birmingham University
NFU
George Corderoy & Co
Les Routiers
Booker Wholesale Foods
Burlington Art Fair
Channel 4
The Artist Publishing Company
EMAP Active
Geographical
The Great Outdoors
Financial Times
Daily Telegraph
Bird Watching
Sir John Soane Museum
Ethiopian Wolf Conservation Programme
Mountain instructors & leaders
Alan Hinkes OBE
Dave Green
John Whittle
Pete Hawkins
Steve Elliott
Frag Last

East African Wildlife and Landscapes with Hazel Soan
2nd - 16th Oct 2012
Amboseli, Mt Kilimanjaro, Olduvai Gorge & Ngorongoro Crater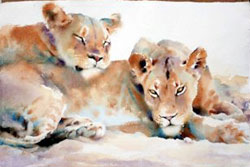 Africa takes us back to our roots, whether that's human roots and the discovery of 1.8million year old hominid at Olduvai Gorge or seeing the 'Big Five' migrating across the plains as they have done for millions of years, or being overpowered by some of nature's greatest showpieces - the Rift Valley, Mt Kilimanjaro & the Ngorongoro Crater, or living amongst an ancient culture – nomadic Maasai tribes. Rarely do you get the chance to see and experience all this, and have expert help on hand to translate these experiences on to canvas or paper.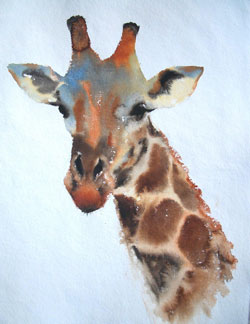 On this handpicked painting safari you will have the best views of Kilimanjaro, you will camp on the Serengeti plains amongst genuine nomadic Maasai family groups and be able to paint the spectacular wildlife in the Ngorongoro Crater from undisturbed private locations, where you can work out in the open.
Your journey starts in Kenya in Amboseli National Park. This is a delightful park with shimmering plains and stunning views of Kilimanjaro. This is elephant country
par excellence
and home to 'Echo the Elephant' and her family, but there are also giraffe, hippo, buffalo, zebra, gazelle, hyenas and jackals to be seen. Amboseli is where some of the elephants from Daphne Sheldrick's orphanage are released back in to the wild and where Cynthia Moss has done much of her research.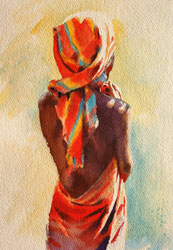 From Amboseli it's an easy drive through the Rift Valley and across in to Tanzania. Here your African experience includes staying on a small hilltop coffee farm with breath-taking 360◦ views over the Ngorongoro walls and the Rift Valley, spending two nights in an authentic 'Out Of Africa' style camp in the vicinity of Olduvai Gorge area and amongst the nomadic Maasai culminating with 3 full days painting the wildlife in the Ngorongoro Crater. This volcanic caldera is a natural amphitheatre (60m deep and 16km by 19km wide) which provides a constant supply of water and food for its 30,000 resident mammals, making it one of the highest density game areas in the world. The crater provides the best opportunity of seeing lion, leopard, rhino, elephant and buffalo in one day, as well as giraffe, zebra, gazelle, hyenas, jackals and black rhino. Picnic lunches in a private area on the Crater floor will enable you to paint out in the open.
To maximise the amount of time spent painting and minimise the amount of travelling you will fly back to Nairobi spending your last night at Karen Blixen Cottages, which was formerly her coffee farm (1914 – 1931) 'I had a farm in Africa, at the foot of the Ngong Hills'.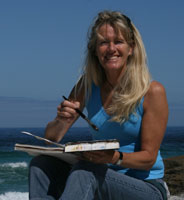 HAZEL SOAN is a hugely popular painter and art tutor. She featured in the Watercolour Challenge TV series and has published many instructional books including African Watercolours. Hazel has a natural ability to inspire students of all abilities and is a devoted teacher providing individual guidance and group demonstrations.. Her love of Africa and painting its wildlife makes her the perfect guest artist on this safari. Hazel Soan will be with you every day helping you translate your experiences in to paintings. Whilst it will be possible to paint and sketch from the private picnic spots in the Ngorongoro Crater most painting will be done in the afternoons when you are back at the lodges.

To learn more about Hazel Soan click here



Summary Itinerary
| | |
| --- | --- |
| 2 October | Depart London. Overnight flight. |
| 3 October | Arrive Nairobi. Drive to Amboseli National Park. Lodge accommodation. |
| 4, 5 & 6 October | Amboseli National Park. Lodge accommodation. |
| 7, 8 October | Private coffee farm in the Rift Valley. Lodge accommodation. |
| 9 & 10 October | Olduvai Gorge & Maasai conservation area. Tented camp. |
| 11, 12 & 13 October | Ngorongoro Crater. Lodge accommodation. |
| 14 October | Fly back to Nairobi. Overnight. |
| 15 October | Day time flight to London |
| | |
| --- | --- |
| Price per person : | £5,495.00 |
| Single room supplement : | £500 |
| Number of students : | 15 |
This painting safari is arranged in association with
The Artist Magazine
East African Wildlife and Landscapes with Hazel Soan
To make an enquiry please call
01825 714310
or
complete our enquiry form