Himalayan Trek in Upper Mustang
26th April - 14th May 2014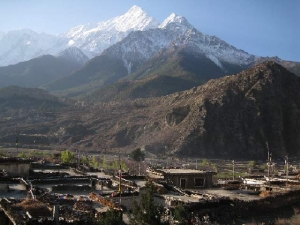 The Himalayas offer some of the best and most well known treks in the world. They are home to Everest after all, and many walkers and mountaineers step foot here. But few venture over the Annapurnas and in to Upper Mustang. A flight from Pokhara takes you over the Annapurnas to Jomsom in Lower Mustang. This is where our trek commences. It's along the ancient trading route that follows the Kali Gandaki River. The 5-day teahouse trek takes you in to Upper Mustang and to the hidden city of LoManthang, the former capital of the Kingdom of Lo.  Whilst this is not a summit trek it's a trek to one of the remotest places on earth – one that has only been accessible on foot – human, yak or pony, until a year ago.  This ancient trading route is still the only route used between Nepal and China today and has recently been widened enough to, in theory, take 4×4's.  It's still a dirt track and very few 4×4's have ventured thus far because they not only have to drive over the Annapurnas but also make 4 very difficult river crossings – not ideal or cheap.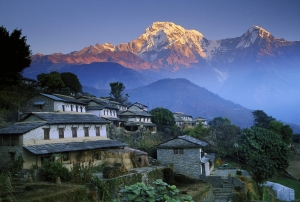 LoManthang is a Tibetan settlement dating from 1380. The city is very isolated and to protect its inhabitants it is surrounded by a 6-meter high earthen wall. Within the old city there are about 200 dwelling, monasteries and a palace. The old city is very compact and LoMathang has spread beyond the ancient walls.  The King of Lo (Jigme Dorje Palbar Bista) still resides over his 900-strong people but formerly relinquished his Monarchy on October 7, 2008 when the Kingdom became part of Nepal.
UNESCO sums it up – 'there is no comparison to this unique settlement'.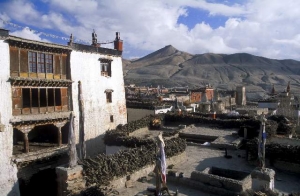 The trek along the old caravan route will immerse you in to an ancient culture. It is a portered trek taying in traditional teahouses, so you'll have plenty of time to engage with the locals.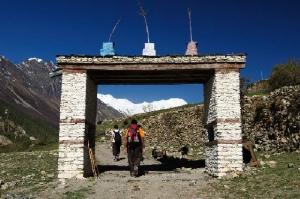 Expedition leader , Pete Hawkins has been to Nepal many times including Lower Mustang. "Nepal and Tibetans have made the greatest impression on me. This trip not only fulfils my ambition to return to the country and culture I most love and to walk beneath the greatest mountains in the world, but to visit an ancient and unique kingdom before it is lost forever. I hope you'll join me."  Pete Hawkins
You are in safe hands – Pete is an experienced  walking leader.  He is a very amiable character and always calmly in control.
Everything is included (all flights, meals, accommodation, guides, permits etc) and organised for you by an accompanying travel escort.
To learn more about Pete Hawkins and to view his photographs of Mustang click here
Check out this photo blog for some great images of the walk to Lomanthang.
Summary itinerary
| | |
| --- | --- |
| Day 1 | Depart London. Overnight flight. |
| Day 2 | Arrive Kathmandu. Walking tour of Patan in the Kathmandu Valley. Overnight in a Hotel Himalaya in Kathmandu 1334m. |
| Day 3 | Fly to Pokhara. Afternoon walk around the lake. Overnight at Fishtail Lodge 915m. |
| Day 4 | Fly to Jomsom 2720m.. Commence hike to Kagbeni 2810m. Walking time 3- 4 hours.  Overnight in a teahouse. |
| Day 5 | Walk Kagbeni to Cheley, 3050m. Approx. 5-6 hours. Teahouse. . |
| Day 6 | Walk Cheley to Syangbochen, 3880m. Approx. 6 – 7 hours. Teahouse. |
| Day 7 | Walk Syangbochen to Charang, 3620m. Approx. 5-6 hours. Teahouse. |
| Day 8 | Walk Charang to Lo Manthang, 3840m. Approx. 3- 4 hours. Guesthouse. |
| Day 9 & 10 | Lo Manthang. Guesthouse. |
| Day 11 | Walk Lo Manthang to Yaya, 3650m. Approx. 5 – 6 hours. Teahouse. |
| Day 12 | Walk Yaya to Ghami 3520m. Visit Luri Gompa by pony/tractor. Approx. 8 – 9 hours. Teahouse. |
| Day 13 | Walk Ghami to Samar, 3660m. Approx. 5- 6 hours. Teahouse. |
| Day 14 | Walk Samar to Kagbeni, 2810m. Approx. 6-7 hours. Teahouse. |
| Day 15 | Walk Kagbeni to Jomsom, 2720m. Approx. 3-4 hours. Jomsom Mountain Resort. |
| Day 16 | Fly to Pokhara. Fish Tail Lodge. |
| Day 17 | Contingency day. Pokhara. Fish Tail Lodge. |
| Day 18 | Fly to Kathmandu. Dinner in Bodhnath.  Depart Nepal. |
| Day 19 | Arrive London. |
| | |
| --- | --- |
| Price person:      | £6575 per person fully inclusive |
| Single room occupancy supplement (hotels only):   | £235.00 |
| Number of guests :  | 3 – 5 |
Mountain instructors & leaders
Alan Hinkes OBE

Pete Hawkins
Steve Elliott
Dave Green
John Whittle
Frag Last
Other Trips
Past Trips

What the experts & clients say
"I have had the good fortune to work with Liz Drake at Spencer Scott Travel taking small groups on safari to East Africa and India. All aspects of the journey are handled in a most personal, thorough and sensitive way, and all the arrangements are organised with admirable attention to detail. I have always boarded the plane from London knowing we were all going to have the holiday of a lifetime."
""Ken was so kind, helpful and enormously interesting to be with. I know I have gained a great deal from the experience of some of his incredible wisdom and insight and having the privilege of working alongside such a great artist""
"I love working with Spencer Scott because I can be confident that, wherever we go, the Company will have secured the best available accommodation, services and back-up. This frees me to concentrate on what I enjoy most, which is finding really special wildlife experiences to share with our clients"