Riding with Wolves
5th - 14th November 2014

Trail riding expedition traversing the remote Bale Mountains in Ethiopia with Claudio Sillero and the Ethiopian Wolf Conservation Programme team. Participating in this expedition financially supports the research work of EWCP and the survival prospects of this endangered species.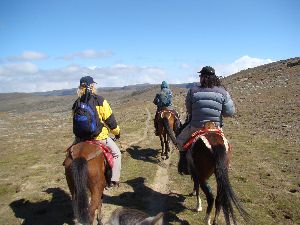 Riding with wolves is pretty cool and this is the ulitmate trail riding adventure. The Bale Mountains are about as remote as you can get  and everything has to be carried on packhorses. You'll ride through mountain valleys amid giant lobelias and get close and personal with the wolves. We have to set up our own camps (with helping hands) in the wilderness and at EWCP's research huts. The riding ponies are of sturdy and sure-footed mountain stock, used to the tough terrain and distances covered.  You'll be spending 4 days in the saddle covering approximately 20km per day. The terrain means we ride most of the time at a walking pace dismantling when it gets too rocky and steep. You'll be in the saddle between 4 – 7 hours each day.  This is an exclusive expedition and wild adventure. You'll discover the many of the secrets of these remote, wild mountains. Wolf watching is done on foot, horseback (previous riding experience is preferable but not essential) and in 4×4 vehicles.
Ethiopian wolves are one of the most endangered species on the planet. There are fewer than 400 left and most live on the Roof of Africa in in the Bale Mountains. Their habitat is remote and human contact is minimal, making this expedition even more special.  These rather shy canids are less cautious of horses, which the local Oromo tribe use as their means of transport when acrossing the highlands, enabling you to get up close to these rare carnivores. November is when  the pups born typically in October start to emerge form the dens and the pack behaviour is most interesting.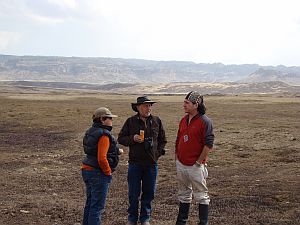 The Ethiopian Wolf Conservation Programme  is based in the Bale Mountains. Headed by Prof. Claudio Sillero, a team of Ethiopean wolf monitors and European research biologists keep track of every animal and engage with the local communities to help protect the wolves and their long term survival. The wolves are monitor 24/7 and the dedication and detail involved is one of he best examples of hands-on conservation in the world.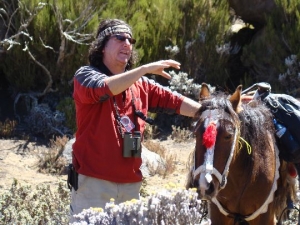 Prof. Claudio Sillero is the Director of the Ethiopian Wolf Conservation Programme. He will be personally hosting this expedition, providing you an insight in to the world of conservation as never known before.  His passion for the wolves alone has so far saved this species from extinction.  He is a remarkable and very interesting individual – originally from Argentina, he is of course an excellent horseman, he is also Head of Conservation at the Born Free Foundation and holds the post of Bill Travers Fellow for Wildlife Conservation at the University of Oxford. Claudio is the Chair of the IUCN Canid Specialist Group. His conservation programmes including tigers and jaguars.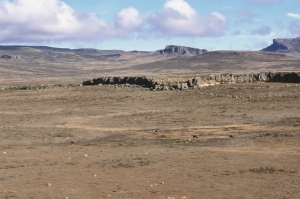 The Bale Mountains (2,500 – 4,377m) are spectacular and wild. They are a remote and vast track of wilderness on the Roof of Africa. It is a pristine but fragile environment.  The weather in November is normally dry with clear blue skies and day time temperatures up to 20C. Nights are cold and frosty.
All images courtesy of A L Harrington, Nancy Gibson, Prof. Claudio Sillero & Liz Drake.
Expedition Summary
5 Nov        Arrive Addis Ababa
6 Nov        Drive to the Bale Mountains
7 & 8 Nov  Wolf watching – Web Valley
9 Nov        Horse trek to Keyrensa
10 Nov      Horse trek  to Wassama
11 Nov       Horse trek to Sanetti
12  Nov      Wolf watching – Sanetti
13 Nov       Drive to Addis Ababa 
14 Nov       Depart Addis Ababa
This is trail riding at its best and most extreme. The 3-day traverse on horse back is the highlight and a life-shifting expereince like no other.  It is a fully catered and portered trek and we make the camps as comfortable as possible, but living in the wolves habitat  requires a reasonable level of fitness and a spirit of adventure.  You will be trekking on foot and horseback in remote mountainous areas up to 4,200m.  Check out the personal diary of our successful Living with Wolves trip in February 2011 and also in  November 2011
Number of expedition guests :       4 – 7
Guideline price per person :           £7,000 / US$11,000
Price includes: 
4×4 vehicles (3 persons per vehicle)
2 nights Intercontinental Hotel or similar, Addis Ababa
7 nights camping in superior expedition-grade tents (twins or singles)
All meals except dinners on 5 November and lunch on 14 November
Fully serviced and catered camp with an English chef
Mess tent, 2 shared WC's, 1 shower tent
Individual trekking horses, packhorses and grooms
National Park fees
Sustainable firewood
EWCP Director and senior wolf monitors
Spencer Scott Travel host/guide
Donation to the Ethiopian Wolf Conservation Programme
International flights
International flights can be arranged to suit individual preferences. If flying from London we recommend the Lufthansa flight via Frankfurt or direct on Ethiopian Airlines. Price guideline £550 – £750.
Flying from USA
We recommend departing the USA flying direct from Washington DC to Addis Ababa on Ethiopian Airlines.
Extension suggestions
Ethiopia is a fascinating and beautiful country waiting to be discovered. Extend your trip and visit the unique Omo tribes of the South, the bird-rich lake district and the wonderful rock-hewn churches at Lalibela.
Other Trips
Past Trips

What the experts & clients say
"I've done lots of trips tour guiding for Spencer Scott Travel (Cuba, Peru, South Africa, Botswana, Uganda) and they have all been of the highest order, well planned, great itineraries, excellent support and clients always totally satisfied. They are a total pleasure to work for and I have loads of great memories to treasure as a result. Check them out if you want something special."
""I wanted to say thank you so much for everything.  It was the most wonderful holiday and the memories of which will stay with me a lifetime.  It was clear to me that a lot of  work went on behind the scenes by both yourself [Liz Drake and Spencer Scott Travel], and Simon [King]  to make this holiday the very very best one could wish for and so very special so thank you both so very very much."  "
""We had so many different experiences, the accommodation was all excellent and very varied.  Our viewing of the wildlife was exceptional, and we all managed to complete several paintings and sketches of animals, birds and landscapes.  As always, Hazel was an inspiring teacher." "