Terry Harrison
Terry was born and raised in Norfolk, where, he feels that, "Art was never considered a career subject and certainly not encouraged".  His family relocated to Farnham in the mid 60's and here he found a "brilliant" new art teacher who inspired and taught him to pass the exams he needed to attend Farnham Art School.
He moved into a career in graphics, working for a while in London, and then as an illustrator.  He continued to paint in his own time, developing his painting techniques and skills.  It soon became apparent that he was unable to  produce paintings to keep up with demand for his work and so in 1984 Terry decided to paint full-time He describes this as, "The best decision I ever made, and since then I have always had a full schedule of exhibitions, private commissions, demonstrations and more recently, workshops".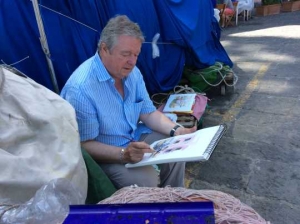 Inspirations:
Inspired by Constable and Turner, his favourite subjects are landscape, which he paints in watercolour or acrylics.
Achievements:
In 1996 Terry was awarded the prestigious Fine Art Guild award for the 'Best Up and Coming Artist'.
In 2001 his  first book, ' Brush with Watercolour',  was published by Search Press. A very popular book which has been reprinted  many times and has sold over  150,000 copies, making it one of the best selling watercolour books ever.
He had world wide success with his next book in 2004, 'Brush with Acrylic'   More than 20 books followed, and Terry writes, "with more titles in the pipeline!"
From the early 90's Terry developed his own range of brushes,, beginning with the now famous Fangogh brush. This expanded into a range of speciality brushes.  He also saw a gap in the market in a lack of what he considered to be 'suitable paints' and he developed the now famous 'Three Greens' the colour 'Shadow' 'Bluebell' 'Tarmac' and 'Permanent Wild Rose' in Artists watercolour. He went on to develop a range of Artists' acrylic paints which are writes are, "proving just as popular as the watercolour range".
Terry is prolific painter and a dedicated teacher. View some of his work.
Today:
Terry spends a lot of his time travelling in the UK, demonstrating to Art societies and at Art Shows. He also holds workshops throughout the UK and also in the USA and South Korea
In 2006 he  moved to and now lives in Bourton-on-the-Water in the Cotswolds with his  wife, professional artist Fiona Peart. They married in 2011.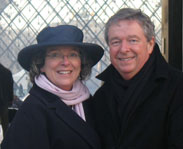 Fiona and Terry will co -host a instructional painting holiday from May 26th – June 4th 2016, Italian Lakes, mountains and villages, Lake Orta. We very much hope that you are able to join us then.
View our Painting holidays with professional artists

What the experts & clients say
"I've done lots of trips tour guiding for Spencer Scott Travel (Cuba, Peru, South Africa, Botswana, Uganda) and they have all been of the highest order, well planned, great itineraries, excellent support and clients always totally satisfied. They are a total pleasure to work for and I have loads of great memories to treasure as a result. Check them out if you want something special."
""We had so many different experiences, the accommodation was all excellent and very varied.  Our viewing of the wildlife was exceptional, and we all managed to complete several paintings and sketches of animals, birds and landscapes.  As always, Hazel was an inspiring teacher." "
""I wanted to say thank you so much for everything.  It was the most wonderful holiday and the memories of which will stay with me a lifetime.  It was clear to me that a lot of  work went on behind the scenes by both yourself [Liz Drake and Spencer Scott Travel], and Simon [King]  to make this holiday the very very best one could wish for and so very special so thank you both so very very much."  "