Benjamin Hope NEAC PS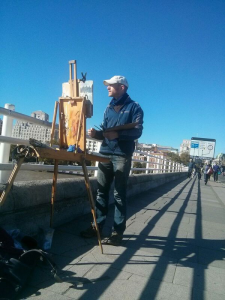 Benjamin Hope is a young up and coming artist who can be often be found painting street scenes and cityscapes in various parts of London and across the UK.  In addition to his en plein air work, he enjoys painting portraits and creating striking still life compositions. He has been a full time artist since 2011.
Benjamin Hope was introduced to painting at an early age by his mother; the artist Jane Hope. His paternal grandfather was also an artist and he had various cousins he describes as "creatives".  However, Benjamin followed a very different career route studying maths and physics at Warwick and later went on to complete a PhD at Cambridge and work in the City. He would find any opportunity to paint and sketch even at conferences and so eventually took the leap to become a full time artist in 2011.
" My PhD wasn't very good partly because, by that point, I was itching to paint. The time I had spent at university spanned 12 years and I only really did any painting during one month of each undergraduate summer break and during a year out after Warwick. After my PhD I spent a further three years working as a "quant" for an investment bank with the sole aim of financially kick-starting my art career. In 2011 I walked out and I've been painting full time ever since".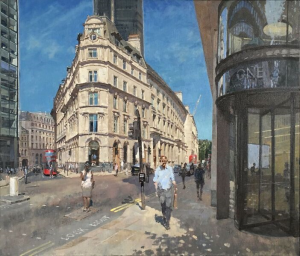 Ben has been inspired by Ken Howard, Peter Brown, Tom Coates, Andrew Gifford and his work is as detailed, compelling and varied.  
"The common thread is that I almost always work from life, directly from the subject no matter what that subject is. I say "almost always" because I am just starting to develop larger pieces that are based on smaller studies rather than being directly from the subject. Even then I don't work from photographs.
I cut my teeth as a still life realist spending hundreds of hours painting increasingly challenging objects in my studio / bedroom. However, most of my work over the last couple of years has been on the street, painting en plein air mainly in London but also various other places like Oxford and Cambridge. As any plein air painter will tell you, once you're over the initial fear of working in public, it quickly becomes an addictive and exhilarating way of working.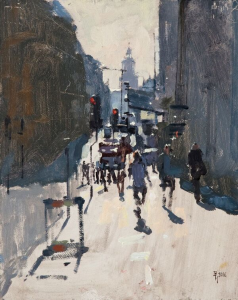 I haven't left the studio completely. I still enjoy still life and I have a lot of ideas to pursue but I can only do one or two ambitious ones each year because they take so long and drive me slightly crazy.
I also love portraiture but again don't have time to do as much as I'd like. I am developing a palette knife approach to portraits, which is quite distinct from my other work.
I almost always work in oil but a couple of years ago I started using pastels and charcoal too. Pastels (the fat soft ones) are particularly fun to use outdoors when trying to capture fleeting light effects since you can be even quicker than oils and their bluntness forces you to be more of an impressionist – this is ideal for someone like me who can be a detail junkie."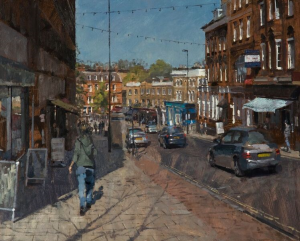 Ben has exhibited at Royal Academy Summer Show and the Royal Institute of Oil Painters, the Pastel Society, the Royal Society of Portrait Painters, and the New English Art Club.  In November 2015 he had his first solo exhibition in London and since then has had many successful solo and joint exhibitions, commissions and awards including Runner Up prize at the Lynn Painter Stainers Exhibition and First Prize at the Pintar Rapido plein air painting festival.
Visit Benjamin Hope's website to discover more about him.
Paint with Ben Hope
We are delighted to be working with Ben as a guest artist. He will be hosting his first painting holiday in June 2020 to Switzerland, which will follow in the footsteps of Turner and Ken Howard.
Ben regular paints in Switzerland whilst his girlfriend skis.
View our Painting holidays with professional artists