Lachlan Goudie ROI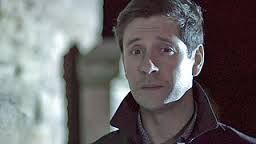 Lachlan Goudie was born in Glasgow, Scotland, in 1976. He is the son of the famous figurative painter, Alexander Goudie,  (1933 –  2004).
After studying English Literature at Cambridge University he was awarded the prestigious Levy-Plumb scholarship, a year long painting residency at Christ's College.
In 1999 Lachlan was awarded the R.S.P. Prize for painting at the Royal Glasgow Institute of Fine Arts and in 2001 the Norman MacFarlane prize at the Royal Scottish Academy. Lachlan graduated in June 2004 from Camberwell College of Arts with a degree in Fine Art and Painting. He is quietly making a name for himself and emerging as an artist the art world is closely following.
He shows with the Royal Society of Portrait painters and exhibits regularly at galleries in London, Scotland and New York. In 2011 Lachlan was a prize winner at the annual exhibition of The Royal Institute of Painters in Oil Colour, he has been a full member of The ROI since 2013.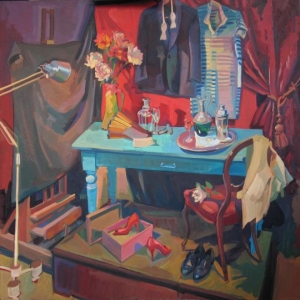 Lachlan's work has evolved from a figurative tradition of Scottish painting and draws his inspiration from sources as diverse as Matisse, Sargent, Manet and Velazquez. The scope of his work is broad, incorporating portraiture, still life and landscape painting.  Drama and colour underpin his paintings.
His work often involves travelling abroad in search of inspiration.
In the autumn of 2010 he spent a month journeying through the Rocky Mountains along a route traced by the early pioneers. The sketches and studies Lachlan produced on the road formed the basis for an exhibition of wilderness landscapes staged at the Elizabeth Harris Gallery, New York. In the same year he travelled extensively across Andalucía, painting the panoramas, people and festivals that animate this region of Spain.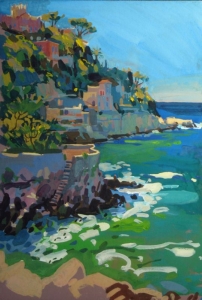 Lachlan's experiences amidst the colour and passion of the South Spain form a backdrop to the series of still lives exhibited at Glyndebourne. 'The Marriage of Figaro' and 'L'heure Espagnole' both share a Spanish setting and sensibility, which the artist explores through objects and references, scattered across these canvasses.
Lachlan broadcasts regularly on the BBC radio 4 programme, 'From our own Correspondent' and has written and presented a TV documentary about the history of witches in art. He has also worked on a new BBC documentary about Stanley Spencer and one on the history of Scottish Art for the BBC. In the spring of 2015 and 2017 he will be one of the judges in the BBC's 'Big painting Challenge' series.
Join Lachlan on a painting holiday
Current Trips with Lachlan Goudie ROI

16th - 23rd September 2017
The special light and the wonderful warm Mediterranean colours, as well as the old town of Antibes are what have appealed to artists over the years. Also paint in St Paul de Vence and see the Chapelle du Rosarie, which Matisse considered his masterpiece.

What the experts & clients say
"I love working with Spencer Scott because I can be confident that, wherever we go, the Company will have secured the best available accommodation, services and back-up. This frees me to concentrate on what I enjoy most, which is finding really special wildlife experiences to share with our clients"
""We had so many different experiences, the accommodation was all excellent and very varied.  Our viewing of the wildlife was exceptional, and we all managed to complete several paintings and sketches of animals, birds and landscapes.  As always, Hazel was an inspiring teacher." "
"I've done lots of trips tour guiding for Spencer Scott Travel (Cuba, Peru, South Africa, Botswana, Uganda) and they have all been of the highest order, well planned, great itineraries, excellent support and clients always totally satisfied. They are a total pleasure to work for and I have loads of great memories to treasure as a result. Check them out if you want something special."