David Lindo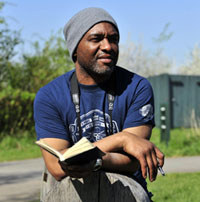 David Lindo is 'The Urban Birder' as seen on the One Show. Birding with David is different – he's young, dynamic and passionate about urban birding because there is the most amazing variety of wildlife to be discovered in all cities and towns. He aims to make more people aware about the wilder side of cities and towns across the globe and has started by establishing the Tower 42 Bird Study Group in London, which monitors and watches urban wildlife including bird migrations and raptor activity above Canary Wharf. David hopes to open 'Tower 42' projects in other capital cities. The Urban Birder has a regular column in BBC Wildlife and Bird Watching Magazines.
You can find out more about David Lindo here
View our Exclusive expert-led safaris

What the experts & clients say
""Our group is led by Professor Claudio Sillero....his decades of experience in this region and his hardy colleagues, guarantee sightings of wolves  They do not disappoint." "Next we climb up and across the Sanetti Plateau through unmatched beauty in every direction.  Small klipspringer, antelopes and hyrax, ( a pint-sized relative of the elephant), dot the hillsides.  our camp site is magnificent!  It is surrounded by towering basalt formations the locals call 'the soldiers.'  ....Can any place be more perfect?" "Our successful adventure is coming to a close, but we have been fortunate to site 30 wolves in 11 different packs, which equates to 10% of all the wolves living in the Bale Mountains National Park." "
"Thank you for all the organisation which gave us such wonderful and thrilling days in The Mara - a truly memorable experience.  We were so lucky all our sightings - the best view of leopard I have ever had.  The bonus was that beautiful black rhino - fighting fit and so close.  Of course, Simon's expert and enthusiastic guidance ensured the maximum benefit."
"I've done lots of trips tour guiding for Spencer Scott Travel (Cuba, Peru, South Africa, Botswana, Uganda) and they have all been of the highest order, well planned, great itineraries, excellent support and clients always totally satisfied. They are a total pleasure to work for and I have loads of great memories to treasure as a result. Check them out if you want something special."