Ken Howard OBE RA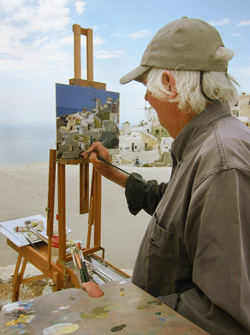 Ken Howard is one of the most gifted and accomplished figurative artists of today. He is particularly successful in expressing the effects of light and dark in both oil and watercolour paintings. His favourite and most famous subjects are studio pictures, Venice, Cornwall coastal scenes and London.
Ken studied at Hornsey School of Fine Art from 1949-1953 and at the Royal College of Art, London 1955 – 1958. He was elected a Royal Academician in 1991 and awarded an OBE in 2010. His published works include Inspired by Light: A personal View (2001) and A Vision of Venice in watercolour (2002), Light and Dark – The  Autobiography of Ken Howard (2011), Ken Howard's Switzerland in the footsteps of Turner.
 'For me painting is about three things. It is about revelation, communication and celebration. By revelation I mean giving people a way of seeing, revealing the world around them in a way they have never seen before.
By communication I mean revealing the world with a personal language, speaking directly in an instantly recognisable style. For me drawing is the basis of all visual language, for the art of drawing is a way of seeing and celebrating the world.
My last criterion, celebration, is perhaps more difficult to explain. We all suffer in our lives, we lose loved ones, we suffer illnesses and the stresses and strains of normal life. But I want art to raise me above that and for me my main inspiration is light and it is through light that I want to celebrate my world. '
Ken works relentlessly, lives life to the full and continues to be inspired and cleansed by travel. He now paints predominantly in oils. Ken has been hosting painting holidays for Spencer Scott Travel since the early 1990's, and his energy and dedication help to make them hugely rewarding and successful.Destinations have included  India, Cuba, Morocco, France, Greece, The Yemen, Venice, Bruges and Amsterdam. Ken is an extraordinary host – he is a warm and generous person, an excellent communicator and amusing raconteur.
We feel privileged and honored to be working exclusively with Ken Howard.
Current Trips with Ken Howard OBE RA

1st - 8th September 2018
An exclusive and final opportunity to work alongside Ken Howard - one of our most revered Royal Academicians and figurative painters in his beloved Venice. A 'work alongside' oil painting holiday ideal for advanced students and experienced painters

What the experts & clients say
"I've done lots of trips tour guiding for Spencer Scott Travel (Cuba, Peru, South Africa, Botswana, Uganda) and they have all been of the highest order, well planned, great itineraries, excellent support and clients always totally satisfied. They are a total pleasure to work for and I have loads of great memories to treasure as a result. Check them out if you want something special."
""Our group is led by Professor Claudio Sillero....his decades of experience in this region and his hardy colleagues, guarantee sightings of wolves  They do not disappoint." "Next we climb up and across the Sanetti Plateau through unmatched beauty in every direction.  Small klipspringer, antelopes and hyrax, ( a pint-sized relative of the elephant), dot the hillsides.  our camp site is magnificent!  It is surrounded by towering basalt formations the locals call 'the soldiers.'  ....Can any place be more perfect?" "Our successful adventure is coming to a close, but we have been fortunate to site 30 wolves in 11 different packs, which equates to 10% of all the wolves living in the Bale Mountains National Park." "
"Thank you for all the organisation which gave us such wonderful and thrilling days in The Mara - a truly memorable experience.  We were so lucky all our sightings - the best view of leopard I have ever had.  The bonus was that beautiful black rhino - fighting fit and so close.  Of course, Simon's expert and enthusiastic guidance ensured the maximum benefit."