Dominic Couzens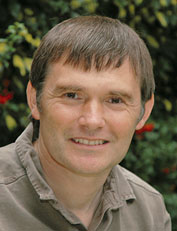 Dominic Couzens is a leading ornithologist and one of the most prolific writers of bird books. Dominic enjoys discovering new and remote birding sites, searching for extreme species and sharing his experiences with small intimate groups of birders. He has travelled widely in search of birds and the world's top birding sites. Dominic writes regular for natural history magazines including BBC Wildlife and Bird Watching.
You might be interested to visit the Birds Words website
View our Exclusive expert-led safaris

What the experts & clients say
"" Thank you for organising the extra flights and accommodation etc... The trip was a success for me. Eileen was the most thoughtful and hard working attendant/guide - she tended to our every needs - nothing was too much bother to her. Lachlan Goudie was such a gentleman. He was enthusiastic, kind and so very generous of advice and inspiration. He cheered us up and gave us hope when we were struggling with our work. We all loved him and are in awe of his beautiful water colours and gouache paintings.  Thank you for everything.""
""Thank you Lucy for giving us such a wonderful time. I so appreciated your expertise and your personality. I learned so much and very much appreciated my time painting with you. Eileen's support was wonderful and made everything go so smoothly from the moment we left Heathrow until our return.  I enjoyed meeting everyone and sharing such special times together, both arty and spiritual. This was a trip of a lifetime and I'll never forget it."  "
"I have had the good fortune to work with Liz Drake at Spencer Scott Travel taking small groups on safari to East Africa and India. All aspects of the journey are handled in a most personal, thorough and sensitive way, and all the arrangements are organised with admirable attention to detail. I have always boarded the plane from London knowing we were all going to have the holiday of a lifetime."