Adebanji Alade Vice President ROI
Adebanji Alade is the Vice President of the Royal Institute of Oil painters and the artist in residence for BBC1's The One Show.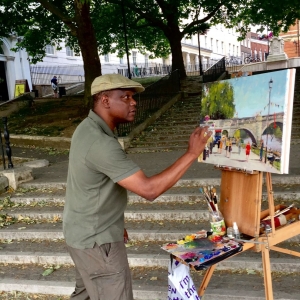 Adebanji is a character you will not forget – full of energy, passion and enthusiasm. He is a very positive, engaging and charismatic artist who never fails to inspire, motivate and entertain. No wonder the BBC spotted him!  His paintings are highly regarded and full of colour and life. Born in the UK to Nigerian parents, Adebanji has grown up loving both countries which is reflected in his paintings.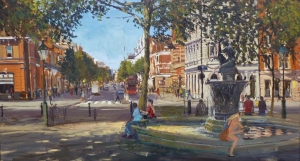 Adebanji mainly works in oils but also acrylics, watercolour, pastels, Coloured pencils, charcoal and graphite. His work is inspired by atmosphere, history and the mood created by a particular light.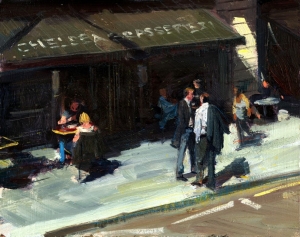 Whether he works indoors or outdoors, he strives to bring the life, vitality and movement of 'the sketch' into his paintings. He regards himself as the ADDICTIVE SKETCHER. He focuses mainly on people and dynamic places. People fascinate him because each face is unique.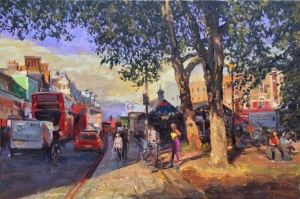 Adebanji works directly from life or from photo references. 'I paint directly without building up successive layers of paint. I paint shape by shape, a technique I call inside-out, in which the painting is embarked upon from a spot inside the workspace and I spread out, still working shape by shape until the whole piece is complete. I also work from broad shapes to details, a technique I call outside-in, where the painting starts off with broad strokes to cover the ground and then finished off with details on the inside'.
Accolades:
2017- Winner Alan Gourley Memorial Award, ROI
2014 – Buxton Spa Sketchbook Award
2013- Winner of Pinta Rapido, Plein Air Event at the Chelsea Town Hall
2010- Winner of the Best Painting of a London Scene, Chelsea Art Society
2010- Winner of the Chelsea Riverside Competition organized by Cheyne Walk Trust in aid of Heatherley's School of Fine Art Bursary Fund
2009- Winner of the Plein Air Category at the Bath Prize
2009- Winner of the Artist Magazine Cover Competition on Summer Scenes
2009- Winner of the ROI Competition in the Artist Magazine
2008- Daler Rowney Award, Patching Art Competition, by the Artist Magazine.
2007- Winner of the Under 35 Category (Winsor & Newton Prize) ROI
2005- ITV Series of Brush with Fame, Winner of the London Wild Card
Society Memberships
Royal Institute of Oil Painters
Chelsea Art Society
Guild of Fine Art, Nigeria
Urban Sketchers Worldwide
Plein Air Brotherhood
Discover more about Adebanji Alade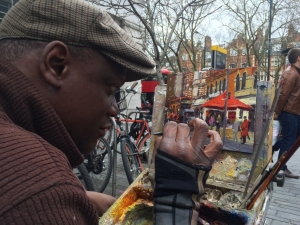 Paint with Adebanji Alade
We are thrilled to be working with Adebanji as one of the guest artists for the Artist Magazine painting holidays.
For his first painting holiday Adebanji has chosen Essaouria in Morocco, March 2020.  The colourful markets and street scenes, the bustling fishing port and the local people will be perfect subjects for him.
View our Painting holidays with professional artists

What the experts & clients say
""Thank you Lucy for giving us such a wonderful time. I so appreciated your expertise and your personality. I learned so much and very much appreciated my time painting with you. Eileen's support was wonderful and made everything go so smoothly from the moment we left Heathrow until our return.  I enjoyed meeting everyone and sharing such special times together, both arty and spiritual. This was a trip of a lifetime and I'll never forget it."  "
""Ken was so kind, helpful and enormously interesting to be with. I know I have gained a great deal from the experience of some of his incredible wisdom and insight and having the privilege of working alongside such a great artist""
"I've done lots of trips tour guiding for Spencer Scott Travel (Cuba, Peru, South Africa, Botswana, Uganda) and they have all been of the highest order, well planned, great itineraries, excellent support and clients always totally satisfied. They are a total pleasure to work for and I have loads of great memories to treasure as a result. Check them out if you want something special."