Steve Leonard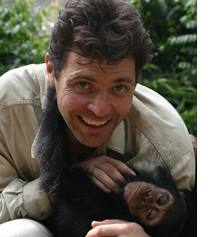 Steve Leonard is a veterinary surgeon and TV presenter.
He comes from a family of vets and has his own practice in the UK and is passionate about helping the survival of African Wild Dogs – an endangered species. He is Patron of Painted Dog Conservation and Wildlife Vets International. Most importantly Steve is not just a 'name' for these worthwhile organisations, he is actively working out in the field as a vet protecting wild animals.
Steve was born in Eniskillen, Northern Ireland in 1972. At 6 weeks old  the family moved to Cheshire, England . He gained a place at Bristol Vet School and in his last year, the college was approached by the BBC to make a 'docu-soap' with final year vet students. Steve was one of the students the BBC decided to follow. The result was the successful 'Vet School', and was followed  by 'Vets in Practice.'
Steve was then asked to travel around Southern and Eastern Africa where he worked alongside Wildlife Vets to make the popular series, 'Vets in the Wild.'
His very down to earth approach and caring character made him an instant star and he was next asked  to present 'Ultimate Killers', which saw Steve get up close and personal with all manner of creatures.  A book accompanied this programme and featured Steve's photographs, as he says, "for the first time."
More TV series followed including Vets in the Wild West, Steve Leonard's Extreme Animals, Orangutan Diary and Safari Vet School. He is currently presenting the popular 'Wonder of Dogs' programme on BBC2, Thursday at 8pm.
Being that 'vet on the telly' has not distracted Steve from his passion for caring for the animals at his own veterinary practice and for his work with Kate Humble at Wildlife Vets International and Peter Blinston in Zimbabwe at Painted Dog Conservation.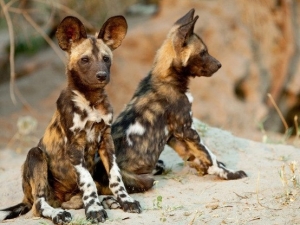 Steve is a charismatic and caring person and he is extremely passionate about his work as Patron and vet with Painted Dog Conservation.
Steve led a special conservation safari to Zimbabwe which financially supported the on-going work of Painted Dog Conservation (PDC).
View our Exclusive expert-led safaris
What the experts & clients say
""I want to let you know that the workshop with Ken Howard in Santorini was simply the best workshop I have ever attended.  I was deeply inspired and impressed by Ken.  The group was a pleasure.  I hope this workshop will be repeated again."  "
""Our group is led by Professor Claudio Sillero....his decades of experience in this region and his hardy colleagues, guarantee sightings of wolves  They do not disappoint." "Next we climb up and across the Sanetti Plateau through unmatched beauty in every direction.  Small klipspringer, antelopes and hyrax, ( a pint-sized relative of the elephant), dot the hillsides.  our camp site is magnificent!  It is surrounded by towering basalt formations the locals call 'the soldiers.'  ....Can any place be more perfect?" "Our successful adventure is coming to a close, but we have been fortunate to site 30 wolves in 11 different packs, which equates to 10% of all the wolves living in the Bale Mountains National Park." "
"" Thank you for organising the extra flights and accommodation etc... The trip was a success for me. Eileen was the most thoughtful and hard working attendant/guide - she tended to our every needs - nothing was too much bother to her. Lachlan Goudie was such a gentleman. He was enthusiastic, kind and so very generous of advice and inspiration. He cheered us up and gave us hope when we were struggling with our work. We all loved him and are in awe of his beautiful water colours and gouache paintings.  Thank you for everything.""