Richard Pikesley NEAC, RWS
About Richard Pikesley – Artist and President of NEAC
Born in 1951 in London, British artist Richard Pikesley went on to study at the Harrow School of Art, the City of Canterbury College of Art and the University of London. His art education instilled in him a love for landscape and the effect of light and weather.
Dorset is his home and provides much of the motivation and inspiration for his paintings. Richard is most famous as a landscape and seascape painter.  He is particularly noted for his awareness and understanding of his surroundings which has seen him recognised as a truly gifted painter of light. He captures movement and atmosphere faultlessly and he is able to share and convey this in his paintings.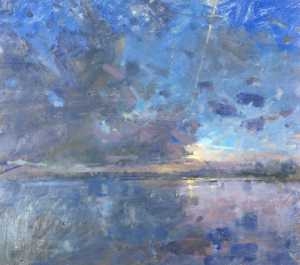 In 1974 he was elected to the New English Art Club NEAC and is also a member of the Royal Watercolour Society, RWS,  since 1997.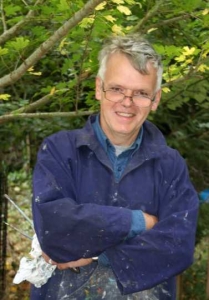 A regular exhibitor  in Britain, including the Summer Exhibitions at the Royal Academy, and many overseas exhibitions.  He has travelled widely and his works of Italy and France depict many well-known scenes.
His oil and watercolours are highly sought after and hang in many private and public collections including S.G. Warburg Plc, Crown Estates, St. John's College Cambridge and Hambro's Bank.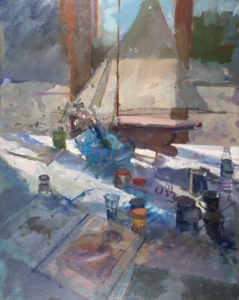 About his own work and art, Richard writes,
" I think, for me, painting is a conversation with the visual world and starts with painting in front of the subject. It is always a matter of finding equivalents, in paint, for light and space and seeing the world 'in paint' continues to be an obsession.  Painting starts with an immediate response. Seeing perhaps an effect of light which really grabs my attention the first step will usually be a painting made fast enough to get the moment down."
Publications:
In 1991 Richard Pikesly was commissioned by Swallow Books to write a book on landscape painting in a series edited by Ken Howard. This was published under title 'The Complete Artist'. Other publications have followed:
1997 Oils Workshop. Published by Harper Collins
2004 The Watercolour Expert. Published by Cassell. I contributed to this book written collectively by many members of the RWS
2006 Represented in The New English by Kenneth McConkey published by Royal Academy Publications
He also contributed to Watercolour Masters, Then & Now, a book written collectively by many members of the RWS.
Current Trips with Richard Pikesley NEAC, RWS

12th - 20th May 2019
Iceland's landscapes, seascapes and skies are dramatic and on a scale that takes your breath away, and will challenge artists of all levels. Richard Pikesley is a very experienced artist and on this painting holiday he will help intermediate and experienced students capture the immensity, intensity and atmosphere of Iceland's natural phenomena. An oil, watercolour and mixed media painting holiday.

What the experts & clients say
""I wanted to say thank you so much for everything.  It was the most wonderful holiday and the memories of which will stay with me a lifetime.  It was clear to me that a lot of  work went on behind the scenes by both yourself [Liz Drake and Spencer Scott Travel], and Simon [King]  to make this holiday the very very best one could wish for and so very special so thank you both so very very much."  "
""Ken was so kind, helpful and enormously interesting to be with. I know I have gained a great deal from the experience of some of his incredible wisdom and insight and having the privilege of working alongside such a great artist""
""We had so many different experiences, the accommodation was all excellent and very varied.  Our viewing of the wildlife was exceptional, and we all managed to complete several paintings and sketches of animals, birds and landscapes.  As always, Hazel was an inspiring teacher." "