Jonathan and Angie Scott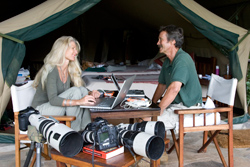 Jonathan and Angie Scott are both award-wining world class wildlife photographers. Jonathan Scott won Wildlife Photographer of the Year in 1987 and Angie Scott in 2002. Jonathan is a well known TV presenter on Big Cat Diary, Wildest Dreams, Elephant Diaries and many other wildlife films and series. Their books include The Marsh Lions and Stars of Big Cat Diary. Africa is their home, wildlife is their subject, photography is their expertise and they regularly host photographic safaris. 
We worked with Jonathan and Angie on the first leopard and whale photographic safari in Sri Lanka in 2012.
View our Exclusive expert-led safaris