Jonathan and Angie Scott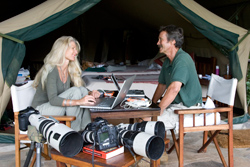 Jonathan and Angie Scott are both award-wining world class wildlife photographers. Jonathan Scott won Wildlife Photographer of the Year in 1987 and Angie Scott in 2002. Jonathan is a well known TV presenter on Big Cat Diary, Wildest Dreams, Elephant Diaries and many other wildlife films and series. Their books include The Marsh Lions and Stars of Big Cat Diary. Africa is their home, wildlife is their subject, photography is their expertise and they regularly host photographic safaris. 
We worked with Jonathan and Angie on the first leopard and whale photographic safari in Sri Lanka in 2012.
View our Exclusive expert-led safaris
What the experts & clients say
"I have had the good fortune to work with Liz Drake at Spencer Scott Travel taking small groups on safari to East Africa and India. All aspects of the journey are handled in a most personal, thorough and sensitive way, and all the arrangements are organised with admirable attention to detail. I have always boarded the plane from London knowing we were all going to have the holiday of a lifetime."
""Thank you Lucy for giving us such a wonderful time. I so appreciated your expertise and your personality. I learned so much and very much appreciated my time painting with you. Eileen's support was wonderful and made everything go so smoothly from the moment we left Heathrow until our return.  I enjoyed meeting everyone and sharing such special times together, both arty and spiritual. This was a trip of a lifetime and I'll never forget it."  "
"Thank you for all the organisation which gave us such wonderful and thrilling days in The Mara - a truly memorable experience.  We were so lucky all our sightings - the best view of leopard I have ever had.  The bonus was that beautiful black rhino - fighting fit and so close.  Of course, Simon's expert and enthusiastic guidance ensured the maximum benefit."