Haidee-Jo Summers ROI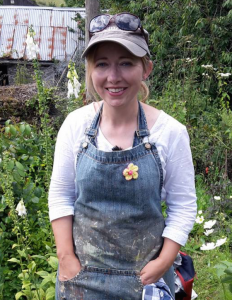 Haidee-Jo Summers is definitely an up and coming artist to follow.  She graduated in 1994 with a BA Hons degree in illustration but knew early on that her future lay in oil painting.  She started teaching life drawing on a part time basis and worked in a picture framers, whilst developing her own painting skills and exhibiting work. In 1997 she won her first prestigious prize at the Royal Institute of Oil painters.  This was a turning point in Haidee-Jo's career.  As a young artist it's tough to get known but by regularly entering competitions Haidee-Jo was successfully winning prizes and getting known.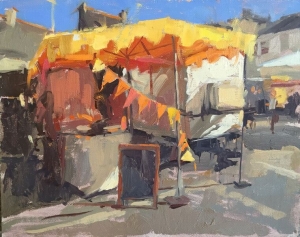 Awarded Artist of the Year 2012 by the Society of All Artists and one of the few artists chosen by the BBC to paint the Queen's Diamond Jubilee Pageant from the Millennium bridge, Haidee-Jo is now a full-time professional artist known for painting landscapes and seascapes 'en plein air'.
Haidee-Jo won the prestigious 'The Artist Purchase Prize' in 2014 at Patchings with her painting 'Sails up in harbour'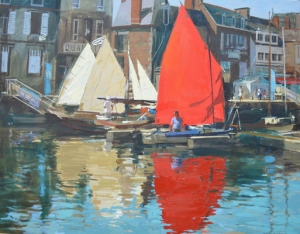 Her work combines fresh and vibrant brushwork with sound drawing and keen observational skills which result in lively celebratory paintings that are full of light and colour.
Her work can be seen regularly at the Mall galleries London where she exhibits with the Royal Society of Marine Artists, the New English Art Club and the Royal Institute of Oil painters of which she is a full member.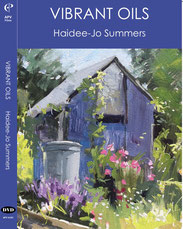 Haidee-Jo now writes regularly for The Artist magazine and has recently started work on her first book on oil painting with Search Press, having previously produced a large body of work for the Encyclopaedia of Watercolour Techniques. She has also been busy working on her first DVD, "Vibrant Oils", with APV films.
Paint with Haidee-Jo Summers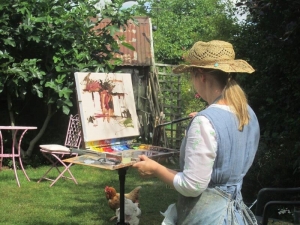 Haidee-Jo was a student on a couple of our painting holidays and gained much encouragement and support from Ken Howard RA. We are delighted that she is now one of our host artists and leading painting holidays for us in association with The Artist Magazine.
Current Trips with Haidee-Jo Summers ROI

8th - 16th June 2018
A free-style oil painting holiday with up and coming figurative artist Haidee-Jo Summers, ideal for intermediate and advanced students. Discover the Ile de Ré - one of France's best kept secrets and capture its special light and island life in your paintings

What the experts & clients say
""I want to let you know that the workshop with Ken Howard in Santorini was simply the best workshop I have ever attended.  I was deeply inspired and impressed by Ken.  The group was a pleasure.  I hope this workshop will be repeated again."  "
""Ken was so kind, helpful and enormously interesting to be with. I know I have gained a great deal from the experience of some of his incredible wisdom and insight and having the privilege of working alongside such a great artist""
""I wanted to say thank you so much for everything.  It was the most wonderful holiday and the memories of which will stay with me a lifetime.  It was clear to me that a lot of  work went on behind the scenes by both yourself [Liz Drake and Spencer Scott Travel], and Simon [King]  to make this holiday the very very best one could wish for and so very special so thank you both so very very much."  "