Hazel Soan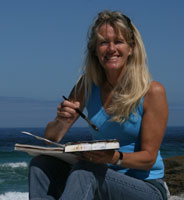 Hazel Soan is the hugely popular Watercolour Challenge TV artist. She has published several instructional books including Watercolour Landscape Techniques and African Watercolours. Her latest book is Watercolour Rainbow in which she discusses the properties of pigments.  Her love of Africa and her passion for wildlife is the subject of many of her paintings.
Hazel is a full time professional artist. She paints everyday, no matter where she is. She is a progressive artist with an evolving style, which is reflected in her varied portfolio and is an inspiration to all painters.
Her time is divided between Africa, where she lives for half of the year and London where she has her own studio.  Hazel's love and enthusiasm for life and people is infectious. Combined with her natural ability for teaching art and her caring nature, she is an excellent painting host. Hazel has been hosting painting holidays for Spencer Scott Travel for over 10 years and has taken students to Italy, France, Greece, Sri Lanka, Kenya, Zambia, Tanzania and India. We love working with Hazel.
Her more structured approach is particularly suited to confident beginners and intermediate students. Watercolour is her preferred medium when travelling.
Join Hazel Soan on a painting holiday
To learn more about Hazel Soan click here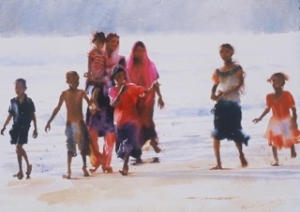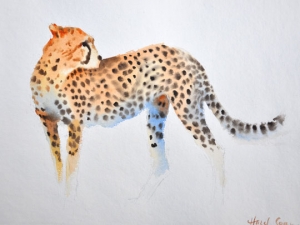 Current Trips with Hazel Soan

30th March - 8th April 2020
A watercolour instructional painting holiday in a spiritually-enriched city, where art and religion are entwined, with Hazel Soan who is one our most popular host artists. An exclusive painting holiday offered in association with The Artist Magazine

3rd - 8th May 2020
Hydra is a beautiful island that is only 90 minutes from Athens and has no airport and no cars or scooters, so it greatly appeals to artists and is perfect for a short painting break.

31st October - 11th November 2020
Hazel Soan is well known for her wildlife paintings and love of Africa. She has chosen to return to Zambia because its diversity and profusion of wildlife is perfect for a dedicated painting safari. This tutorial painting safari is based in Kafue National Park, Zambia

What the experts & clients say
""Thank you Lucy for giving us such a wonderful time. I so appreciated your expertise and your personality. I learned so much and very much appreciated my time painting with you. Eileen's support was wonderful and made everything go so smoothly from the moment we left Heathrow until our return.  I enjoyed meeting everyone and sharing such special times together, both arty and spiritual. This was a trip of a lifetime and I'll never forget it."  "
""Ken was so kind, helpful and enormously interesting to be with. I know I have gained a great deal from the experience of some of his incredible wisdom and insight and having the privilege of working alongside such a great artist""
""I want to let you know that the workshop with Ken Howard in Santorini was simply the best workshop I have ever attended.  I was deeply inspired and impressed by Ken.  The group was a pleasure.  I hope this workshop will be repeated again."  "