Hazel Soan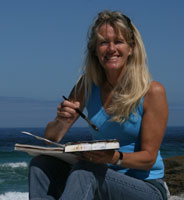 Hazel Soan is the hugely popular Watercolour Challenge TV artist. She has published several instructional books including Watercolour Landscape Techniques and African Watercolours. Her latest book is Watercolour Rainbow in which she discusses the properties of pigments.  Her love of Africa and her passion for wildlife is the subject of many of her paintings.
Hazel is a full time professional artist. She paints everyday, no matter where she is. She is a progressive artist with an evolving style, which is reflected in her varied portfolio and is an inspiration to all painters.
Her time is divided between Africa, where she lives for half of the year and London where she has her own studio.  Hazel's love and enthusiasm for life and people is infectious. Combined with her natural ability for teaching art and her caring nature, she is an excellent painting host. Hazel has been hosting painting holidays for Spencer Scott Travel for over 10 years and has taken students to Italy, France, Greece, Sri Lanka, Kenya, Zambia, Tanzania and India. We love working with Hazel.
Her more structured approach is particularly suited to confident beginners and intermediate students. Watercolour is her preferred medium when travelling.
Join Hazel Soan on a painting holiday
To learn more about Hazel Soan click here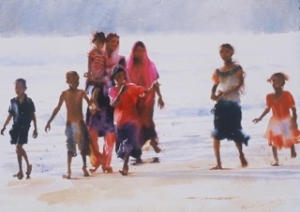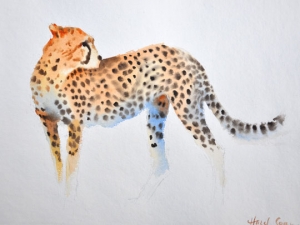 View our Painting holidays with professional artists

What the experts & clients say
""Just wanted to drop you a quick line to say how very much I enjoyed painting with Pete in Havana.  I loved it all, the City, the painting, the company, the Mojito's and the food, and it was great to have Jacqueline there organising us all. Many thanks and I hope to take part again next year.""
"Thank you for all the organisation which gave us such wonderful and thrilling days in The Mara - a truly memorable experience.  We were so lucky all our sightings - the best view of leopard I have ever had.  The bonus was that beautiful black rhino - fighting fit and so close.  Of course, Simon's expert and enthusiastic guidance ensured the maximum benefit."
""We had so many different experiences, the accommodation was all excellent and very varied.  Our viewing of the wildlife was exceptional, and we all managed to complete several paintings and sketches of animals, birds and landscapes.  As always, Hazel was an inspiring teacher." "