Hazel Soan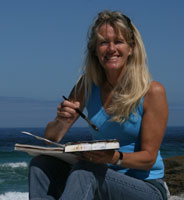 Hazel Soan is the hugely popular Watercolour Challenge TV artist. She has published several instructional books including Watercolour Landscape Techniques and African Watercolours. Her latest book is Watercolour Rainbow in which she discusses the properties of pigments.  Her love of Africa and her passion for wildlife is the subject of many of her paintings.
Hazel is a full time professional artist. She paints everyday, no matter where she is. She is a progressive artist with an evolving style, which is reflected in her varied portfolio and is an inspiration to all painters.
Her time is divided between Africa, where she lives for half of the year and London where she has her own studio.  Hazel's love and enthusiasm for life and people is infectious. Combined with her natural ability for teaching art and her caring nature, she is an excellent painting host. Hazel has been hosting painting holidays for Spencer Scott Travel for over 10 years and has taken students to Italy, France, Greece, Sri Lanka, Kenya, Zambia, Tanzania and India. We love working with Hazel.
Her more structured approach is particularly suited to confident beginners and intermediate students. Watercolour is her preferred medium when travelling.
Join Hazel Soan on a painting holiday
To learn more about Hazel Soan click here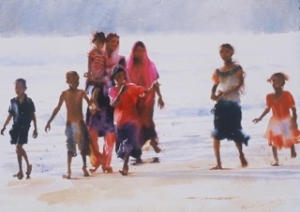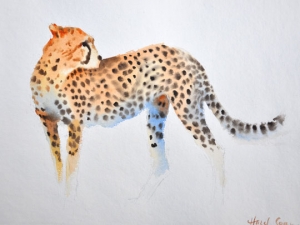 View our Painting holidays with professional artists

What the experts & clients say
"" Thank you for organising the extra flights and accommodation etc... The trip was a success for me. Eileen was the most thoughtful and hard working attendant/guide - she tended to our every needs - nothing was too much bother to her. Lachlan Goudie was such a gentleman. He was enthusiastic, kind and so very generous of advice and inspiration. He cheered us up and gave us hope when we were struggling with our work. We all loved him and are in awe of his beautiful water colours and gouache paintings.  Thank you for everything.""
"I have had the good fortune to work with Liz Drake at Spencer Scott Travel taking small groups on safari to East Africa and India. All aspects of the journey are handled in a most personal, thorough and sensitive way, and all the arrangements are organised with admirable attention to detail. I have always boarded the plane from London knowing we were all going to have the holiday of a lifetime."
""I wanted to say thank you so much for everything.  It was the most wonderful holiday and the memories of which will stay with me a lifetime.  It was clear to me that a lot of  work went on behind the scenes by both yourself [Liz Drake and Spencer Scott Travel], and Simon [King]  to make this holiday the very very best one could wish for and so very special so thank you both so very very much."  "