Chris Packham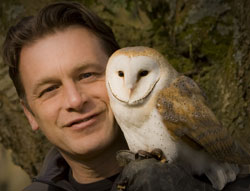 Chris Packham is a naturalist, nature photographer, author and television presenter. He was born in Southampton in 1961, and studied Zoology at the University there, where he  describes himself  as "A precocious young scientist, swat and nerd in training."  He studied Kestrels, Shrews and badgers throughout his student days.  He remains an avid bird watcher.
After Post graduation and a cancelled PhD, ("the Badgers were getting a bit much"), he began taking still photographs and trained as a wildlife film cameraman. The photography continues with exhibitions and invitations to judge prestigious competitions, but the camera work gave way to presenting. Chris began with the award winning 'Really Wild Show' in 1986 and has been working ever since. Credits include 'Wildshots', 'Wild Watch', 'Go Wild', basically lots of things with 'wild' in the title.
Chris is also an author with a resolute concern for conservation and the environment.  He ran a hugely successful production company 'Head over Heels,' making programmes for Animal Planet, National Geographic, ITV and the BBC.
He is an award-winning photographer, but being an extreme perfectionist, he is constantly driven to achieve the ultimate image. His photography is intense and evocative.
He has become well known more recently, as the presenter on Spring and Autumnwatch.  In 2010, Chris was awarded the Dilys Breese BTO Medal for 'his outstanding work in promoting science to new audiences.  His popularity continues to grow and he regularly appears on a variety of TV shows and radio as well as attending wildlife conservation and photographic events as the star guest. Chris has been hosting safaris for us since 1998. His breadth and depth of knowledge of all creatures great and small is quite astounding and so to travel with him is a mind blowing experience. As a host he gives 200% and with his whacky sense of humour you can be sure it is fun too. It is a great privilege to work with Chris. He has hosted safaris to Cuba, South Africa, The Amazon, The Okavango and Mountain gorillas in Uganda.  We hope his diary allows him to host another trip for us soon – we know he wants to revisit Namibia and also to see the Birds of Paradise do their amazing courtship dance in Papau New Guinea……  an event he describes as "Damien Hirst meets Darwin"
"I've done lots of trips tour guiding for Spencer Scott Travel (Cuba, Peru, South Africa, Botswana, Uganda) and they have all been of the highest order, well planned, great itineraries, excellent support and clients always totally satisfied. They are a total pleasure to work for and I have loads of great memories to treasure as a result. Check them out if you want something special."
Chris Packham
View our Exclusive expert-led safaris
What the experts & clients say
""We had so many different experiences, the accommodation was all excellent and very varied.  Our viewing of the wildlife was exceptional, and we all managed to complete several paintings and sketches of animals, birds and landscapes.  As always, Hazel was an inspiring teacher." "
""Thank you Lucy for giving us such a wonderful time. I so appreciated your expertise and your personality. I learned so much and very much appreciated my time painting with you. Eileen's support was wonderful and made everything go so smoothly from the moment we left Heathrow until our return.  I enjoyed meeting everyone and sharing such special times together, both arty and spiritual. This was a trip of a lifetime and I'll never forget it."  "
"I have had the good fortune to work with Liz Drake at Spencer Scott Travel taking small groups on safari to East Africa and India. All aspects of the journey are handled in a most personal, thorough and sensitive way, and all the arrangements are organised with admirable attention to detail. I have always boarded the plane from London knowing we were all going to have the holiday of a lifetime."