Dr. Julie Anderson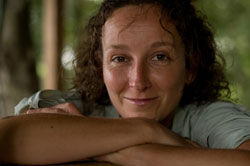 Dr Julie Anderson is a biological anthropologist and TV presenter. She is a leading primate conservationist and Director & Scientific Advisor of the Colobus Trust in Kenya. Julie presented the recent BBC TV series Living with Monkeys, about western lowland gorilla ecology and behaviour and red-capped mangabey. Her enthusiasm, breadth of knowledge, sense of adventure and warm personality make Julie a perfect host for a primate safari.

View our Exclusive expert-led safaris

What the experts & clients say
"I've done lots of trips tour guiding for Spencer Scott Travel (Cuba, Peru, South Africa, Botswana, Uganda) and they have all been of the highest order, well planned, great itineraries, excellent support and clients always totally satisfied. They are a total pleasure to work for and I have loads of great memories to treasure as a result. Check them out if you want something special."
""I want to let you know that the workshop with Ken Howard in Santorini was simply the best workshop I have ever attended.  I was deeply inspired and impressed by Ken.  The group was a pleasure.  I hope this workshop will be repeated again."  "
""I wanted to say thank you so much for everything.  It was the most wonderful holiday and the memories of which will stay with me a lifetime.  It was clear to me that a lot of  work went on behind the scenes by both yourself [Liz Drake and Spencer Scott Travel], and Simon [King]  to make this holiday the very very best one could wish for and so very special so thank you both so very very much."  "