Dr. Julie Anderson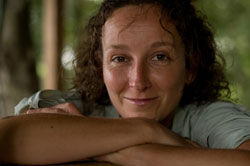 Dr Julie Anderson is a biological anthropologist and TV presenter. She is a leading primate conservationist and Director & Scientific Advisor of the Colobus Trust in Kenya. Julie presented the recent BBC TV series Living with Monkeys, about western lowland gorilla ecology and behaviour and red-capped mangabey. Her enthusiasm, breadth of knowledge, sense of adventure and warm personality make Julie a perfect host for a primate safari.

View our Exclusive expert-led safaris

What the experts & clients say
""Just wanted to drop you a quick line to say how very much I enjoyed painting with Pete in Havana.  I loved it all, the City, the painting, the company, the Mojito's and the food, and it was great to have Jacqueline there organising us all. Many thanks and I hope to take part again next year.""
""Thank you Lucy for giving us such a wonderful time. I so appreciated your expertise and your personality. I learned so much and very much appreciated my time painting with you. Eileen's support was wonderful and made everything go so smoothly from the moment we left Heathrow until our return.  I enjoyed meeting everyone and sharing such special times together, both arty and spiritual. This was a trip of a lifetime and I'll never forget it."  "
""I want to let you know that the workshop with Ken Howard in Santorini was simply the best workshop I have ever attended.  I was deeply inspired and impressed by Ken.  The group was a pleasure.  I hope this workshop will be repeated again."  "