Dr. Julie Anderson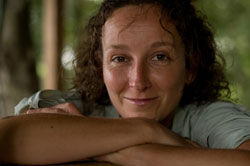 Dr Julie Anderson is a biological anthropologist and TV presenter. She is a leading primate conservationist and Director & Scientific Advisor of the Colobus Trust in Kenya. Julie presented the recent BBC TV series Living with Monkeys, about western lowland gorilla ecology and behaviour and red-capped mangabey. Her enthusiasm, breadth of knowledge, sense of adventure and warm personality make Julie a perfect host for a primate safari.

View our Exclusive expert-led safaris

What the experts & clients say
"I've done lots of trips tour guiding for Spencer Scott Travel (Cuba, Peru, South Africa, Botswana, Uganda) and they have all been of the highest order, well planned, great itineraries, excellent support and clients always totally satisfied. They are a total pleasure to work for and I have loads of great memories to treasure as a result. Check them out if you want something special."
""Thank you Lucy for giving us such a wonderful time. I so appreciated your expertise and your personality. I learned so much and very much appreciated my time painting with you. Eileen's support was wonderful and made everything go so smoothly from the moment we left Heathrow until our return.  I enjoyed meeting everyone and sharing such special times together, both arty and spiritual. This was a trip of a lifetime and I'll never forget it."  "
"I love working with Spencer Scott because I can be confident that, wherever we go, the Company will have secured the best available accommodation, services and back-up. This frees me to concentrate on what I enjoy most, which is finding really special wildlife experiences to share with our clients"