Dr. Greg Rasmussen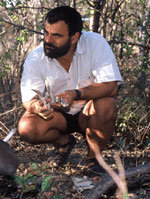 Dr. Greg Rasmussen  was born in London and moved to Zimbabwe with his parents aged 11.  After college, he began work on an African wild dog research project in Hwange National Park and became so committed to the painted dogs that he sold all his belongings  to live and work for their protection.
In 2003 he was involved in a light plane crash, which left him severely injured and alone in the African bush.  He endured extreme temperatures and exposure to predators while he waited for help. He was eventually rescued and the story of his survival  was featured in the Channel 4's ' Alive' and Discovery Channel's 'I shouldn't be alive' series.
Greg is a conservation biologist who spends almost all of his time researching African wild dogs in Zimbabwe and other African countries.  He was the founder of Painted Dog Conservation and has recently set up Painted Dog Research Trust (PDRT) to sustain the research he does by helping young Zimbabweans to get involved. 
We worked with Greg when he was a Director of PDC.
View our Exclusive expert-led safaris

What the experts & clients say
""Ken was so kind, helpful and enormously interesting to be with. I know I have gained a great deal from the experience of some of his incredible wisdom and insight and having the privilege of working alongside such a great artist""
"I love working with Spencer Scott because I can be confident that, wherever we go, the Company will have secured the best available accommodation, services and back-up. This frees me to concentrate on what I enjoy most, which is finding really special wildlife experiences to share with our clients"
""I want to let you know that the workshop with Ken Howard in Santorini was simply the best workshop I have ever attended.  I was deeply inspired and impressed by Ken.  The group was a pleasure.  I hope this workshop will be repeated again."  "