Patrick Cullen NEAC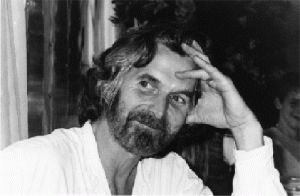 In 1976, Patrick achieved a BA (Hons) in Fine Art from Camberwell School of Art, and before that he attended St Martins School of Art in 1972 – 1973.  He became a member of the New English Art Club in 1997 and remains an active member. Patrick is also a member of the Pastel Society.
His work includes landscapes, street scenes and portraits.  Patrick works in pastels when travelling and collecting ideas for paintings.  Back in the studio he then uses the material gathered for larger paintings in oils or watercolours.   "My work is either completed from life or based on studies done from life because the process of observing nature is the source of my inspiration. A photograph by-passes this process and presents one with a mechanically derived image rather than one's subjective response to the visual world".
For pastels I work mainly on Wallis paper, an extra fine sandpaper of archival quality developed by the pastellist Kitty Wallis. I tend to only work in watercolour for extra large subjects and I use a roll of Bockingford NOT stretched on a 6ft x 4ft board, working flat on the studio floor. For oils: a fine oil primed canvas.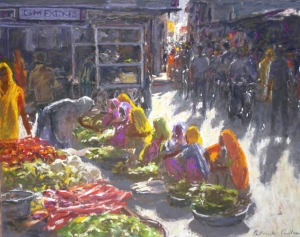 Patrick travels widely and paints in all weathers and all seasons in the UK, Tuscany, Spain and India. He also regularly paints with Ken Howard RA, Peter Brown and Neale Worley. The 'boys' have undertaken several painting trips to India together. The last one culminated with a four man show at Indar Pasricha Fine Arts in 2015.
In 2013 Patrick made two trips to Transylvania for an exhibition at The Romanian Cultural Centre London W1, as part of the Transylvania Festival in support of the Romanian charity ADEPT.
AWARDS
1984 Spirit of London Competition, Royal Festival Hall, Prizewinner
1989 Royal Academy Summer Exhibition, The Watercolour Prize
1990 Pastel Society, Daler Rowney Award
1991 Royal Watercolour Society, Abbot and Holder Award
1995 Pastel Society, Daler Rowney Award
2000 Pastel Society Centenary Exhibition, Daler Rowney Award
2001 New English Art Club, The Kathleen Tronson Award
2001 New English Art Club, The Jans Ondaatje Rolls Prize
2003 New English Art Club, The Minto Prize
2004 Royal Watercolour Society, RWS Award
2012 Chelsea Art Society, Painting Prize
2015 Lynn Painter Stainer Prize, Runner-up Prize
2016 The Critics' Prize at the New English Art Club
As well as exhibiting with the NEAC at the Mall Galleries he also has several solo exhibitions in London.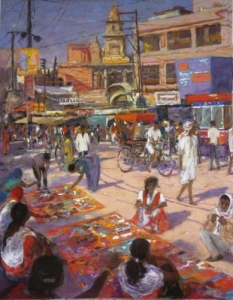 Paint with Patrick Cullen
We are delighted that Patrick is hosting painting holidays for us in association with The Artist Magazine.
Current Trips with Patrick Cullen NEAC

14th - 28th November 2018
A 'work alongside' oil and pastel painting holiday with Patrick Cullen, that is ideal for advanced students and experienced painters. Spend 6 full days painting in the shimmering and glistening city of Udaipur famous for its white marbled City Palace and Lake Palace., and four full days painting the impressive Meherangarh Fort and blue houses of the desert city of Jodhpur.

What the experts & clients say
""We had so many different experiences, the accommodation was all excellent and very varied.  Our viewing of the wildlife was exceptional, and we all managed to complete several paintings and sketches of animals, birds and landscapes.  As always, Hazel was an inspiring teacher." "
""I want to let you know that the workshop with Ken Howard in Santorini was simply the best workshop I have ever attended.  I was deeply inspired and impressed by Ken.  The group was a pleasure.  I hope this workshop will be repeated again."  "
""I wanted to say thank you so much for everything.  It was the most wonderful holiday and the memories of which will stay with me a lifetime.  It was clear to me that a lot of  work went on behind the scenes by both yourself [Liz Drake and Spencer Scott Travel], and Simon [King]  to make this holiday the very very best one could wish for and so very special so thank you both so very very much."  "