Ian Sidaway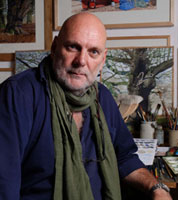 Ian has been painting since 1970. In the 1980's and 1990's he painted portraits to commission and began writing instructional books and illustrating books on art techniques including The Instant Artist, Collins & Brown. He is currently concentrating on the landscape in the UK and abroad working in watercolours, acrylics and oils. He regularly exhibits in London including the Royal Watercolour Society, Royal Institute of Painters in Watercolour, Royal Society of British Artists, the Pastel Society, the Royal Institute of Oil Painters. Ian taught in summer school in Italy for several years.
Ian is a great teacher and has led painting holiday to Venice for us.
To learn more about Ian Sidaway click here
View our Painting holidays with professional artists

What the experts & clients say
"I have had the good fortune to work with Liz Drake at Spencer Scott Travel taking small groups on safari to East Africa and India. All aspects of the journey are handled in a most personal, thorough and sensitive way, and all the arrangements are organised with admirable attention to detail. I have always boarded the plane from London knowing we were all going to have the holiday of a lifetime."
""Thank you Lucy for giving us such a wonderful time. I so appreciated your expertise and your personality. I learned so much and very much appreciated my time painting with you. Eileen's support was wonderful and made everything go so smoothly from the moment we left Heathrow until our return.  I enjoyed meeting everyone and sharing such special times together, both arty and spiritual. This was a trip of a lifetime and I'll never forget it."  "
""Our group is led by Professor Claudio Sillero....his decades of experience in this region and his hardy colleagues, guarantee sightings of wolves  They do not disappoint." "Next we climb up and across the Sanetti Plateau through unmatched beauty in every direction.  Small klipspringer, antelopes and hyrax, ( a pint-sized relative of the elephant), dot the hillsides.  our camp site is magnificent!  It is surrounded by towering basalt formations the locals call 'the soldiers.'  ....Can any place be more perfect?" "Our successful adventure is coming to a close, but we have been fortunate to site 30 wolves in 11 different packs, which equates to 10% of all the wolves living in the Bale Mountains National Park." "