Simon King OBE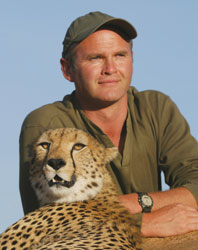 Simon King is a professional naturalist and wildlife presenter as well as an expert cameraman and an accomplished author. He is an exceptional safari host and spending time out in the field with Simon is always special. He has an uncanny knack of finding the most exciting action and making all creatures great and small interesting. 
Simon King began his career as a child actor on television. He featured in The Fox, Secret Place and Man and Boy. He made his first film when he was just 21 years old and has now made over 80 natural history films.
His talent as principle cameraman, director, producer and presenter is recognised by top film and TV organisations including the BBC Natural History Unit and DisneyNature. He has won numerous awards and BAFTA's for his filming and camerawork on Wild Africa, The Blue Planet, Life in the Freezer and Planet Earth.
He is best known as the lead presenter on Big Cat Diary, Springwatch, Autumnwatch and Shetland Diaries TV series.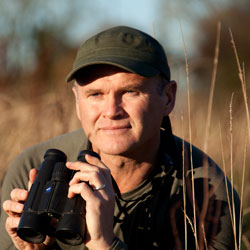 Simon is also a skilful writer and has written forewords and scripts for films including some for David Attenborough. He has written 3 books including his autobiography 'Wild Life', 'Wild Guide' & 'Shetland Diaries'.
More recently he has worked on projects that bring the natural world closer to individuals through his live outside cam broadcasts from wildlife hotspots in the UK and abroad, through an interactive wildlife website and wildlife forums, presenting animated talksand hosting exclusive big cat safaris in The Masai Mara and in-depth nature field trips in Dorset and on Shetland.  Simon worked on African Cats for DisneyNature and is working on new films.
Simon has been hosting safaris and working with us for several years. His knowledge of all wildlife matters and creatures great and small is endless. His passion and enthusiasm is infectious and spending time on safari with him is a very special experience. Simon is a perfect gentleman and the most charming host who is genuinely interested in his guests.  He is true professional, extremely personable and very entertaining. Safaris with Simon are always full of wonderful surprises and stylish in an understated and sophisticated way. 
Keep up to date with what
Simon
is doing.  
View our Exclusive expert-led safaris