50 years of lion conservation – what's been happening since the making of the film 'Born Free' about Elsa the lioness?
It really was 50 years ago.
Perhaps the greatest and best loved conservation story of all time – Joy Adamson's book 'Born Free' about the raising of  lion cub, Elsa, was released as a film in 1966.  It told the heart rending true events encountered by Joy and George Adamson in 1950's Kenya, beginning with taking in Elsa as an orphaned  lion cub right through to her release into the African bush. They decided to set Elsa free and spent many months training her to hunt and survive on her own. Elsa became the first lioness successfully released back into the wild, the first to have contact after release, and the first to have a litter after returning to the wild. This all happened in Meru National Park in northern Kenya. Elsa died in 1961 from a disease resulting from a tick bite.
The Adamson's are considered to have revolutionised attitudes about wild animals and were respected by many up and coming naturalists including Tony Fitzjohn who learned from working alongside George in particular. They warned the world that unless it protects their habitats, many of the most magnificent species would be extinct within a few decades.
Royalties from books and films were paid into a new charity now called  The Elsa Conservation Trust. Although ten years apart, both Joy and George were murdered, each leaving their entire estates, including Elsamere, Joy's home on Lake Naivasha, to the Trust.  Since then the trust has donated millions of pounds to wild life education and conservation projects.  Today its principle activities and aims are to further conservation and wildlife conservation education, particularly in East Africa.
In 1966 Born Free became a film starring husband-and-wife actors Bill Travers and Virginia McKenna.  It was filmed in the Kenyan bush and soon became a worldwide hit. There will be special screenings, events, news, and information on line throughout 2016 to mark the 50th anniversary of the film. The making of the film had a profound impact on the two film stars and the welfare of wild animals became their focus. They went on to set up The Born Free Foundation in 1984.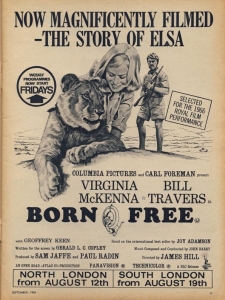 In 1966 Born Free became a film starring husband-and-wife actors Bill Travers and Virginia McKenna.  It was filmed in the Kenyan bush and soon became a worldwide hit. There will be special screenings, events, news, and information on line throughout 2016 to mark the 50th anniversary of the film. The making of the film had a profound impact on the two film stars and the welfare of wild animals became their focus. They went on to set up The Born Free Foundation in 1984.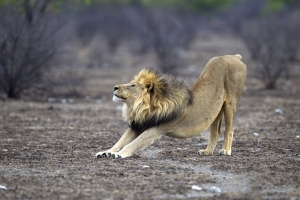 Elsa's legacy – Born Free Foundation
A dynamic international wildlife charity, founded by Born Free actors Bill Travers MBE and Virginia McKenna OBE. Their son, Will Travers OBE, is the charity's President.  From humble beginnings, it has grown into a global voice for wildlife.   It was described by The Times Newspaper as 'Big enough to make a difference, but small enough to care,'   Many celebrities, including Joanna Lumley, Martin Clunes and Helen Worth, and high profile businesses actively support and fund Born Free's projects and campaigns.
Born Free Foundation works to stop the extinction of species.  It works with local communities to find solutions so that people and wildlife can live together.  Their major international projects are devoted to animal welfare, conservation and education, and to keeping wildlife life in their wild natural habitats.
In recognition of the 50th anniversary award-winning film 'Born Free',  Born Free Foundation and Born Free USA have declared 2016 The Year of the Lion.
The Year of the Lion
According to Adam Roberts, CEO Born Free Foundation , "Born Free's Year of the Lion campaign is reflective of the film's anniversary that started it all, as well as the fact that, today, the fight for the survival of lions in the wild has never been more urgent. Experts believe their numbers have plummeted to fewer than 20,000 across Africa as their habitat dwindles and becomes more fragmented; as horrific retaliatory killings are perpetrated; and as hundreds of lions are slaughtered each year by trophy hunters in the name of 'sport'. It is imperative that their plight is immediately taken seriously. The species' decline has been rapid and steep. Without concerted action at all levels of government globally, the species could disappear from significant parts of Africa during our lifetime."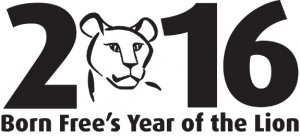 The Born Free Foundation will participate in a major scientific lion census in the Meru, Kenya,  where George Adamson lived and worked with lions, to establish how many lions remain in the area. Meru is still home to the descendants of Girl, Boy, and Ugas: three of the lions featured in the Born Free movie.
In 2016, the spotlight will be on lions at the meeting of The Convention on International Trade in Endangered Species of Wild Fauna and Flora (CITES), convening in Johannesburg, in September. More than 180 countries from around the world will debate, and possibly decide, the future level of protection afforded to lions. Born Free is calling for an end to commercial trade and an up-listing of African lions to CITES Appendix I (highest priority).
So, what's happening to the African Lion population?
They are known to have disappeared from at least 12 and possibly 16, African countries in recent years.  Kenya, which may be home to around 2,000 lions, is one of the last remaining strongholds for the species in East Africa. However, numbers may have fallen in Kenya by around 20% in just 10 years, and so protection of Kenya's population has now also become imperative.  Africa's lions are said to be 'in crisis'.
Figures from the International Union for Conservation of Nature show African lions
1940's – 450,000
1980 – 100,000
2015 – 39,000, IUCN status 'Vulnerable' – down 43% in the last 21 years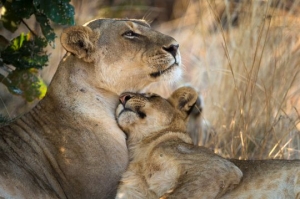 Virginia McKenna said, "There was a time, 50 years ago, when wild lion numbers were in excess of 100,000. Though aware of the challenges lions faced, even then, I could never have foreseen the devastation that was about to befall this iconic species.  It is unimaginable to contemplate the possible extinction of these extraordinary animals and we must do whatever is in our power to stop their further decline."
What are the problems?
There are a variety of reasons for this dramatic decline, including herding communities protecting their livestock, young Maasai warriors following traditional beliefs that killing a wild lion proves their strength and power, and the export of lion parts and bones globally.  Perhaps the main reason though is that man and carnivores are being forced to share an ever decreasing space.  Lions are losing their habitat, resulting in increased conflict with livestock based communities.  Livestock falls prey to the lions usually at night time and leads to retaliatory killings of lions in the morning.
So, what is being done to help lion conservation?
Many airlines have stopped shipping lion trophies, largely due to pressure from the public.  France and Australia are amongst an expected growing list of countries to outlaw the import of lion parts.
There has been something of a shift in the approach of organisations such as Born Free and other field based conservationists, to work more closely than ever with the livestock-dependent communities and reduce the lion versus livestock conflict.  For example, Born Free has been promoting the construction of lion-proof bomas to keep lions and other predators away from livestock at night.
In the northern Kenya region of Samburu, Born Free is also partnering with the Ewaso Lions project to pilot other approaches aimed at mitigating the conflict between communities and predators. These include the adoption of mobile predator-proof bomas, (livestock enclosures), and developing various light systems that mimic the presence of cattle guards, based on work started on the Ewaso Lion Project.
Ground breaking initiatives
Ewaso Lions is a not for profit group, founded in 2007 to further the cause of Lion conservation. Ewaso Lions puts local people at the heart of lion conservation.  Much of their pioneering work is done with local Samburu communities bordering Samburu, Buffalo Springs and Shaba National Reserves in Northern Kenya. It takes its name from the Ewaso Nyiro river that flows through this area.

Shivani Bhalla founded Ewaso Lions in 2007 to promote the co-existence between carnivores and people. Shivani is a fourth generation Kenyan who believes the key to lion conservation is working in partnership with local communities.  Her commitment to Kenya's lions has earned several prestigious awards including the Whitley Award in 2014, the Rabinowitz-Kaplan Prize for the Next Generation in Wild Cat Conservation in 2013, the "Africa's Young Women Conservation Biologist of 2009" award from the Society of Conservation Biology, the Virginia McKenna Award for Compassionate Conservation from the Born Free Foundation, and she has been named an Emerging Explorer by National Geographic.
Watch a short video about Shivani and the groundbreaking work of Ewaso Lions, narrated by Sir David Atttenborough.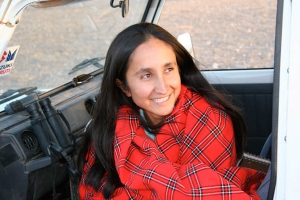 Ewaso Lions' research focuses on identifying the factors that influence pride movements and the extent of conflict with humans as they are effected by habitat loss.  A major project is conducting a lion census to estimate population size and trends. Another project involves leaving an area of land untouched by human activity to see how long it takes for lions and other wildlife to re-establish themselves. Trained Lion Scouts work out in the bush protecting lions and Lion Watch Guides collect vital data on lions in Samburu Nature Reserve as they take their guests on game drives. Resources are tight so a small amount of data is collected from camera traps and it is hoped to use radio collars to map lion movements within Northern Kenya.
Ewaso Lions also works closely with local communities to find ways that people can coexist with lions. Their Community Outreach programmes are hugely respected by wildlife biology conservationists. They include:
"Warrior Watch", which recruits and trains Samburu warriors to monitor lion movements and potential attacks out in the bush
Primary school education on wildlife and wildlife clubs in schools
Scholarships for students interested in conservation
Lion kids camps where local children get to learn all about lions. how to better live with them and get taken on safaris to see the animals first hand
Mama Simbas – educating and empowering local women
A mobile film project that shows wildlife films in rural villages  and gives local people an opportunity to see the animals up close
 A run for lions happens each year to bring the community together and bring awareness about lion conservation.
Ewaso Lions is making a difference by putting local people first 
1. Livestock herding children:
A Special Lion Kids Camp for Herding Children Who Have Never Gone to School – February 2016 saw the first Lion Kids Camp for livestock herding children. The focus was on a new demographic of young Kenyans who play an important role for wildlife: young livestock herders, or "lchokutis".    28 Kenyan children from villages across Westgate Conservancy were brought together for a week of conservation education, activities, and games.
Often, young children are charged with tending livestock whilst out grazing, yet they have limited, exposure to conservation education and training.  Owing to their herding responsibilities, most have never been in a classroom before.
2.  Engaging Women:
Mama Simba (Mothers of Lions).     Samburu women spend a large amount of time in contact with wildlife. as they fetch water and firewood.  They also are responsible for herding livestock . They remain in the village whilst the warriors and elders are away and so they deal with human-wildlife conflict first hand when livestock is attacked at night.  Ewaso Lions works with the women to reinforce their bomas and test experimental predator deterrents at villages where livestock loss to carnivores is high.
The Ewaso Project started a women's education initiative in  2013 with 10 women who are learning to read, write  and do arithmetic. This helps them in many activities, such as livestock trade, beadwork, and food businesses.    As the women continue to learn it is hoped that it will be easier for them to monitor the deterrents and record results.
Ewaso Lions named Best Wildlife Conservation Group in Kenya by Corporate Vision
Ewaso Lions were named Best Wildlife Conservation Group in Kenya as part of the African Excellence Awards for 2015.  Corporate Vision presents this award to African people and firms that have achieved outstanding work considered to be amongst the most exciting in the world.  On receiving this prestigious award Ewaso Lions said "we hope this will put lion conservation in front of a key new audience, especially as we strive to engage more local Kenyan firms in supporting wildlife conservation."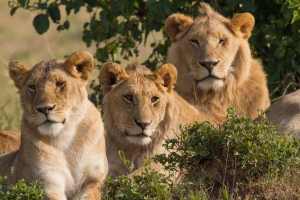 Fifty years on….
There are positive signs that lion conservation is being taken more seriously.  Lions are at the forefront of wildlife tourism for places like Kenya and Tanzania.  Work continues at the grass routes level with a strong emphasis on working to mitigate the conflict between predators and local  communities.  There is still much to do and as  Will Travers wrote, "It is hoped that with Year of the Lion and the poignant anniversary of the much-loved film, people will again look at what is happening to this most majestic and iconic of wild animals. Lions are in our DNA. It is still within our grasp to reverse this devastating trend, but only if we wake up now and take action."
♦ ♦ ♦
Lion Conservation Safari in Kenya
Special 10th Anniversary safari with Ewaso Lions in Samburu
& Big Cats in the Masai Mara with Jackson Looseyia
21 June – 2 July 2017
Experience lion conservation first-hand with Ewaso Lions in Samburu
Engage with community-based conservation and meet Samburu Warriors and Mama Simbas
Spend time at a Lion Kids Camp
Walk for Ewaso Lions on a special 10th Anniversary bush walk
Observe big cats in the Masai Mara with Jackson Looseyia from Big Cat Diary
6 nights Samburu & 5 nights Masai Mara
6 – 8 guests
This will be a unique bush safari that goes above and beyond anything you have ever experienced,  and culminates with a personal big cat safari in the Masai Mara with Jackson Looseyia of Big Cat Diary fame
Register your interest now
01825 714310
safari@spencerscott.co.uk