A perfect safari
A personal diary by Liz Drake

From our arrival at Musiara airstrip in the Masai Mara to our departure 6 days later we had the most fantastic close encounters with all the big cats and wildlife that the Serengeti/Mara ecosystem supports with virtually no other vehicles and humans in sight. We had sun-uppers, sun-downers, bush breakfasts and bush lunches to ourselves apart from the occasional lion watching us.
We were a small party of enthusiastic wildlifers and Jackson Looseyia (Big Cat Diary presenter) was our private guide. We stayed at Jackson's camp in the north of The Mara, so each day we headed out first on to the Marsh where at two females of the famous Marsh pride had cubs.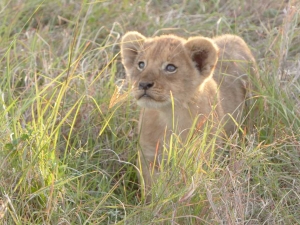 We followed the trials and tribulations of the cubs as they became threated by a huge herd of buffalo and the lionesses had to move them to safer ground. There were so many lions in The Mara that it was rather the focus of the safari. It was wonderful to experience so much lion behaviour – playful cubs, nursing lionesses, males wanting to mate and threatening younger males and lionesses hunting. The unspoken communication between the lions riveted us.
Lions abound…..
On the day we headed to Rhino Ridge we found a beautiful cheetah. The light was great so the photo opportunities could not have been better.
There were hundreds of herds of zebra and they were crossing the Mara River, so one day we headed down to Main Crossing just to see if there was any action.  We had not even turned the engine off when it was apparent a herd of zebra we about to cross the river which was full of massive crocs. The tension built very quickly as the zebra made a dash for it. Suddenly a leopard lept out of the bushes on the bank and caught an almost fully grown zebra. The poor zebra was down in a split second and its life was over. BUT then to our horror and amazement the mother charged down the bank and attacked the leopard driving it off her young. She then tried to drag the zebra up the bank to safety. It was heart-breaking to watch. The leopard watched from a few feet away.  When the mother realised her young zebra was dead she left it and retreated up the bank and the leopard returned to its kill and dragged it in to the bushes. The mother zebra then spent the next couple of hours pacing up and down and clearly mourning the loss of her baby. Nature is very cruel. Seeing a leopard kill is very rare and the chances of seeing a leopard kill on a crossing is even rarer. We were very lucky to witness this and with just one other vehicle that was also there by chance.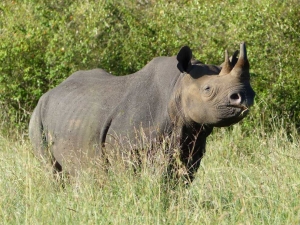 We had the most incredible close encounters with both rhino and elephant (not at the same time).  We were in the Mara Triangle when we spotted the rhino. Jackson positioned the vehicle and then we just sat patiently and quietly. There were two rhino. One slowly walked towards us and was about 20 feet away before it headed off in another direction. It is a privilege to see this highly endangered mammal in the wild and close up. They are notoriously shy.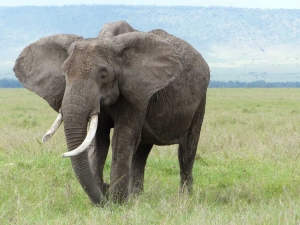 There were plenty of elephant families in both the Mara and the Triangle. It was lovely to watch them feeding in the Marsh. We came across a family who were very relaxed. We stopped the vehicle and watched them as they walked towards us. Most kept a distance of about 20 feet between themselves and our vehicle but one young adult bolding walked up to the jeep and was so close we could almost have touched it. We hardly dared breathe so as not to spook it. Moments like these are rare and very moving.
We saw a pack of 8 – 10 Jackals and a dik dik couple most mornings, in the evenings  a pack of hyena feeding on a hippo skin just outside camp. It was taking them days to eat the tough skin and they clearly welcomed the rain we had on two evenings as this softened the hide.
We had a couple of other extraordinary sightings. We came across a magnificent Martial eagle (a very large and powerful eagle) that had just killed a serval cat (poor serval). The eagle was a little reticent with us being so close so we left it to enjoy its kill.  One evening just outside our camp we saw two Eagle-owls – fabulous, but they were too quick to photograph and the light was fading.
We had just enough time in Nairobi before flying home to visit the Giraffe Centre and the David Sheldrick Elephant Orphanage where we adopted a few more little orphans – what a lovely way to finish our safari. 
The safari was perfect – it delivered on every conceivable level. We saw so many different species and had so much wonderful animal behaviour. This was all interspersed with lots of fun and laughter and emotional moments and sometimes near to tears.  It is hard to quantify the special experiences that were far above the ordinary safari. We benefited by travelling in January when there are few other visitors, having a Maasai guide who also happens to be the best guide in The Mara on an exclusive basis, travelling with just 4 of us in a jeep, not having a timetable to follow and staying in a camp that is superbly located for The Mara and the Mara Triangle. We were a party of discerning ladies who have bonded through our love of wildlife and desire to follow nature's timetable. We'll be back next January for more wildlife encounters of a special kind ….