Beethoven's only Opera, Fidelio, to be performed in Salzburg with Jonas Kaufmann
As lovers of opera, you will no doubt have heard all about the tenor Jonas Kaufmann?  In 2014 The New York Times described him as,  "a box-office draw, and… the most important, versatile tenor of his generation."
Jonas was born on the 10 July 1969 and is a German operatic tenor.  He is perhaps best known for his performances in spinto roles such as Cavaradossi in Tosca, the title role in Don Carlos and Don José in Carmen . He has also sung leading tenor roles in the operas of Richard Wagner with success in Germany and abroad, most notably the Metropolitan Opera in New York. He is also an accomplished Lieder singer.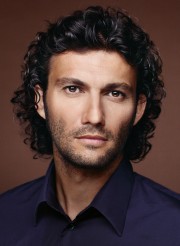 "Opera is a power house, a unique sort of magic and excitement. There is nothing like the thrill of an exciting live performance, with all those risks, and surprises, and that special chemistry between stage and audience; the combination of performed music, theatre and stage design … that's something you don't get in any other genre.'
Jonas Kaufmann
In a most informative and insightful interview in the Opera Blog by Jennifer Williams in 2014, she writes of his background and rise to fame in detail.  Williams writes,
"  His schedule is booked six or seven years in advance, and he can sing anything from lighter lyric roles to Puccini, Massenet and Wagner. At 44, his career has already reached heights many tenors only dream of."
Recent Awards
• 2007: Gramophone Award for Richard Strauss Lieder, with Helmut Deutsch, piano
• 2011: Gramophone Award for Verismo Arias. Antonio Pappano conducting
• 2012: Gramophone Award for Fidelio, Claudio Abbado conducting
• 2013: Opera Award for Best Male Opera Singer[43]
• 2013: Gramophone Award for Wagner Arias, Donald Runnicles conducting
To read more about Jonas Kaufmann, and to listen to some of his work visit his website here.  He also appeared on Desert Island discs in February this year.  Listen again to a wonderful interview, including his early stage fright experiences, with Kirsty Young
Double debut at the Salzburg Easter Festival
On Saturday, March 28 this year, : The new production of "Cavalleria rusticana" and "Pagliacci" staged by Philipp Stölzl and conducted by Christian Thielemann marked a double debut of Jonas Kaufmann, singing both Turiddu und Canio.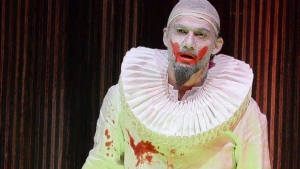 Jonas Kaufmann (Canio), Foto SN/APA
Jonas will return to Salzburg to perform Fidelio at the Salzburg Music Festival in August 2015. It is anticipated to be an outstanding performance.   Franz Welser-Möst is Conductor and Claus Guth the Director.  The Vienna Philharmonic will provide Orchestral support, to complete an inspirational evening at the Opera.
Fidelio Facts:
Ludwig van Beethoven composed only one opera. It is the opera, "Fidelio."
Composed 1804-1805 and first performed November 20, 1805.
Libretto by Joseph Sonnleithner and Georg Friedrich Treitschte (in German),
after Bouilly.
It is said to be an opera which expresses Beethoven's 'sober' personality.
The main theme of this opera is justice and love between a wife and husband.
He composed this opera based on his instrumental music and so it is considered to be difficult for singers to sing some of the melody lines in this opera. Both Florestan's and Leonore's arias are especially very difficult to sing.
Beethoven revised this opera three times, in addition to that, he rearranged the last scene ten times. Each change is thought to have enhanced the richness of the content.
The orchestra consists of 1 piccolo, 2 flutes, 2 oboes, 2 clarinets, 2 bassoons, contra bassoon, 4 horns, 2 trumpets, 2 trombones, timpani, and strings. There is also an offstage trumpet.
Fidelio – A synopsis:
Act 1
It is  the 16th century, in Seville, the governor of the prison, Don Pizarro, puts Florestan into prison on a false charge. Florestan, who is a politician, attempted to expose Pizarro's injustice. So, Pizarro confined Florestan in a dungeon.  His wife, Leonore, attempts to rescue him. and uses the male name, "Fidelio," and dresses in men's clothes, working  as an errand boy of the jailer, Rocco for two years.
During this time, Rocco's daughter, Marzelline, rejects her father's assistant, Jacquino, who hopes to marry her as she plans to marry Fidelio.  Then, Pizarro hears that there is to be an inspection of the prison and so fearing his injustice will be discovered,  he decides to kill Florestan in secret.
Act 2

Pizarro orders  Rocco to dig a grave and Fidelio is to help. Pizarro appears in the dungeon and attempts to stab Florestan. Fidelio intercepts and discloses her true character, as Florestan's wife.
Then, the Minister of Justice,  arrives at the prison and is pleased to meet his friend, Florestan, again. He had thought that Florestan was dead.  Pizarro is arrested and Fidelio, aka , Leonore removes her husband's handcuffs.and the crowd sings her praises , ("Wer ein holdes Weib errungen" [Who has got a good wife]).
The Minister then blesses Leonore and Florestan with love and justice.
Fidelio – What's next?
At Spencer Scott Travel we are delighted to offer a limited number of guests the opportunity to join us at The Salzburg Music Festival, 12th – 15th August 2015.  We have already confirmed the  best seats to see Plácido Domingo & Anna Netrebko in Il trovatore, Jonas Kaufmann in Fidelio, Ann Murray in Le nozze di Figaro & Riccardo Muti conducting Tchaikovsky & Brahms with the Vienna Philharmonic & Anne-Sophie Mutter
Would you like to join us  on this is  3-night hosted trip to this première music festival in Europe.?