Nepal's hidden Tibetan 'kingdom' – walk the ancient caravan route from Jomsom to Lo Manthang.
Surely this very special walk in Upper Mustang to the remote medieval walled city of Lo Manthang must be a strong contender for a 'Walking experience of a lifetime' prize, if one were to exist.  Allow me to  tell you more.  
Lo Manthang is in a remote area of Upper Mustang , 50 km from the Tibetan border and 250km from the Indian border. It is still the main salt, food and clothing trading route between Nepal and Tibet. Trade is still transported by mule.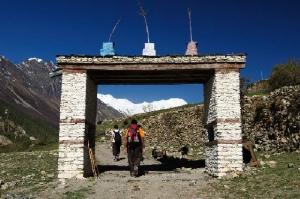 This isolated Tibetan settlement was founded in 1380 and was the capital of the former Kingdom of Lo. The settlement is surrounded by a 6-metre high earthen wall with square towers or dzong on the corners. Within,  there exists a compact settlement of about 200 earthen structures including palaces and monasteries.
The Monarchy officially ceased to exist on October 7, 2008 when Lo Manthang became an autonomous region in Nepal, but being so isolated it is still inhabited by an estimated 900 Lhobas and governed by the current King of Lo – Jigme Dorje Palbar Bista.
UNESCO sums it up – 'there is no comparison to this unique settlement'.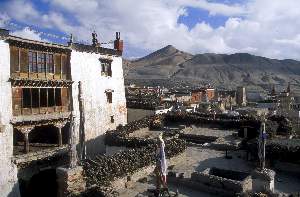 The inner city with the palace and about 30 dwellings is walled and the gates are still locked every night. There are about 5000 – 6000 Lo's living outside this walled area. 
There is virtually no migration of the population or very few marriages to non-Lhobas. Lo Manthang is one of the last places on earth that still lives by and practices Bonpo – the oldest and deeply spiritual form of Tibetan Buddhism. In Bonpo stupas are uniquely circumnavigated anti-clockwise.  
This is a little known or visited place and was closed to visitors until the early 1990's.  Today, it remains one of Nepal's most exclusive trekking areas. The  entrance permit required by visitors, is issued to small organised groups only, and is prohibitive to most trekkers. The exclusivity is such, that only  approximately 1000 visitors are able to visit  Lo Manthang a year. . Individuals and walkers without pre-paid permits cannot enter the walled city of Lo Manthang.
It is special also, as until about a year ago the area has only been accessible on foot, by yak or pony trains.  Since then, the track has been widened to take, in theory 4 x 4 vehicles.  What in reality does this actually mean for those of us who want the ultimate walking adventure and opportunity of visiting such a unique and intact kingdm?
Liz Drake, MD of Spencer Scott Travel,   met with her Nepalese contact  this week to find out exactly the state of play.  She found that although the mule track has been widened between Jomsom in Lower Mustang and Paryangin in Tibet and it is now possible in theory to travel in 4×4 vehicles, it is still a dirt track. There are only twelve 4 wheel drive vehicles based in Pokhara in the Kathmandu valley and very few are using the route at all and mainly only between Jomsom and Muktinath as it is too expensive.  Also, there are six river crossings between Jomsom to LoManthang.   Mules and walkers are still the main traffic – so it is still a walkers dream.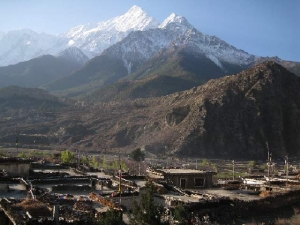 To reach Lo Manthang brace yourselves for a journey of a lifetime – it's in one of the remotest places on earth. There are no direct flights from UK to Kathmandu, then you need to fly to Pokhara in the Kathmandu Valley and then another flight, which is very weather dependent, over the Annapurnas to Jomsom in Mustang. You are already on day 4 or 5 before doning your walking boots. Then it's a 5-day hike following the Kali Gandaki river to Lo Manthang.You have the choice of camping or staying in basic teahouses in small settlements along the way. The hike is surprisingly not that tough and is suitable for any reasonably fit hill walker. Jomsom is at an altitude of 2810m and the highest pass is 3,950m.  Lo Manthnag is at 3,840m.  A steady pace allows for acclimatisation. It is definitely worth satying in Lo Manthang for a couple of days before heading back to Jomsom. A detour to visit the mysterious 13th century cave monastery 'Gompa' at Luri is something else very special to see.
Change will inevitably come….. Be one of the few hundred's of people to visit Lo Manthang before the modern world intrudes on this truly unique and special place. Find out how you can to visit this hidden Himalayan 'Kingdom of Lo' ….
Check out this photo blog for some great images of the walk to Lomanthang.