Ranthambhore delivers the best tiger safari to date…..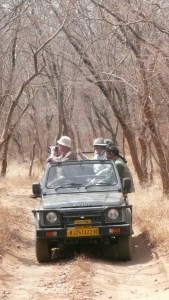 Stephen Mills is a professional naturalist, wildlife researcher, acclaimed wildlife film-maker and author.  He is particularly known for his field work on tigers in India and Nepal and has been the BBC's 'tiger expert' for many years.  We have been offering specialist safaris with Stephen Mills as the host naturalist since 1994.  He has just returned from taking guests to India to see tigers ….and they saw tigers almost every day and not just glimpses but really good sightings. 
They observed tigers in Ranthambhore and enjoyed –
35 tiger sightings – 19 different tigers in just one week.
They saw cubs and even witnessed a kill.  In addition they saw 16 mammal and 110 bird species.
All in all Stephen Mills rated it the best tiger trip to date.
We offered a safari that surpassed all others not only by the number of sightings but in the careful planning and day to day special arrangements that are currently only possible in Ranthambhore. 
The success of this trip will be repeated next March for just 6 guests.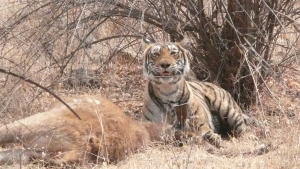 To join Stephen Mills for a tiger trip of a lifetime 
please register your interest now
+44 1825 714310      safari@spencerscott.co.uk
Tiger
Leopard
Sloth Bear
Jackal
Blue Bull
Chinkara
Sambar
Spotted Deer
Rhesus Macaque
Common Langur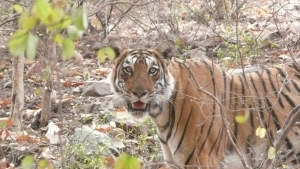 Grey Mongoose
Ruddy Mongoose
Indian Hare
Three-Striped Palm Squirrel
Tree Shrew
Tomb Bat
Photos – Jo Suter
110 BIRD SPECIES including –
Grey Francolin  
Red Spurfowl
Painted Spurfowl
Peacock
Bar-Headed Goose
Ruddy Shelduck
Common Teal
Fulvous-Breasted Woodpecker
Common Flameback
Coppersmith Barbet  
Hoopoe
Common Kingfisher
Stork-Billed Kingfisher 
White-Throated Kingfisher
Green Bee-Eater
Greater (Large) Coucal
Alexandrine Parakeet
Rose-Ringed Parakeet
Plum-Headed Parakeet
House Swift
Indian Scops Owl
Brown Fish Owl
Spotted Owlet
Jungle Nightjar
Rock Pigeon
Laughing Dove
Spotted Dove
Collared Dove
Yellow-Footed Green Pigeon
White-Breasted Waterhen
Moorhen
Painted Sandgrouse
Common Snipe
Black-Tailed Godwit
Redshank
Greenshank
Green Sandpiper
Wood Sandpiper
Common Sandpiper
Little Stint
Avocet
Black-Winged Stilt
Great Thick-Knee
Stone Curlew
Little-Ringed Plover
Red-Wattled Lapwing
River Tern
Osprey
Black Kite
Black-Shouldered Kite
Long-Billed Vulture
King (Red-Headed) Vulture
Crested Serpent-Eagle
Pallid Harrier
Shikra
Oriental Honey Buzzard
White-Eyed Buzzard
Changeable Hawk Eagle
Darter
Little Cormorant
Indian Cormorant
Little Egret
Great Egret
Cattle Egret
Grey Heron
Purple Heron
Little Heron
Black-Headed Ibis
Spoonbill
Painted Stork
Asian Openbill
Woolly-Necked Stork
Black Stork
Treepie
House Crow
Large-Billed Crow
Black-Headed Oriole
Small Minivet
White-Browed Fantail
Black Drongo
White-Bellied Drongo
Paradise Flycatcher
Common Woodshrike
Black Redstart
Stonechat
Brahminy Starling (Myna)
Pied Starling
Common Myna
Great Tit
Sand Martin
Plain Martin
Barn Swallow
Red-Rumped Swallow
Red-Vented Bulbul.
Dusky warbler
Common Tailorbird
White-Eye
Jungle Babbler
Yellow-Eyed Babbler.
Ashy-Crowned Sparrow Lark
Rufous-Tailed Lark
Sykes's Lark
Purple Sunbird
House Sparrow
Chestnut-Shouldered Petronia  
Grey Wagtail
Silverbill
Crested Bunting
Rock Bunting
White-Capped Bunting