Tiger Safari Diary (Dec 2011)
We arrived in Delhi at the beginning of December full of excitement, anticipation and hope at the possibility of seeing tigers in three contrasting environments. 
But tigers are endangered, elusive and solitary, which makes seeing them in their natural habitats quite difficult. Even with local knowledge and a lot of perseverance you still need an element of good fortune.  India is an extraordinary place where you have to reset your default button! This is not Africa by a long way, so tiger safaris really are only for the most discerning and dedicated wildlife enthusiasts. Our party was just that, and whilst we had to wait until the last few days to be rewarded everyone enjoyed the journey experienced in achieving our goal.
Our adventure started after a night of decadence and a fabulous welcome dinner in The Imperial Hotel. We got to know our naturalist for the trip – Stephen Mills, who has been studying and filming tigers since the 1980s and is the BBC's tiger expert.  Not only does Stephen have years of tiger behaviour experience, he has spent years working in the field and so, similar to biologists, his understanding and knowledge transcends that of the local driver/guides who may know the local terrain better but who are often ill-informed about the behavioural characteristics of tigers.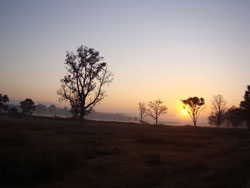 Tigers and humans don't live comfortably side by side so reaching a tiger's habitat involves lengthy and sometimes uncomfortable journeys. After a day travelling across the plains north of Delhi we finally started to climb in to the foothills of the Himalayas and reached our camp just as the sun was setting. The glowing campfire and sounds of the jungle transformed us from city slickers into bush babies.  We could barely wait for our early morning tea and biscuits at five o'clock the next morning. Wrapped up and raring to go we headed off into Corbett National Park – India's first National Park and where Project Tiger was launched in 1973. This stunningly beautiful park emerged out of the mist and burst into life. There was lots to see, whether we were on elephant back or in our jeeps – wild elephant, jungle cat, jackal, spotted deer, barking deer, samba, chital, langur and rhesus, gharial, crocodile colourful parakeets, Indian rollers, owls, eagles…and pug marks in abundance – but not a tiger in sight! We stayed one night inside the park at the Dhikala forest lodge. It was like being on a school outing in that it was basic accommodation and vegetarian food only but it was tremendous fun and enabled us to be the first out in the morning looking for those elusive tigers and leopards!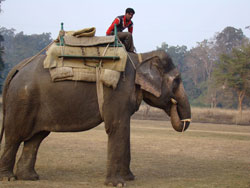 Our next tiger habitat was The Sunderbans, which form part of the great Ganges Delta and which involved an overnight on a train, a flight, a fascinating road journey and finally a boat trip down one of the great river's tributaries! It was exhausting but exhilarating to go from the Himalayas to the Bay of Bengal. … We had fascinating discussions with the local guides about man-eating tigers and Stephen Mills tried to explain from a biological perspective how this is a misconception, but beliefs born many generations back and sensationalism can't be overturned in a couple of days!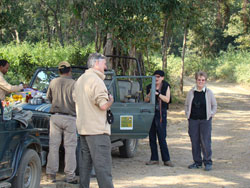 Another flight and long road journey took us to Kanha National Park in central India and into Kipling's 'Jungle Book' country. We stayed in a lovely camp that was one of the very first jungle camps and was built by the founder of Project Tiger. Stephen Mills knows the park intimately having worked filming in Kanha many times. It is still probably the best place in India to see tigers, so this was our best and last chance to see a tiger – the excitement was intense! We saw plenty of pug marks and many of the same species as we had in Corbett, but finally we saw tigers! For some the first sighting was from their jeep and as close up as you could hope for as she walked along the track passed them, but everyone saw a splendid male tiger with its recent kill – a large samba, from elephant back. This was the most magnificent ending to a most fantastic safari.
We felt special because we were a small private party hoping to find tigers with a really top tiger expert. We were visiting three contrasting tiger habitats, one of which very few people have been to and we were experiencing India on a level that most tourists never touch.
Travelling with Stephen Mills is informative and fun – he is a wicked tease!, but it does not necessarily mean you will see tigers or more tigers than other visitors. Having said that, he does have a first-rate track record – every one of our clients that has been on safari in India with Stephen has seen a tiger!
You certainly get scientific-based information as well as lots of practical filming tips and amusing stories, which makes for a much deeper and more rewarding experience.  Thankfully you can still tigers in the wild and in December 2012 Stephen Mills will be leading another tiger trip focusing on Kanha and Bandhavgarh National Parks.