Top tips on how to choose a painting holiday
There are so many painting holidays to choose from it is a hard decision to pick the right one for you. We have been organising painting holidays with well-known artists for over 30 years and are pleased to share with you our recommended tips.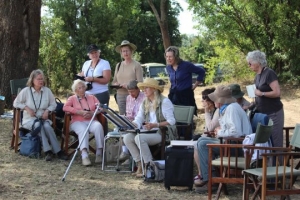 Painting questions to ask yourself
What do you most want to achieve from a painting holiday?
Do you want a studio-based or en plein air painting holiday?
How much tuition do you need?
Do you need a structured teaching course or individual guidance?
Is a free-style painting holiday with organic teaching approach suitable for you?
Is a work-alongside painting holiday with no teaching ideal for you?
What media do your normally paint with – oil painting holidays, watercolour, gouache, pastels, acrylics or mixed media?
What subject matter do you like painting – architecture, landscape, portrait, animals, still life?
Do you prefer painting in one place or are you happy to try a two-centre holiday?
How many days do you want to spend painting?
What size of group do you want to paint with?
Do you have a preferred host artist or art tutor?
Is the host artist/art tutor affiliated with any societies or leading groups?
Is the host artist/art tutor endorsed by any leading organisation and/or gallery?
How often does the host artist/art tutor have a solo and group exhibitions?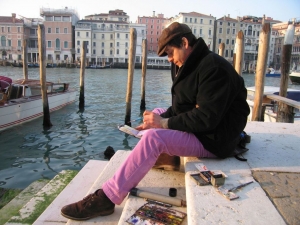 Travel and accommodation considerations
Do you want to paint in Europe or further afield?
Do you want to fly or travel by coach or train?
Is there an accompanying person looking after all the travel and accommodation arrangements or is the host artist/art tutor to also take care of these?
What time of year do you want to go on a painting holiday?
Do you want the comforts, privacy and certain standards provided by a hotel-based painting holiday with your own ensuite bedroom and meals?
Are you willing to share a room and stay in guest house type accommodation?
Are you willing to stay in a room without private facilities?
What meals are included?
Are flights included?
What is your ideal budget?
Is the holiday good value for money?
Important details to check 
Look for complete transparency in what you are paying for.
How long has the Company been in business?
Does the Company have a website?
Does the Company have any accreditations from the art industry?
Check you have a registration form that states who the booking is with.
Check you have a copy of the booking terms and cancellation conditions before signing a registration form and paying a deposit.
Check the method of payments available.
Is the Company's bank account in the Company name?

Check for ATOL protection – this is a license issued annually by the Civil Aviation Authority, which guarantees you financial protection and peace of mind knowing that the Company is financially stress tested each year and is compliant with package travel regulations.
Make sure you have adequate travel and cancellation insurance to cover the cost of the holiday before you register and pay a deposit.
Before booking
We always encourage potential students/customers to speak with us personally, to chat about the destination and host artist, and to reassure you of our competence, friendliness and helpfulness.
Happy painting…..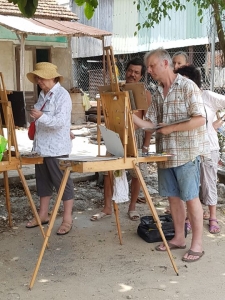 See our 2019 painting holidays in association with the artist magazine
Painting in The Holy Land with Lucy Willis, 25 February – 6 March 2019       WC
Sketching and painting in Petra with Lachlan Goudie, 8 – 16 April 2019         G,WC
Istanbul – East meets West with Peter Brown,  26 April – 6 May                     O
Capture the light in Venice with Hazel Soan,  2- 11 May                                  WC
Iceland's natural landscapes with Richard Pikesley, 12 – 20 May 2019         O, WC, MM
The Greek Island of Symi with Haidee-Jo Summers,  1 – 10 June                  O
The Mara River & Serengeti Wildlife with Hazel Soan, 1 – 12 September      WC
Symbols
O        oil
WC     watercolour
G        Gouache
MM     mixed media