Living with Ethiopian Wolves (Feb 2011)
"It was the best of times, it was the worst of times…we had everything before us, we had nothing before us.."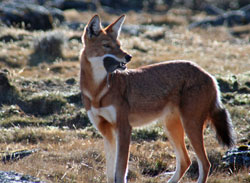 It was hard to imagine what 'living with wolves' would be like. We knew it was going to be a unique expedition traversing the remote and wild Bale Mountains, where the wolves live and where few have ever visited. We knew we were privileged because Prof. Claudio Sillero and his wolf monitors were personally taking us to observe the packs that they study and protect. The trip surpassed all our expectations and wildest dreams. It was extreme and sublime in every way and extraordinarily rewarding. We saw 32 different wolves from 10 packs, which represents 10% of the remaining population.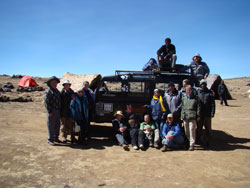 We were an intrepid party of international individuals who shared a common interest in and curiosity of the Ethiopian wolf. We had to step outside our comfort zones and entered a wilderness environment alien to us all, but one that rewarded us beyond our imaginations. Travelling on foot and horseback we entered the remote world and habitat of the wolves.  At over 4000m and with clear blue skies and sunshine, the landscape is phenomenally beautiful and pristine. There are virtually no people living up here, there are no roads or vehicles and no aircraft. As we rode out across the wild Sanetti Plateau we looked like a possé searching out an elusive creature.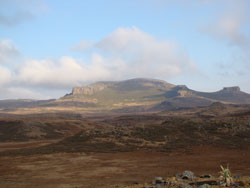 The vast landscape is deceptive – it is a microscopic ecosystem that supports the Ethiopian wolf. Their diet consists of giant mole rats. Hyraxes, Starck's hare, klipspringers, golden eagles and other raptors, baboons and leopards co-exist in this Afroalpine habitat. We travelled about 20kms on foot and horseback each day and camped each night under piercing starlit skies. We woke to ice-encrusted tents, leopards coughing and beautiful frosty-white landscapes and misty pink dawns. Sometime through grit and determination but always with a wonderful sense of humour we faced tough personal challenges and learnt to conserve our energies for what we had come all this way for – to observe wolf activity in the Ethiopian Highlands.  We lapped up the rewards and saw lots – lone wolves foraging for food, dens and juveniles playing and calling for the adults to return with food. We felt honoured to have been out in the field and contributing to the on-going wolf monitoring and research, diligently logged by Alo and Prof. Claudio Sillero.
The Ethiopian Wolf is the rarest African carnivore, the only wolf in Africa and a critically endangered species. They are strikingly handsome and colourful and  carve an impressive silhouette against a dramatic landscape.  One could not help but feel a strong bond with such amazing creatures and be inspired by Prof. Claudio Sillero's dedication to preserving this species, struggling to secure support against more iconic but less endangered species like Giant pandas, tigers and whales.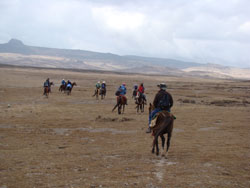 Our experiences were above and beyond the ordinary – the slide show captures the essence of the trip and you will see that we did indulge in some pre- and post-expedition luxury, but we urge you to go and see and experience it for yourself. Prof. Claudio Sillero will be hosting another small party to the Bale Mountains later in the year when the wolves will have just had their pups, so this will be a wonderful opportunity to see lots of pack activity around the dens. Don't delay in registering your place.
"Looking for the wolves in those incredible landscapes, and finding them, and learning about their lives first-hand from Prof. Claudio was an unforgettable experience. The cold and the wind and the altitude and the physical exhaustion made me value even more what we saw and learned. From all my travels, I have never been on a more interesting trip! "
Ruta Rakutis, USA
"What a rare treasure bag of experiences we all have from this truly unique trip. Nothing will ever be the same again."
Lyn Watson, Australia
"My heart pulsed with each step in the high Bale Mountains, but it was not just the altitude. The excitement of seeing adult Ethiopian wolves with pups begging for morsels grabbed my heart too. Add the spectacular scenery that drew oohs and aahs at every turn and it makes for a great adventure."
Nancy Gibson, USA
"We shared the most amazing new experiences; seeing wolves, living wild, riding high and enjoying excellent company"
Liz Drake, UK
For more information on Professor Claudio Sillero and his work please these websites:
www.ethiopianwolf.org.
www.wildcru.org
www.bornfree.org.uk
View the photo gallery of the February 2011 expedition