Painting in Morocco with Adebanji Alade VPROI
10th - 18th October 2020

Essaouira is a picturesque walled fishing town on the Atlantic coast of Morocco. It offers an intoxicating mix of exotic Arab architecture and Mediterranean-style white-washed houses with blue shutters, a working fishing harbour with traditional boats and colourful spice souks.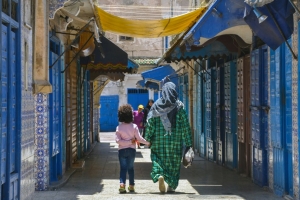 Essaouira is a place where your senses are exposed to exotic colours and exquisite architecture. The mystery behind the knarred faces of nomadic Tuareg men and the call of muezzin adds to the magic of the place. Capture this extraordinary spice of life inside and outside the walls of the medina.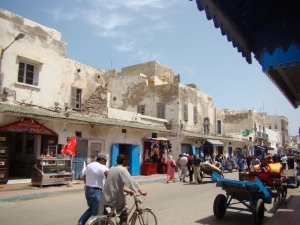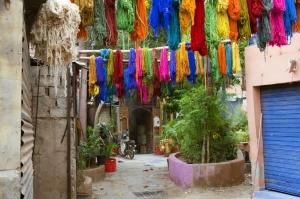 The range of painting subjects inside the walled old town include sun-drenched avenues lined with palm trees, dabbled sunlit squares, meandering alleyways, secretive doorways, elegant minarets, mosques and mosaics, aromatic and colourful souks, donkeys laden with goods and much more.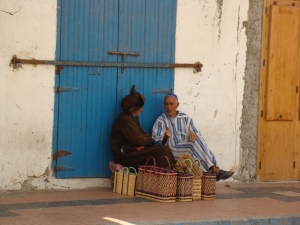 Time has stood still in Essaouira and men still wear the traditional full-length and hooded burnous and women their floating jellabahs and hijab (veil). The mellah or Jewish quarter of the medina is a little dilapidated but a lovely mellow and serene area in contrast to the colourful souks and café-lined lanes. Outside the walled town are sea fortifications, dramatic rocky seascapes, miles of sandy beaches and a thriving fishing harbour to paint.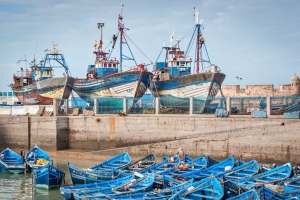 Essaouira has been a favoured place for many artists including Ken Howard, Tom Coates and Jenny Wheatley because of its diversity, authenticity, friendliness, compactness and the fact that it is the closest exotic painting location to Europe. In October the weather is normally sunny and warm with a gentle breeze, making it ideal for painting plein air.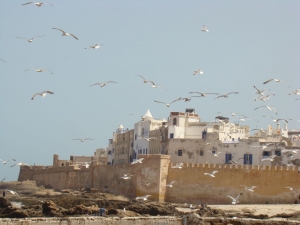 Adebanji Alade is Vice President of the Royal Institute of Oil Painters, 'artist in residence' for BBC's One Show and was winner of Pinto Rapido in 2013. He is known for bringing a lively sketchy feel to his paintings and he has chosen Essaouira for his painting holiday because it is full of colour and sun, and has a buzz in the air.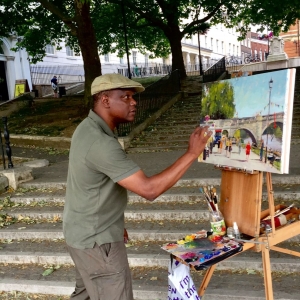 Adebanji mainly works in oils but also acrylics, watercolour, pastels, coloured pencils, charcoal and graphite. His work is inspired by atmosphere, people and the mood created by a particular light. You'll receive endless motivation. inspiration and entertainement from his wealth of experience. He will be encourage you to work with a sketch book and help you with your paintings as and when necessary. Adebanji will do demonstrations on alternate days for anyone interested. This is a free-style painting holiday with some tuition, is  suitable for intermediate and experienced students.
To see learn more about Adebanji Alade's and see more of his work  click here
Travel arrangements
Direct scheduled flights on British Airways from London Heathrow. Accommodation is in a modern luxury hotel overlooking the beach and just 5 minutes' walk from the old town and fishing harbour. Breakfasts and dinners are included. Everything is organised for you and taken care of by an accompanying travel escort from the UK.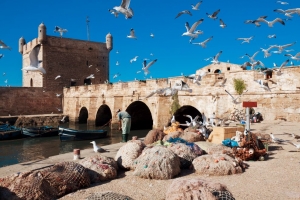 Holiday details                                                   

magazine painting holiday
Dates: 11 – 18 October 2020
Number of students: 8 – 12 students                                                           
Price : *£2,875.00 per person                           
           £400.00 single supplement
Price includes: Flights, 8 nights hotel, breakfast & dinners daily, host artist, travel escort from the UK. 
subject to available airfares in November 2019
We have been the official organiser and tailor-making painting holidays on behalf of

  magazine since 1990. These are professional organised painting holidays offering the exclusive opportunity to paint alongside well known artists. 
Other Trips
Past Trips

What the experts & clients say
""We had so many different experiences, the accommodation was all excellent and very varied.  Our viewing of the wildlife was exceptional, and we all managed to complete several paintings and sketches of animals, birds and landscapes.  As always, Hazel was an inspiring teacher." "
""I want to let you know that the workshop with Ken Howard in Santorini was simply the best workshop I have ever attended.  I was deeply inspired and impressed by Ken.  The group was a pleasure.  I hope this workshop will be repeated again."  "
""Just wanted to drop you a quick line to say how very much I enjoyed painting with Pete in Havana.  I loved it all, the City, the painting, the company, the Mojito's and the food, and it was great to have Jacqueline there organising us all. Many thanks and I hope to take part again next year.""