Paint in Rajasthan, India with Hazel Soan
16th - 31st October 2017

The ultimate painting holiday in India - experience Diwali, the Festival of Lights in Udaipur, the Pushkar Camel Fair in the desert and a unique Brahma Temple Pilgrimage. Stay on and paint the Taj Mahal under a full moon.

Talented guest artist & tutor 
9 days painting in Udaipur
2 days painting at the Pushkar Camel Fair and Brahma Temple Pilgrimage
Tutorial Painting Holiday suitable for intermediate and experienced students 
Fully inclusive except for drinks 
Everything is taken care of for you by an accompanying travel escort and local guide
3-night Taj Mahal extension
Udaipur is a glistening oasis in the Rajasthan desert and is known as the 'City of sunrise'.  It is one of the most serene, romantic and paintable places in India. Apart from the very special light here, its ornate white-marbled palaces and lakeside location are most appealing.  Most if the buildings in the old city date from the time of Maharajas, Mughals and Rajputs. You'll spend 9 days painting here with a local guide helping you find the best places to paint and making sure you can paint with minimum disturbance.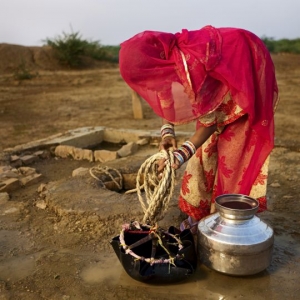 Traditional ways of life die hard and you'll see women doing their washing on the shores of Lake Pichola and people bathing at the ghats. You'll see the most colourful saris and impressive turbans and moustaches in all of India. Across the shimmering waters of Lake Pichola is the magnificent Lake Palace, so special it was the setting for a James Bond film. There will be a chance to paint the Lake Palace and Udaipur from a boat on Lake Pichola.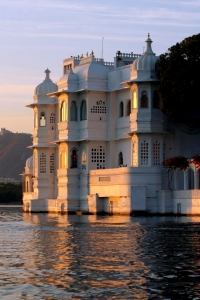 You'll be in Udaipur during the Hindu Festival of Lights known as Diwali. This will be a very special time to be in India.  It falls on the dark chaturdasi night (the one preceding the new moon). Rows of candles are lit to show Rama the way home after his period in exile. The festival is also dedicated to Lakshmi, the Goddess of wealth and Kali. The festival lasts five days with day one the start of the new business year, day two dedicated to Krishna, the third to Shiva, the fourth to Bali and on the fifth day there is a tika ceremony for sisters. People wear new clothes and there'll be lots of fireworks.  It is also considered an auspicious time in Rajasthan to get married.
Pushkar.
The drive through the Rajasthan desert will be fascinating and you may well see villagers driving their camels and cattle to the fair.  Pushkar is a holy Hindu town and at the end of October there is a Brahma Temple Pilgrimage on the shores of Pushkar Lake – this is the only temple in India dedicated to Lord Brahma, providing another fantastic painting opportunity.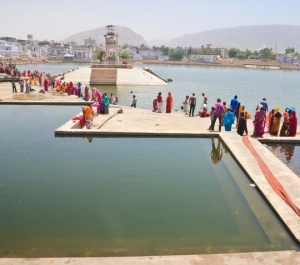 The Pushkar Camel Fair starts on 28 October.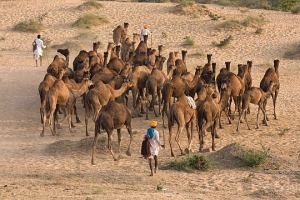 The Pushkar Camel Fair starts on 28 October. This is an annual fair when hundreds of thousands of local villagers walk to Pushkar bringing with them over 50,000 cattle, horses and camels to trade. Your local guide will help you locate the best places to paint and sketch the action as it unfolds before you. It will be dusty but with bursts of typical Rajasthan colours – reds, yellows and ochres. It will be extremely exciting and atmospheric. The fair has grown into a major touristic attraction, but it is the livestock sales which take place 2 or 3 days before the cultural programme, that will appeal to you. As the villagers move on to sell their remaining stock at other fairs you will also depart Pushkar for Delhi.
 Painting programme
This is a tutorial painting holiday. Hazel Soan is a versatile and talented artist. She is an excellent teacher with a natural gift of drawing out the best in students. She will illustrate a wide range of the topics with talks and demonstrations, and help you return with an impressive portfolio of work. Hazel Soan will be working in watercolours but all mediums are welcome. This trip is most suitable for intermediate and experienced students.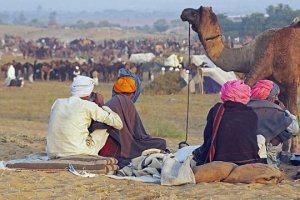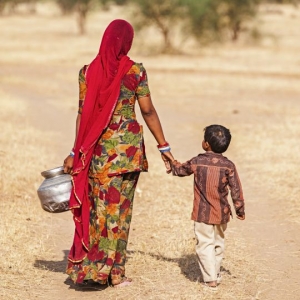 Holiday arrangements
Everything is included (except drinks) and there will be an accompanying travel escort to make sure you are well looked after at all times. Flights are from London Heathrow. You'll stay in part of the City Palace complex in Udaipur, at the comfortable Taj Gateway Hotel in the desert and a charming colonial hotel in Delhi.
If you only visit India once in your lifetime then this has to be the definitive trip.
Number of students                                                                                                8 – 12
Fully inclusive price per person in a twin room:                                           £7,995.00                      
Single supplement:                                                                                          £   600.00
Taj Mahal extension 31 October – 3 November                              from       £   850.00
Stay on in India for a 3-night extension programme to Agra to paint the Taj Mahal, Red Fort and  Fatephur Sikri.  Hazel Soan will help you capture the sublime beauty of the Taj Mahal. This is a must for anyone who has not seen this iconic monument. Even better, you'll be able to paint it under a full moon.
Hazel Soan paintings
Professional artists
Other Trips
Past Trips