Ken Howard RA exhibits 100 paintings of Switzerland for the first time.
Ken Howard's Switzerland – the exhibition  
28 April – 23 October 2016
For the fourth in the Royal Academies series, 'Academicians in Focus',  Ken Howard OBE RA will exhibit for the first time a selection of one hundred small paintings created during his extensive travels in Switzerland.
Called simply, Ken Howard's Switzerland, the exciting exhibition will run from 28 April until the 23 October 2016 in the Belle Shenkman Room, Keeper's House, Burlington House, at the Royal Academy in Picadilly,  London.
What can you see?
Ken was inspired by the great J.M.W. Turner's  tour in 1841, and made five separate visits in which his view of the country completely changed.  The result of these visits is around a hundred  plein-air oil paintings on both board and canvas of monumental landscapes, reflecting lakes and historical towns.
In 2013 he wrote, 'Switzerland is the most inspiring country I have ever worked in, and I have painted as far afield as Nepal and Borneo in the East and Belize and Canada in the West. Nowhere else have I experienced so completely the grandeur of the landscape, the beauty of the reflecting lakes, the space and scale that reduces man to insignificance'
For more information on this exhibition, go to the RA website.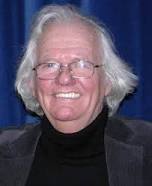 Born in 1932, Ken studied at Hornsey School of Fine Art from 1949-1953 and at the Royal College of Art, London 1955 – 1958.  He has exhibited widely both at home and  internationally and his work is currently held in numerous public collections. He was elected a Royal Academician in 1991 and awarded an OBE in 2010.
His published works include Inspired by Light: A personal View (2001) and A Vision of Venice in watercolour (2002), Light and Dark – The  Autobiography of Ken Howard (2011), Ken Howard's Switzerland in the footsteps of Turner.
Ken continues to live and work somewhat relentlessly in London.  He continues to be inspired by his travels.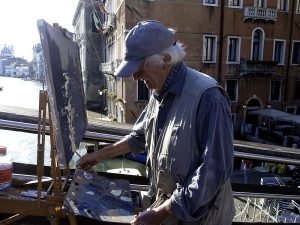 What's next ?
Ken has been hosting painting holidays for Spencer Scott Travel since the early 1990's, and his energy and dedication help to make them so successful.  Destinations have included  India, Cuba, Morocco, France, Greece, The Yemen and of course Venice.  We consider him to be an extraordinary host, a warm and generous person, an excellent communicator and amusing raconteur.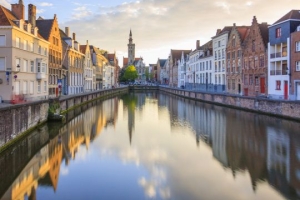 There is an exceptional opportunity for intermediate and experienced students to work alongside Ken Howard, considered to be one of the greatest figurative painters of our generation.  He will be hosting two trips to Bruges,  the 'Venice of the North' .  The first of these is from the 18th – 25th June 2016 and the second from the 25th June – 2nd July 2016.
To see a master at work, join Ken Howard and Paint in Bruges.  An opportunity not to be missed.