Paint in Bruges with Ken Howard OBE RA NEAC
18th - 25th June 2016
25th June - 2nd July 2016

 Spend a week painting in Bruges with Ken Howard
Work alongside one of the great figurative painters of our generation
Ideal for confident intermediate and experienced students
Excellent 4 star hotel in the centre of Bruges
Dine in local restaurants every evening
Travel by luxury coach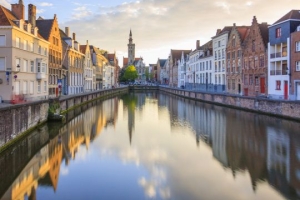 Ken Howard OBE RA is one of our most revered figurative painters and he has personally chosen to paint in Bruges. This is an exclusive opportunity for aspiring artists to paint alongside Ken, you will gain an insight into his painting philosophy and his dedication to his work. You will discover that Ken is a brilliant, charismatic and extraordinary man, a wonderful teacher (without teaching) and the best company ever.
Join Ken Howard in Bruges for a weeks painting.
Day 1 – Travel to Bruges in Luxury
Early morning travel by luxury private coach from London Gatwick to Bruges. Relax with your fellow students in the business lounge on the ferry crossing. On arrival in Bruges settle in to your hotel, which is a wonderful atmospheric 16th century listed building tucked away in a quiet residential street close to the fish market in the heart of Bruges. This former private residence has been respectfully transformed in to a hotel whilst retaining the ambience of a family home. There are just 36 ensuite rooms, a bar, breakfast room, lounge and lovely Renaissance courtyard garden. Dinner in a nearby local restaurant.
Days 2-7 – Painting the wonderful city of Bruges
Breakfasts in the hotel. Every day will be spent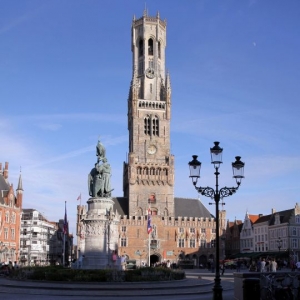 painting the canals, bridges, markets and architecture in Bruges alongside Ken Howard or independently. The hotel is within walking distance of Burg Square, Market Square and the Begijnhof (13th century alms houses for women), but away from the most popular areas you will discover quieter stretches along the canals, further fine examples of Gothic architecture, many religious buildings and 4 windmills on the banks of the canal Van Gent. The canals, bridges and medieval architecture of Bruges are what most appeals to Ken Howard along with its artistic heritage. Bruges was the birthplace of the Flemish Primitives and a centre of patronage and development of painting in the Middle Ages with artists such as Jan van Eyck and Hans Memling. Dinners in local restaurants.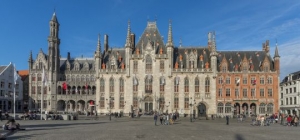 Day 8 – Depart for the UK
Breakfast in the hotel. Depart by private luxury coach for the UK. Arrive Gatwick in the afternoon.
Painting Alongside Ken Howard OBE RA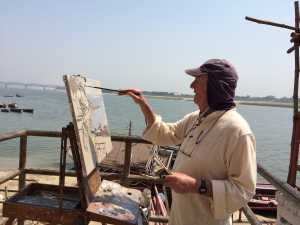 Ken Howard will be working in oils but all mediums are welcome. There will be plenty of encouragement given and lots of painting done. Ken will give some informative talks and presentations on how he works. The informal style of this holiday will not include tuition, demonstrations or critiques. Ken rises early and paints when the light is the best, which is usually first thing in the morning and when the afternoon sun lowers on the horizon. Evening meals provide an ideal opportunity to get to know Ken in an informal and relaxed atmosphere.
Paint in Bruges with Ken Howard Trip Details:
Price per person: £2,495.00 (£250 single supplement)
Number of painters per week: 8-12
Price includes: Travel by luxury coach & ferry, hotel, breakfast and dinner daily, guest artist, travel escort
This painting holiday is offered in association with The Artist & Leisure Painter magazines
Professional artists
Other Trips
Past Trips