Normandy Impressionist Festival – Back for a third time with an audacious theme!
The Normandy Impressionist Festival is back for the 3rd time, building on the successes of 2010 and 2013. The 2013 festival was attended by over 1.8 million visitors and with more than 700 art, cultural and special events, it has been a real highlight for enthusiasts of Impressionist art.
The festival takes place across Normandy, in France and will again offer Impressionist art right up to modern day, with exhibitions, music, theatre and dance for everyone to enjoy. It will be held from 16th April to 26 September 2016.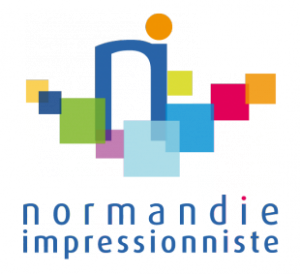 One of the primary roles of the Normandy Impressionist Festival is to mobilise and inspire the younger public and produce a wide range of educational activities. The discovery of art and culture is encouraged throughout the year in the region's schools, and, during the festival itself, numerous events are dedicated to young Normans both in cultural centres and outdoors.
Impressionism and Normandy
Impressionism is a French painting movement which came to the fore in the 1870s and is considered to be the dawn of the modern age in art. The impressionists were seen as free-thinkers and at times deliberately provocative. Their favourite subject to paint was "Life."
Monet's Famous Garden at Giverny
To the Impressionists, Normandy was a veritable en plein workshop. Claude Monet painted his greatest works on the banks of the Seine, at the foot of the cliffs at Étretat, and in front of Rouen cathedral. For more than thirty years, his favourite subject was his famous garden at Giverny, with its Japanese bridge and water lily covered pond.
Many other Impressionist artists, such as Boudin, Manet, Pissarro, Gauguin, Degas, Renoir appreciated, like Monet, the attractions of the Normandy light with its clear skies and beautiful countryside.
The links between Normandy and the Impressionists are legendary. Get a glimpse of this special relationship by watching a short video about the Impressionists in Normandy. The Festival reflects this regional cultural heritage and proudly displays its Impressionist history by staging large exhibitions of the movement's art, displaying great works from around the globe. There is also a promotion of more contemporary interpretations of Impressionism by inviting artists to produce new works on Impressionist themes.
Monet and Impressionism
If Impressionism has a face is it considered to be that of Claude Monet, "one hand in his pocket, a cigarette in his beard" (Marc Elder), a straw hat screwed on his head and his laughing eyes, in front of the large lily pond at Giverny. In summer he is said to have liked to wear pale colours, to match his palette. The mythical Monet alone might embody Impressionism – beaming, inspired, original. But Impressionism was also a family matter, a group portrait. With the same object in view, Manet, Renoir, Degas, Cézanne, Bazille and the others generated the first important movement in modern art.
An Audacious theme for 2016
For its third edition, the Festival Normandie Impressionniste has chosen Impressionist Portraits as its theme. This is considered to be evocative in that it asks us to reconsider the history of Impressionism in a contemporary light and to discover another face of Impressionism.
Major exhibitions, dedicated notably to Eugène Boudin and Gustave Caillebotte, are planned in the major Fine Arts museums in Caen, Giverny, Honfleur, Le Havre and Rouen.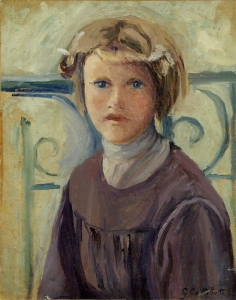 Musée des Impressionnismes, Giverny
The Musée des Impressionnismes at Giverny will also be featuring exhibitions showcasing key members of the Impressionist Group.  One such focus is on the work of Gustave Caillebotte, in A Work of Art, an Artist's Portrait, from 25 March – 3 July 2016. Like Claude Monet, Caillebotte was a painter and gardener whom is considered today be one of the most important members of the Impressionist group. Dedicated to the artist's gardens, the exhibition at Giverny reveals this aspect of his art and highlights the complex artistic relations that he had with Monet.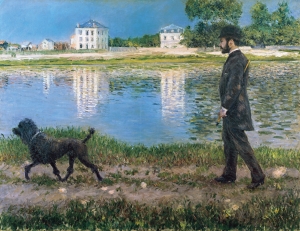 A second will focus from 14 July–6 November 2016 on another interesting exhibition at Giverny. This has been organised with the Kunsthalle der-Hyp Kulturshftung in Munich and the Museo Sorolla in Madrid. The exhibition will be based on the success of Joaquín Sorolla and show roughly 100 paintings of which about 40 will be sketches.
Visit The Normandy Impressionist Festival
Pay a visit to the festival and enjoy the very best of Impressionism. There is plenty to choose from. The many parts of this festival are detailed in the press pack. From art, music, sound and light shows, there really is something for everyone!
And an Exclusive opportunity to Paint Monet's Garden at Giverny
Aspiring artists – we urge you to go in the footsteps of the great Impressionists and paint in Monet's Garden this summer.
Celebrate the Festival of Impressionism with a trip to Monet's Garden and the gardens of The Loire on a special painting holiday with famed botanical artist Pamela Kay. This is a chance of a lifetime not to miss.
Paint in the Loire and Monet's Garden in Giverny – 2nd-10th June 2016