Paint in The Loire & Monet's Garden at Giverny with Pamela Kay
2nd - 10th June 2016

Instructional painting holiday for all students
Paint formal chateaux, intimate private gardens & Monet's garden Giverny
Still life demonstrations
Stay in a chateau in The Loire
Travel by luxury coach from the UK
The Loire and Painting in Giverny
The Loire Valley is one of France's most beautiful regions with much to inspire painters. The ease and comfort of travelling by luxury coach from the UK has added appeal enabling you to take as much luggage as you like.
You will be painting some of the formal Chateau gardens such as Villandry, as well as intimate private rose gardens like Pierre de Ronsard's Jardins du Prieuré de Saint-Cosme and Elsie De Raedt's garden near Chinon, as well as lovely kitchen and herb gardens, The 'pièce de résistance' for Pamela Kay is painting Monet's garden at Giverny, which will be the final garden visited.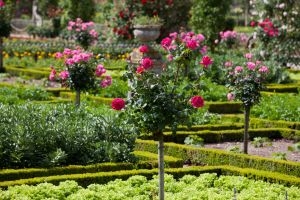 June is when the roses should be in bloom and Givernys water lilies in flower (weather dependent), but the gardens are always full of colour and inspiration. Painting in Giverny promises to be a special experience, not to be missed.
Pamela Kay NEAC, RBA, RWS, ARWS is a versatile artist and an attentive tutor. Her work includes still life, flowers, interiors, gardens and watercolours done on her travels abroad. She regularly exhibits in the Royal Academy and Mall Galleries in London. Pamela has written two books Gouache: A Personal View and The Art of Pamela Kay as well as a DVD called Aspects of Flower Painting in Oils.
This is an instructional painting holiday most suitable for confident beginners and intermediate students. Pamela Kay will be working in watercolours, oils and gouache, but students may work in any medium. Each day will start with a talk from Pamela Kay and a meeting to address any questions you have about your work in progress. A different garden or chateau will be visited every day to paint insitu and back at the hotel. Demonstrations at the beginning of the holiday will help you get started and understand how to work with the subject matter, including fresh fruit and vegetables from local markets for still life paintings. Towards the end of the trip Pamela will encourage you to finish some of your works in progress.
Travel is by luxury coach throughout from London Gatwick and good hotel accommodation is included en-route and at your base in the heart of The Loire.
Paint The Loire & Monet's Garden Giverny Trip Details:
Per person: £2,795 (Single room supplement: £200)
Number of students: 10 – 14
Price includes: private executive coach from London, ferry, hotels, breakfast and dinner daily, entrance fees, art tutor and travel escort.
This painting holiday is offered in association with The Artist & Leisure Painter magazines
Professional artists
Other Trips
Past Trips