The Ultimate New Year's Eve Celebration
The Ultimate New Year's Eve Celebration
New Year is party time. Ring out the old and ring in the new…..
But how can you lift the celebration to make it the ultimate celebration?
Apart from your wedding day New Year's Eve is the one other occasion when most ladies secretly hope they can adorn a ball gown and dance with a partners wearing a white tuxedo.
You could whisk your partner off to a dinner dance in a hotel, but for the real WOW factor think big and think of a proper ball. The nearest we probably get to a traditional 'party' is Hogmanay in Scotland but for a fairy tale ball in a proper palace you'll need to look abroad.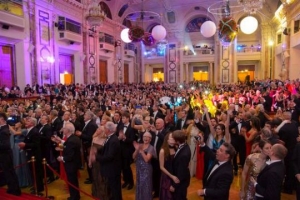 A traditional ball season still exists in Vienna and the waltz capital knows how to put on a really good show.  Every New Year's Eve the Hofburg Palace puts on a magnificent Sylvester Ball on an unprecedented scale.  So Cinderella can go to the ball ……  and ride through the often snow laden streets of Vienna in a horse drawn carriage to the floodlit Hofburg Palace.  Formally the Kaiser's Ball, this Imperial extravaganza commences with a formal drinks reception in the foyer, before everyone is led up red-carpeted Grand Staircase to the chandelier-filled State Rooms for the gourmet banquet.  The rooms buzz with excitement, elegance and extravagance.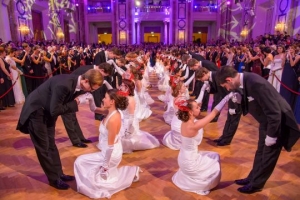 A professional show takes place to the lead up to midnight, when the bells of Stephen's Cathedral ring in the New Year and then it's your time for you to take to the dance floor with a Viennese waltz or two or three.  There is no other place where waltzing to Johann Strauss feels so good.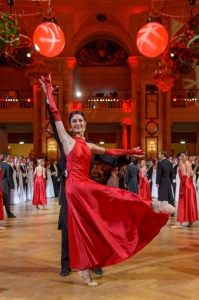 For those of you with two left feet you'll probably be happier swinging to jazz or jiving to the disco, which you'll find in other areas of the Hofburg Palace, or perhaps spill out in to the massive street party that takes place in central Vienna. With the party atmosphere in full swing inside the Hofburg Palace and outside on the streets  you will probably find yourselves walking back to your hotel just as dawn is breaking!  Your Cinderella will have been to a real ball and will have felt like the belle of the ball. For couples looking for that special new year's eve celebration, it will have been a night never to forget and a fabulously happy way to start a new year together.
Spencer Scott Travel is hosting a table at the Sylvester Ball in the Hofburg Palace on 31 December 2015.
The only other traditional ball on New Year's Eve in an Imperial palace is the Tsars Ball in Catherine's Palace in St Petersburg. This traditional ball re-captures the spirit of the bygone era of the Tsars.