New Year's Eve Ball, Hofburg Palace, Vienna
3 night luxury package spending New Year's Eve in Vienna
Private table for parties of 10 ( couples or a group) at the Sylvester Ball in the Hofburg Palace
New Year's Day brunch whilst watching the live televised broadcast of the famous New Year's Day concert live from the Musikverein
Luxury hotel within walking distance of St Stephen's Cathedral
Please contact us if you are interested in making up a party for next New Year's Eve.
New Year's Eve Silvester Ball, Hofburg Palace, Vienna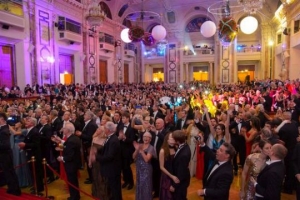 The Hofburg put on an evening that surpasses even the most impressive corporate event and the former Imperial winter palace truly comes into its own. The staterooms are transformed into a beautiful sea of flowers and laid out for a silver service 'royal' banquet. Later world-class soloists from the Vienna State Opera and Volksoper perform memorable melodies from famous operas and popular operettas, and international debutantes from the Elmayer Dance Schooltake to the dance floor for the opening ceremony.
Your evening commences with horse drawn carriages from the hotel to the Hofburg Palace for a drinks reception in the foyer before making your way up to the one of the state rooms via the Grand Staircase for the gala dinner.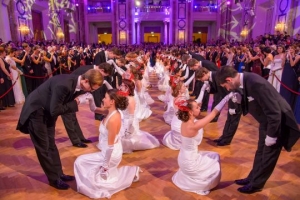 The opening ceremony commences around 2230 hours with the Elmayer Dance School performing classical dances. Champagne corks pop as the countdown to midnight starts and the Pummerinat St. Stephen's cathedral – the largest bell in Austria – rings in the New Year. A fantastic firework display takes place on Heldenplatz, which can be enjoyed from the roof gallery of the Hofburg.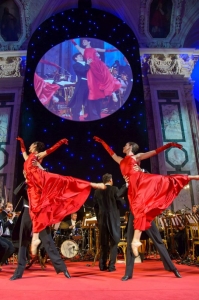 The midnight show that follows includes arias from well-known operas and operettas performed by soloists from the Vienna State opera and the Volksoper. Join dancers of the Vienna State Opera Ballet Association for the first waltz of the New Year – Johann Strauss's Blue Danube. Then there's the popular public quadrille, led by an instructor from the Elmayer Dance School.The evening continues with a mix of traditional waltz and jazz, and light-hearted catchy rhythms and salon music played by a variety of ensembles, bands and duos. There are also live DJ's in the disco and chill-out lounge. As you wander through the state rooms the atmosphere is electric.
Please join us and celebrate a New Year's Eve full of extravagance, fun and laughter and immerse yourself in to Vienna's charming ball traditions.
Sample Programme
6.30pm
Guests arrive
Cocktail reception, Hofburg Foyer
7pm
Opening of the Grand Staircase
Soloists from the Vienna State Opera Ballet Association Wo man lacht und lebt, Eduard Strauss
8pm
Gala dinner
10.30pm
Grand opening
Elmayer dance school debutantes committee Fan Polonaise, Carl Michael Ziehrer Austrian national anthem Anthem of Europe Beate Ritter Voices of Spring waltz, Johann Strauss
Soloists from the Vienna State Opera Ballet Association Waltz of the Flowers – The Nutcracker, Pyotr Ilyich Tchaikovsky
Elmayer dance school debutantes committee Pizzicato Polka, Johann Strauss Roses from the South, Johann Strauss
Midnight
Ringing of the Pummerin (at St. Stephen's Cathedral), the largest bell in Austria
Fireworks on Heldenplatz
Dancers from the Vienna State Opera Ballet Blue Danube Waltz, Johann Strauss
12.05am
Midnight show
Series of arias, Georges Bizet to Johann Strauss performed by soloists from the Vienna State Opera and the Volksoper Alle maskiert – Eine Nacht in Venedig (A Night in Venice), Johann Strauss O Rose von Stambul – Rose von Stambul, Leo Fall Roses Duet – Der Vogelhändler (The Bird Seller), Carl Zeller Das ist der Frühling in Wien, Robert Stolz La fleur que tu m'avais jetée – Carmen, Georges Bizet Flower Duet – Lakmé, Léo Delibes Im Feuerstrom der Reben – Die Fledermaus, Johann Strauss Wien, Wien nur du allein, Rudolf Sieczyński
12.30am and 2.00am
Public quadrille with the Elmayer Dance School
4am
Close
Sample Banquet
The four-course gala dinner is served on beautiful porcelain by waiters in tails. Your meal will be accompanied by fine wines from Austria, and a glass of genuine French champagne to see in the New Year. The New Year's Eve gala dinner has been carefully crafted with outstanding attention to detail by Gerstner Catering:
Appetiser
Salmon tartare and tender avocado pieces with lime crème fraiche, fresh herbs and edible flowers
***
Soup
Cream of arugula soup with roasted pine nuts
***
Main course
Sirloin of Austrian organic beef with snow peas, sweet potato terrine and smoked Zweigelt sauce
***
Dessert
Chocolate tartlets coated in gold flakes and decorated with stars, candied lemon and citrus caramel ***
Petits Fours
Selection of Viennese confectionery
Wines
Kellermeister Privat, Grüner Veltliner, 2012  Winzer Krems, Kremstal valley Kellermeister Privat, Blauer Zweigelt, 2011 Winzer Krems, Kremstal valley
Other Trips
Past Trips

What the experts & clients say
"I have had the good fortune to work with Liz Drake at Spencer Scott Travel taking small groups on safari to East Africa and India. All aspects of the journey are handled in a most personal, thorough and sensitive way, and all the arrangements are organised with admirable attention to detail. I have always boarded the plane from London knowing we were all going to have the holiday of a lifetime."
""I want to let you know that the workshop with Ken Howard in Santorini was simply the best workshop I have ever attended.  I was deeply inspired and impressed by Ken.  The group was a pleasure.  I hope this workshop will be repeated again."  "
""Our group is led by Professor Claudio Sillero....his decades of experience in this region and his hardy colleagues, guarantee sightings of wolves  They do not disappoint." "Next we climb up and across the Sanetti Plateau through unmatched beauty in every direction.  Small klipspringer, antelopes and hyrax, ( a pint-sized relative of the elephant), dot the hillsides.  our camp site is magnificent!  It is surrounded by towering basalt formations the locals call 'the soldiers.'  ....Can any place be more perfect?" "Our successful adventure is coming to a close, but we have been fortunate to site 30 wolves in 11 different packs, which equates to 10% of all the wolves living in the Bale Mountains National Park." "