Ken Howard RA, OBE – Master of Light
Ken Howard RA, OBE is one of the most respected figurative artists living today. He is an inspiration to all artists and a living legend. He works incessantly, painting everyday no matter where he is – London, Cornwall and Venice where he has studios or on his travels that have recently taken him to New York, Morocco and India. He certainly has a zest for life that belies his eight decades and more.
Ken Howard was born in London on 26 December 1932. He describes his upbringing and how this influenced his painting thus:
" I was brought up in London surrounded by railway yards and factories. This has very much influenced the use of horizontal and vertical structures and lines in my work. I am not a landscape painter, but rather a vertical horizontal and linear painter, which is why I have a passion for the lines that occur within my studios, and include them in my paintings. When I study a model, I think of that figure not in rhythmical terms, but in vertical or horizontal positions and planes."
From humble beginnings he studied hard, firstly at the Hornsey School of Art (1949–53) and the Royal College of Art, (1955–58). In 1958 he won a British Council Scholarship to Florence. He spent his National Service in the Royal Marines (1953–55). In 1973 and 1978 he was the Official War Artist to Northern Ireland, and 1973–80 worked in various locations, including Hong Kong, Cyprus and Canada with the British Army. In 1983 he was elected an Associate of the Royal Academy (ARA), and in 1991 a Royal Academician (RA).1998 he became President of the New English Art Club, a post he held until 2003.
Ken Howard's background strongly influenced his art. He paints in a "traditional" manner, based on strong observation and a high degree of draughtsmanship, combined with tonal precision. The depiction of light is a strong and recurrent element of his work. He is best known for his studio paintings of models and his city scenes of Venice, with the emphasis placed on the reflection of light from puddles after rain.
He writes, "For me my main inspiration is light and it is through light that I want to celebrate my world. All my life, my basic inspiration has been drawn from light, whether the silver grey of winter or the sparkle of summer. This has fed into all my favourite subjects".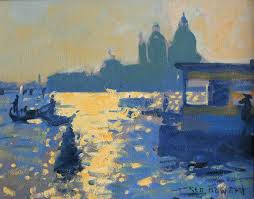 Now in his eighties, Ken shows no sign of taking it easy.  He continues to paint every day, with a model coming in most days.  He also exhibits at the Royal Academy and other top London shows and even finds the time to host exclusive painting holidays sharing his knowledge with aspiring students, brushing aside any pretentions and his esteemed position in the art world. What a wonderful gift he gives to those who travel with him.  In March 2015 Ken Howard is heading off to paint in Udaipur and Varanasi in India.  There are just 12 places for students to accompany the Master of Light himself.
In September Ken Howard invites a handful of students to paint alongside him in Venice.
One of his teaching points for students is, "Paint what you see, not what you know. What you know is not surprising and is very seldom true".
Ken Howard was awarded an OBE in the 2010 Birthday Honours.