Paint in India with Ken Howard RA
28th February - 16th March 2015

Capture 'Holi' - the Festival of Colours & the street scenes & palaces in the white-marbled lakeside city of Udaipur & in the sacred sandstone city of Varanasi on the River Ganges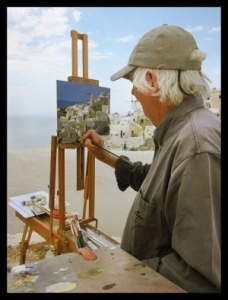 Ken Howard is one of our most revered figurative painters. Artists from all over the world seek an opportunity to travel and work alongside him. We are offering you an exclusive opportunity to join Ken Howard in two of his favourite locations in India. Ken will be working in oils but all mediums are welcome. Whilst the informal style of this holiday will not include tuition, demonstrations or critiques, Ken is extremely generous with his advice, support and time. He will give some informative talks and presentations on how he works, as well as provide plenty of encouragement and inspiration. 'The week exceeded expectations and it was all rather magical.  We all worked hard and it was obvious we were in the company of one of our great painters of our time.' Ron McGill travelled with Ken Howard to Venice June 2014.
The first week will be spent painting in Udaipur, Rajasthan. You'll be staying in a former royal residence, which is part of the City Palace complex and has fabulous views over Lake Pichola from its roof terrace restaurant. Udaipur, known as the 'city of sunrise', is a Maharajahs oasis and a regal jewel in the crown. The honeycomb of white marble palaces and temples reflect in the shimmering cool waters of Udaipur's lake. There are splashes of vibrant red, orange, pink and yellow clothing typically worn by Rajasthani men and women, and the Holi celebrations marking the annual festival of colours on 6 March, will add even more colour to Udaipur.
In complete architectural and ambient contrast the sandstone city of Varanasi is the base for the second week's painting. Known also as Benaras or 'the city if light', Varanasi is India's most sacred city. You'll be staying on one of the ghats in a traditional river-fronted haveli. From the hundred or more ghats on the river bank, a myriad of narrow alleys and back lanes are lined with many temples, including the gold plated spires and fine carvings of the Golden Temple. The first light is ideal for capturing river bathers and the glorious light of the early morning foggy sunshine rising from the water. Later in the day professional dhobi's wash clothes on the banks of the river and as night falls there is the atmospheric spectacle of hundreds of leaf-boat lamps floating downstream.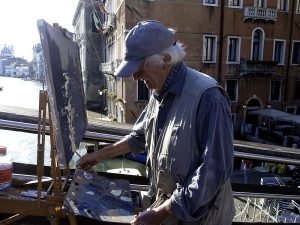 Summary of programme
28 February                             Evening flight from London Heathrow.
1 March                                    Midday arrive Delhi. Claridges Hotel.
2 March                                    Morning flight to Udaipur in Rajasthan. Fateh Prakash Palace Hotel.
3, 4, 5, 6, 7 March                    Painting in Udaipur.
8 March                                    Morning flight to Varanasi. Jukaso Ganges Hotel.
9, 10, 11, , 12, 13, 14 March    Painting in Varanasi.
15 March                                  Afternoon flight to Delhi. Claridges Hotel.
16 March                                  Day time flight back to London Heathrow.
Price per person:                                                                  £6,395.00 / US$10.250
Single supplement:                                                              £  400.00 / US$640
Number of painters:                                                                  10 – 12     
Includes premium economy flights, all accommodation, breakfast & dinner daily, travel escort from UK & guest artist.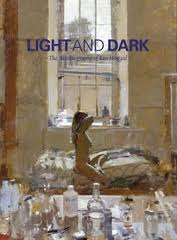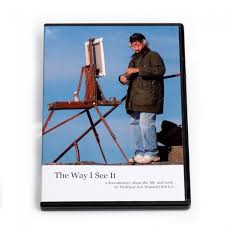 This painting holiday is offered to you by The Artist Magazine
Professional artists
Other Trips
Past Trips

What the experts & clients say
"I've done lots of trips tour guiding for Spencer Scott Travel (Cuba, Peru, South Africa, Botswana, Uganda) and they have all been of the highest order, well planned, great itineraries, excellent support and clients always totally satisfied. They are a total pleasure to work for and I have loads of great memories to treasure as a result. Check them out if you want something special."
""Our group is led by Professor Claudio Sillero....his decades of experience in this region and his hardy colleagues, guarantee sightings of wolves  They do not disappoint." "Next we climb up and across the Sanetti Plateau through unmatched beauty in every direction.  Small klipspringer, antelopes and hyrax, ( a pint-sized relative of the elephant), dot the hillsides.  our camp site is magnificent!  It is surrounded by towering basalt formations the locals call 'the soldiers.'  ....Can any place be more perfect?" "Our successful adventure is coming to a close, but we have been fortunate to site 30 wolves in 11 different packs, which equates to 10% of all the wolves living in the Bale Mountains National Park." "
""I want to let you know that the workshop with Ken Howard in Santorini was simply the best workshop I have ever attended.  I was deeply inspired and impressed by Ken.  The group was a pleasure.  I hope this workshop will be repeated again."  "