New English Art Club Annual Exhibition 2013 opens on Friday 29th November, until Sunday 8th December, at the Mall Galleries, London.
New English Art Club (NEAC) represents the very best of contemporary British figurative painting. It started it's days in 1885 in the studios of a group of young London artists who wanted to start a rival show to the 'academic' RA.  The first exhibition was in 1886 and at its core were artistic decendants of the Impressionists included  J S Sargent, Stanhope Forbes, Wilson Steer, Fred Brown and George Clausen.  Their work was dynamic and brought a new vibrancy to the British art scene. In the 1920's Stanley Spencer and Duncan Grant and almost all the Camden Town Group started with the NEAC. By the 1940's and 1950's the RA and NEAC were exhibiting similar work but today the NEAC is the figurative art society and its annual exhibition holds pride of place for leading contemporary artists.
The NEAC has over 70 members and next week you can see their latest works at its annual exhibition in the Mall Galleries in London.   We urge you to go although – its inspiring and refreshing. Alternatively the New English Art Club  website gives you the opportunity to view works of art for sale.
At Spencer Scott, we feel priviledged that two of our guest artists on our Painting Holidays in 2014 are leading lights at the NEAC – Ken Howard RA and Peter Brown.  We have also worked with Tom Coates, Jenny Wheatley, Pamela Kay and Jason Bowyer in the past. All have works on display.
Peter Brown is exhibiting five of his works this week at the Mall Galleries, as well as having a solo show at Messum's Fine Art , Cork Street London W1X1PB, until 24 December 2103.  We are thrilled that "Pete the Street", as he is affectionately known, is our guest artist on "Paint in Old Havana" from 24th March to 11th March 2014.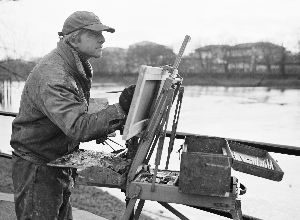 We have worked with Ken Howard RA for many years in 2014 he is hosting the "Light in Venice" painting holidays for us. Week one will run from 14 – 21st June and the second, from the 21 – 28th June 2014.  
Ken is exhibiting one inspirational piece of work at the NEAC exhibition this week, "From the Academia Bridge, afternoon light". Additionally, he has an ongoing solo exhibition at the Richard Green, 147 New Bond Street, London W1S 2TS.