Venice with Ken Howard RA
14th - 21st June 2014
21st - 28th June 2014

Ken Howard RA invites you to paint alongside him in Venice

An exclusive and fabulous opportunity for aspiring students and artists to work alongside one of our most revered Royal Academicians in the location he is most famous for.  Capture the light as it moves across Venice.  Enjoy convivial evenings getting to know Ken Howard

Every day will be spent painting in Venice.  Ken works relentlessly from dawn to dusk, following the best light as it moves across the city.  You will learn much from working alongside him – he is extremely generous in providing information and plenty of encouragement. Ken will give some informative talks and presentations on how he works during the week, but the informal style of this holiday will not include tuition, demonstrations or critics. Ken will be working in oils but all mediums are welcome. You may choose to work alongside Ken or independently.
Ken Howard is passionate about painting and his work is highly praised throughout the world.   His paintings are in many public collections and he has had numerous one-man exhibitions worldwide. Ken's most famous paintings are of Venice, where he lives for part of the year.  This exclusive opportunity to work alongside him in Venice is very special. Ken Howard has been an elected member of the RA since 1992 and was awarded the OBE in 2010. His autobiography Light & Dark was published in 2011 and provides a wonderful insight into his life.  Ken paints every day and loves to be inspired by new subject matter at home and abroad. He has hosted painting holidays with us since the 1990's to India, Cuba, Yemen, Istanbul, Venice, Provence, Morocco and Santorini.   Find out more about Ken Howard.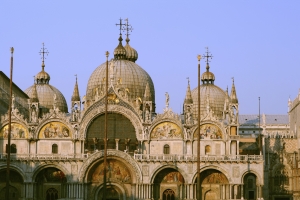 Venice is always spectaular and inspirational.  Ken has his favourite locations and with our central accommodation on Dorsoduro, near the Galleria dell'Accademia, you will be able to walk across the Grand Canal to Piazza San Marco, the Bridge of Sighs and the Rialto Bridge or take a vaporetti to the Pescheria (fish market), or stroll over to Santa Maria della Salute, Campo San Trovaso and the Giudecca.  Evening meals will be taken in local restaurants, providing the opportunity to explore more of Venice and to get to know Ken who is a very convivial and entertaining host.
Direct scheduled flights on British Airways, breakfasts and dinners are included. Everything is organised for you and taken care of by an accompanying travel escort from the UK, enabling you and Ken to paint every day without any other concerns.
Price:
Per person per week :  £2,995.00   
Single supplement :      £200.00  
Number of students per week:   12 
This painting holiday is arranged in association with The Artist Magazine
Professional artists
Other Trips
Past Trips

What the experts & clients say
""I want to let you know that the workshop with Ken Howard in Santorini was simply the best workshop I have ever attended.  I was deeply inspired and impressed by Ken.  The group was a pleasure.  I hope this workshop will be repeated again."  "
"I've done lots of trips tour guiding for Spencer Scott Travel (Cuba, Peru, South Africa, Botswana, Uganda) and they have all been of the highest order, well planned, great itineraries, excellent support and clients always totally satisfied. They are a total pleasure to work for and I have loads of great memories to treasure as a result. Check them out if you want something special."
""Our group is led by Professor Claudio Sillero....his decades of experience in this region and his hardy colleagues, guarantee sightings of wolves  They do not disappoint." "Next we climb up and across the Sanetti Plateau through unmatched beauty in every direction.  Small klipspringer, antelopes and hyrax, ( a pint-sized relative of the elephant), dot the hillsides.  our camp site is magnificent!  It is surrounded by towering basalt formations the locals call 'the soldiers.'  ....Can any place be more perfect?" "Our successful adventure is coming to a close, but we have been fortunate to site 30 wolves in 11 different packs, which equates to 10% of all the wolves living in the Bale Mountains National Park." "