2010 - Mountain Gorillas with Dr Julie Anderson
9th - 20th March 2010


Join leading primatologists tracking four habituated gorilla groups and a newly habituated Golden Monkey group in Uganda and Rwanda.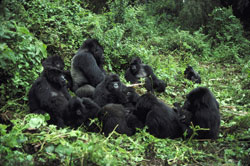 Staring in to the soft brown eyes of a mountain gorilla is one of the most intimate feelings of connection with the natural world, and observing the behaviour of these remarkably peaceful creatures at arms length will be above and beyond anything you have experienced. It is a privilege and experience afforded to only a few people. Unique to this expedition, is the opportunity to track and observe mountain gorillas with leading primatologists Dr Julie Anderson and Dr Katie Fawcett, Director of the Karisoke Research Centre in Rwanda (est. by Dian Fossey in 1967). It is also planned to trek to Dian Fossey's old research site with a Field Operations Co-ordinator who was also a member of her original team.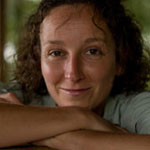 Dr Julie Anderson is a biological anthropologist and TV presenter. She is a leading primate conservationist and Director & Scientific Advisor of the Colobus Trust in Kenya. Julie presented the recent BBC TV series Living with Monkeys, about western lowland gorilla ecology and behaviour and red-capped mangabey. Her enthusiasm, breadth of knowledge, sense of adventure and warm personality make Julie a perfect host for this expedition.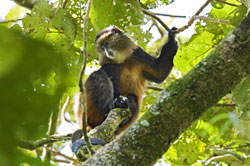 Over 50% of the world's estimated 700-strong mountain gorilla population live in the lush bamboo forests of the stunningly beautiful Virunga Mountains that straddle Uganda and Rwanda. A carefully managed tourism and conservation policy provides the finances for the protection and monitoring of these endangered species. Only eight permits per day are issued for tracking to each habituated group. Tracking is done on foot and is an exhilarating experience, connecting you with the world of the mountain gorilla. Tracking gorillas can be physically challenging, but sitting with a Silverback and his family is an unforgettable experience. A distance of 5m should be maintained, but juvenile gorillas are curious of humans and often try to interact with them, as David Attenborough experienced!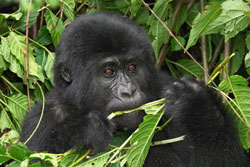 The emphasis of this expedition is to experience the world of mountain gorillas, to gain an appreciation of primate behaviour and support the conservation of these species. The ecosystem that the gorillas inhabit is rich and diverse with other primates including the endangered Golden Monkey, black and white colobus, chimpanzee, L'Hoest's red-tailed and blue monkey, olive baboon and over 350 bird species including 23 endemic Albertine Rift species.
Services and facilities are in keeping with the nature of this expedition. You will be staying in a guesthouse, a simple bush camp and mountain lodge. Travel will be by the most direct routes maximising the amount of time spent in the field. An experienced safari co-ordinator from the UK will be on hand overseeing all the arrangements and your general welfare.
Expedition details
Price per person: £7,595
Single room supplement: £350 (4 nights shared camp facilities)
7 -12 participants will accompany Dr Julie Anderson
Price includes: direct scheduled flights, a private charter flight, 4WD vehicles, 10 nights accommodation, all meals, 4 gorilla tracking permits, 1 Golden Monkey tracking permit, expedition co-ordinator, wildlife host, visits with members from the Dian Fossey Research Centre, a donation to gorilla conservation.
Wildlife & photographic hosts
Other Trips