Gorilla Tracking in Rwanda & Uganda with Stephen Mills
27th September - 5th October 2014

Close encounters tracking Mountain gorillas in Rwanda & Uganda ............. a life-shifting experience

Stephen Mills is delighted to be returning to both Rwanda and Uganda, where he last tracked mountain gorillas in 2006. He is keen to see how each group has evolved and are surviving.  The process of habituating gorilla families is long and unpredictable, but the management approach in Rwanda and Uganda is highly commendable.  Stephen will be sharing this information and other research work and conservation initiatives with you.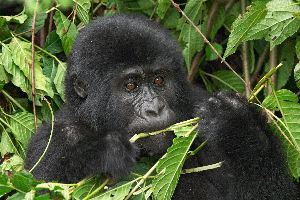 Whilst the focus will be on primates and especially Mountain gorillas this safari encompasses all the wildlife in Volcanoes and Bwindi National parks. The habitats of Mountain Gorillas is verdant rain forested mountains, which are also excellent for birding. Stephen Mills is a very competent birder. Tracking gorillas can involve steep and long climbs, so a reasonable level of fitness is required.
You'll be flying in to Rwanda and out of Uganda on this safari, so this maximizes the best use of your time. Accommodation is in conveniently located lodges close to the park gates.
Your professional naturalist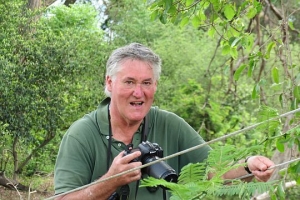 Stephen Mills is a professional naturalist, wildlife writer, producer and cameraman. He has made over 35 films for TV, written over 200 papers, wrote the cover story for the launch issue of BBC Wildlife, is author of the BBC book 'Tiger' and 'Nature in its Place' , is past chairman of the International Association of Wildlife Film-makers and was Campaign Director at Environment Investigation Agency.
Stephen is an excellent communicator and knowledgeable on many current wildlife issues that makes him a natural host and leader of wildlife trips. As a professional naturalist he can explain the physiology of animal behaviour. He is also a very good birder. Stephen has been leading small private safaris for Spencer Scott Travel for the last 20 years mainly to look for tigers in India and Nepal, 'big cats' and wild dogs in East Africa, as well as  mountain gorillas in Rwanda and Uganda, polar bears in The Arctic and the wonderful wildlife in The Galapagos Islands.  Stephen is very down to earth and travelling with him is always fun, informative and relaxed.
Safari synopsis
27 September  Fly London to Kigale, Rwanda.
28 September  Drive to Volcanoes National Park. Afternoon forest walk.
29 September  Gorilla tracking.
30 September  Gorilla tracking.
1 October         Drive to Bwindi National Park, Uganda
2 October         Gorilla tracking.
3 October         Optional gorilla tracking or forest walks.
4 October         Fly to Entebbe. Dinner before boarding your flight back to London.
5 October         Arrive London.
This is a fully inclusive safari with all flights, accommodation, meals, 3 gorilla tracking permits, naturalist and travel escort.
Price per person :  £7,995.00/ US$12,795.00                     
Single room supplement : £450.00 / US$720.00
Additional gorilla tracking permit : £400.00 / US$640.00
6 – 8 guests
Wildlife & photographic hosts
Other Trips

What the experts & clients say
"" Thank you for organising the extra flights and accommodation etc... The trip was a success for me. Eileen was the most thoughtful and hard working attendant/guide - she tended to our every needs - nothing was too much bother to her. Lachlan Goudie was such a gentleman. He was enthusiastic, kind and so very generous of advice and inspiration. He cheered us up and gave us hope when we were struggling with our work. We all loved him and are in awe of his beautiful water colours and gouache paintings.  Thank you for everything.""
"I have had the good fortune to work with Liz Drake at Spencer Scott Travel taking small groups on safari to East Africa and India. All aspects of the journey are handled in a most personal, thorough and sensitive way, and all the arrangements are organised with admirable attention to detail. I have always boarded the plane from London knowing we were all going to have the holiday of a lifetime."
""Our group is led by Professor Claudio Sillero....his decades of experience in this region and his hardy colleagues, guarantee sightings of wolves  They do not disappoint." "Next we climb up and across the Sanetti Plateau through unmatched beauty in every direction.  Small klipspringer, antelopes and hyrax, ( a pint-sized relative of the elephant), dot the hillsides.  our camp site is magnificent!  It is surrounded by towering basalt formations the locals call 'the soldiers.'  ....Can any place be more perfect?" "Our successful adventure is coming to a close, but we have been fortunate to site 30 wolves in 11 different packs, which equates to 10% of all the wolves living in the Bale Mountains National Park." "