Leopard & Whale Safari & Photographic Journey with Jonathan & Angie Scott
11th April 2011


Yala National Park in Sir Lanka is one of the best places to see leopards and April is one of the best times of the year to see whales off the southern coast. Join Jonathan & Angie Scott on their inaugural safari and launch of Leopard Guardians to help protect these magnificent creatures.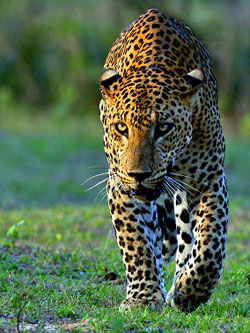 Jonathan & Angie Scott visited Sri Lanka in early 2011 and were totally enamoured by its beauty, rich culture and plentiful sightings of leopards and other wildlife and fabulous photographic opportunities. They now invite you to join them on a very special and their first hosted trip to photograph leopards and the colourful culture at a time when Sri Lanka is celebrating its New Year. This is a must for all photographers – a chance to test and improve your photographic skills in the company of two of the world's top wildlife and travel photographers – and almost guaranteed sightings of leopards.
Jonathan has long had an affinity with leopards and is as passionate to protect them in Sri Lanka as he is in Africa, and this trip will help launch a Leopard Guardians initiative where tourism and conservation jointly work together to achieve a sustainable platform for the leopard. Jonathan and Angie are working closely with local naturalist Chitral Jayatilake and he will co-host this leopard safari when in Yala Natioanal Park.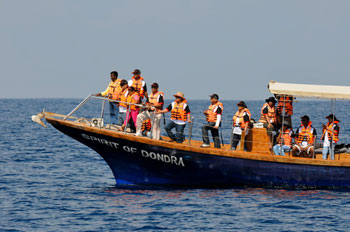 This special photographic journey commences on the south coast at Koggala, which offers great photo opportunities at sunset with Stilt Fisherman, the ancient Dutch fortress at Galle and of the world's largest mammal – the rare and endangered Blue Whale. There will be two mornings when we will head out on board a private boat in search of Blue Whales.
Before reaching Yala National Park, you'll be able to enjoy the celebration of the traditional Sri Lankan New Year in small village, providing the opportunity to engage in some 'street photography' and to capture the colour and excitement of the celebrations.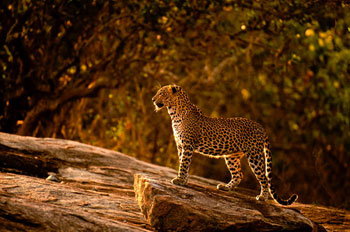 The safari then really commences in Yala National Park, which is one of the best places in the world to see these leopards. There are no tigers, lions or hyenas here so the leopard is 'King'.  Jonathan and Angie have been watching leopards in Africa for the past 35 years so they will be able to give you an insight in to the lives of these enigmatic predators. Chitral Jaytilake knows Yala's leopards as well as anyone and has been watching and photographing these particular leopards for twenty years and will be able to help you maximize your wildlife experience and tell you more about the individual leopards he hopes to find during your 5-day visit.   There will be two leopard safaris each day. Afternoons will be spent back at the lodge with Jonathan, Angie and Chitral giving presentations on their work with leopards and other big cats as well as showing you how to get the most out of your photography. This will also be the best time for you to talk through any questions you may have about your camera equipment and the opportunity for one-on-one sessions with Jonathan and Angie on the challenges of digital photography.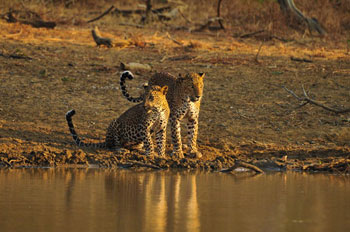 On the journey back to Colombo there will be a visit to the sacred city of Kataragama in time for the morning pooja (religious ceremony) and to Ratnapura; city of gems, to admire and perhaps purchase some sparkling Ceylonese gems.
With Angie's attention to detail, Jonathan's boundless enthusiasm, Chitral's local expertise and their caring nature this will be an intimate 'Scott family' safari. Scheduled flights, luxury accommodation and fine dining will also add to making this a memorable and exceptional experience.
To learn more about Jonathan & Angie Scott click here
Summary Itinerary
| | |
| --- | --- |
| 11 April | Depart London. Overnight flight. |
| 12 April | Arrive Colombo. Leopard Guardian's dinner. |
| 13 & 14 April | Whale watching and photographic workshops in Galle & Sri Lankan New Year. Overnight Koggala. |
| 15 – 19 April | Leopard safari in Yala National Park. |
| 20 April | Photographic workshop at sights en-route to Colombo. Farewell dinner. |
| 21 April | Flight to London. |
| | |
| --- | --- |
| Price person:      | £5,495.00 / US$8,600 |
| Single room occupancy supplement:   | £ 600.00 / US$ 950 |
| Number of guests :  | 8 – 12 |
Leopard & Whale Safari & Photographic Journey with Jonathan & Angie Scott
To make an enquiry please call
or
complete our contact form
Wildlife & photographic hosts
What the experts & clients say
""Ken was so kind, helpful and enormously interesting to be with. I know I have gained a great deal from the experience of some of his incredible wisdom and insight and having the privilege of working alongside such a great artist""
""Just wanted to drop you a quick line to say how very much I enjoyed painting with Pete in Havana.  I loved it all, the City, the painting, the company, the Mojito's and the food, and it was great to have Jacqueline there organising us all. Many thanks and I hope to take part again next year.""
"I've done lots of trips tour guiding for Spencer Scott Travel (Cuba, Peru, South Africa, Botswana, Uganda) and they have all been of the highest order, well planned, great itineraries, excellent support and clients always totally satisfied. They are a total pleasure to work for and I have loads of great memories to treasure as a result. Check them out if you want something special."