Top Tips on how to have the perfect African Safari.
Safari's are the perfect way to see the "Big 5", but they are expensive and so it is important to choose your safari carefully.  We decided to share some top tips on how to make your safari perfect.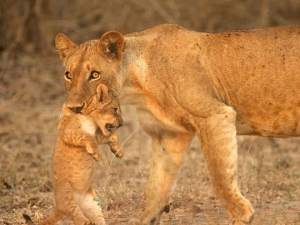 Firstly, choose a specialist  company which can offer exceptional hosting from a renowned and seasoned wildlife professional.  Perhaps a naturalist such as

Stephen Mills 

 or  

Jackson Looseyia

, or a conservation biologist like Prof Claudio Sillero.  Local driver guides are good and know the locality but wildlife experts will provide you with the a deeper understanding of wildlife behaviour and its ecosystem.   Conservation biologists present a comprehensive insight in to sustainable conservation of endangered species in specific locations.  Local driver guides will work around meal times in your camp or lodge and you will usually get a two hour game drive in the morning and again in the afternoon. When wildlife experts host a private safari there is no timetable other than natures own, so you'll be out before dawn and there is no way that you'll be returning to camp if there some action on the plains. There will be days when you are out until the sunsets, breaking for picnic breakfast and lunch in the shade or overlooking a waterhole. You will return from your safari with a wealth of experiences, knowledge and lasting memories.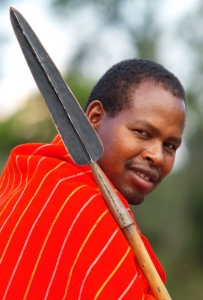 Jackson Looseyia's Masai Mara Safari is one example of how we work at Spencer Scott Travel.  This 7 day safari is hosted by Maasai guide Jackson Looseyia, who co-hosted the BBC's Big Cat Diary series, and is based at one of the most scenic, intimate and luxurious bush camps in The Mara – Rekero Camp. With just 6 – 8 guests you'll get close encounters with Mara wildlife and spend quality time following the Big Cat dynasties from the TV series. There will be a maximum of 4 guests in a safari vehicle so you are assured of a top-rated safari.
It is important how you get around too.  Essential to a top experience is the use of  a private 4×4 vehicle and for their to be a maximum of 4 or 6 gusts per vehcile depending ont he type of vehicle. This will ensure that you each have an outside seat with open view.  Also you need to have space for personal camera gear and other belongings. You will need to carefully research this and ask the right questions before deciding on booking a safari. Specialist walking safaris offer close encounters with wildlife, but you need to check what safety procedures are in place and the amount of walking and terrain you'll be in, to ascertain fitness levels.
Consider the type of accommodation that best suits your needs. Do you want the bush experience "without fences" that some camps offer? You'll get the exciting sounds of the night-time bush, but you also need to check you get an intimate camp fire, river setting or are out on the open plains.  You;ll enjoy intimate al fresco dining but do not expect lodge  facilities such as electricity, lighting and hot showers on tap. Instead you are likely to get limited lighting and battery charging facilities and bucket showers.  Or are you more drawn to lodges  which provide all mod cons, evening entertainment and are  fenced and so at a "safe" distance from wildlife?  Lodges are larger than bush camps and so you will have more company from other guests.   It's a personal choice, but it is important to choose this wisely.
Remember to consider whether you want to be based within a National Park, where you may feel "safer" around the conduct and rules that exist, such as no walking safaris or night drives, or if you prefer the freedom of one of the private reserves or concession areas where there are no rules but where wildlife co-exists with farmers and villages?  Here, there can be traffic and a potential wildlife -human conflict.
Another decision to be made is when to go on your chosen safari.   For example, before the rains it is easier to see the animals as the grass is shorter and the watering holes are fewer and so the wildlife more concentrated. After the rains the landscape is  more beautiful and less crowded with tourists, but it can be more difficult  to photograph animals.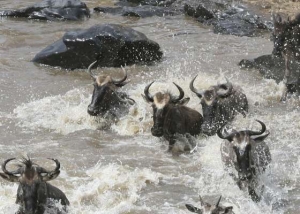 Should  you chose to travel at the time of  the  migration of nearly two million wildebeest and zebra crossing from the Serengeti in Tanzania to the Masai Mara in Kenya you will experience  one of the planets most spectacular land migrations and witness lots of predator activity.  Consider the tradegy and  blood and guts you'll likely to encounter. Also being prime wildlife viewing it is high season and so much more expensive to travel Augsut – October.  Maybe think about travelling at the time of the Wilderbeest calving, after the full moon in February at Ndutu in Tanzania ?  For some this is an amazing experience , whilst others find this can be too noisy, with lots of  flies and  infant kills.
There are many safari locations to choose from, but it's worth taking the time to decide what you really want.   Will it be Kenya and the  Masai Mara ?  Surely an outstanding destination, with an average of three lions per square kilometre and the annual migration of over a million wildebeest .  Or maybe you might choose the Serengeti in Tanzania – the largest intact ecosystem left on earth and the magnificent Ngorongoro Crater.
Much of the decision on which safari destination comes down to the quality and quantity of the wildlife viewing you are seeking.  Certainly if you want big game and lots of it, then you need to choose a safari and habitat where you will find the Big Five.  If you have seen the Big Five and been on safari several times then you will probably be ready for a more meaningful and in-depth safari experience where the focus is on sustainable conservation of specific endangered species such Ethiopian Wolves and Painted Dogs.
Finally you need to consider what you wish to achieve from your safari. If getting frame-filling images is important then you need to choose a dedicated photographic safari, where the emphasis and experience is seen through the lens. Remember wild animals are unpredictable, the light is forever changing and the chances of you being in the right position at the right time to get the perfect shot is largely down to luck.  Wildlife cameramen spend all day for weeks sitting and waiting for that one shot, where as you will be attempting to get it in a week's safari, so it is important to try and not to let your frustrations and expectations spoil the moment.   If you want to enjoy the whole spectacle and are happy to return with some very good shots then a carefully chosen hosted wildlife safari is perfect.
What are the 'Big Five'?
The  Big Five was originally a term used by big-game hunters and refers to the five most difficult animals in Africa to hunt.  This was later ironically adopted by travel companies offering safaris, and is used in tourist literature to describe African wildlife safaris. Membership of the Big Five was based on the level of danger involved in hunting them, rather than their physical size.
Countries where all the members of the big five can be found include Botswana, Zambia, Uganda, Namibia, Ethiopia, South Africa, Kenya, Tanzania, Zimbabwe, the Congo, and Malawi.  Indeed, since 1990,  South African banknotes each feature a different big-five animal.
Who's "in"?
In Africa, the big five game animals are the African lion, African elephant, Cape buffalo, African leopard, and White / Black rhinoceros.
1.  African Lion
The Lion (Panthera leo) is perhaps the most popular "must see" of the Big Five.  Given the beauty and power of this large carnivorous cat, this is hardly surprising.   Lions have been celebrated throughout history for their courage and strength.  Lions are the only cats that live in groups, or prides. A single pride may have up to three males, and around a dozen or so females, (who are all related), and their young.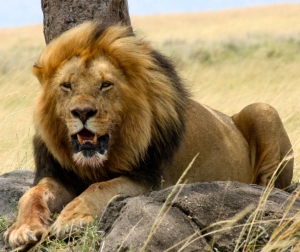 2.  African Elephant
African elephants  ( Loxodonta africana) are the largest land animals on Earth, and can be identified by their larger ears often described as looking like the continent of Africa. They typically live up to 70 years, with females fertile between 25 and 45. Males need to reach 20 years of age in order to successfully compete for mating.
3. Cape Buffalo
Cape Buffalo (Syncerus caffer caffer) are one of the most successful grazers in Africa, living in areas of  dense cover, but can also be found in open woodland.  They need daily water and  so depend on reliable watering holes.  Other than humans, they have few predators,  and are capable of defending themselves against, and occasionally killing lions.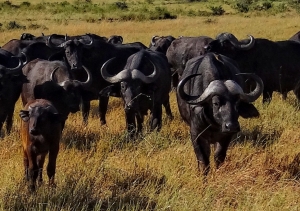 4. African Leopard
The African Leopard (Panthera pardus pardus) was classified as Near Threatened in 2008 , stating that they may soon qualify for  Vulnerable status due to habitat loss and fragmentation. They are becoming increasingly rare outside protected areas. The trend of the population continues to decrease.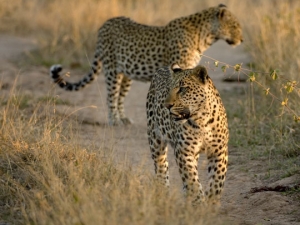 5  White / Black Rhinocerous
Members of the rhinoceros family are characterized by their large size, around one tonne or more in weight.  The black rhino is much smaller than the white rhino.  Rhinoceros are killed by humans for their horns, which are traded on the black market.  With numbers rapidly diminishing they are now listed as critically endangered.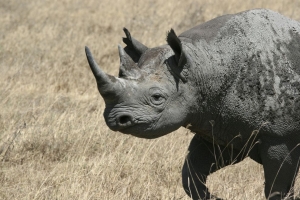 What next?
We hope that this article has whet your appetite to take a safari, and that it has alerted readers to make sure they aware of the questions they need to ask themselves.  Whichever safari you decide to take, we recommend that you work with the professional.  This makes the difference between any safari and a "perfect safari".
We would like to invite you to look at our specialist wildlife safaris, where we can offer experiences which tick all the boxes on our top tips.