African Wild Dog Safari with Painted Dog Conservation
21st September - 1st October 2015

A unique opportunity to see Painted Dogs in the wild with Peter Blinston, Jealous and Steve Leonard of Painted Dog Conservation. Experience wildlife conservation at grass roots level in Zimbabwe and help support the on-going work of Painted Dog Conservation

Safari Summary:
| | |
| --- | --- |
| 21 Sept | Arrive Victoria Falls. Tour of The Falls. |
| 22 Sept | Fly to Mana Pools |
| 23, 24 & 25 Sept | Track Painted Dog packs, check out den sites, bush walks and game drives in Mana Pools |
| 26 Sept | Fly to Hwange National Park and PDC HQ. Meet the PDC team and visit PDC's HQ, rehabilitation and educational facilities |
| 27,28 & 29 Sept | Follow packs of African Wild Dogs in the heart of Hwange National  Park. Stay inside the park for 2 nights before returning to PDC's HQ for a final day experiencing more of the work they do with the local communities. |
| 30 Sept | Return to Victoria Falls. |
| 1 Oct | Depart |
Price per person : £8,995.00 / US$14,400  *(fully inclusive except for international flights to Victoria Falls).
Single room supplement : £345.00 / US$550
Number of guests : 6 – 8
* Flights and airfares from London to Victoria Falls to be confirmed late October 2015 – guideline price at Sept 2015 £1,150.00
Support the on-going work of PDC
This is a special fund-raising safari for Painted Dog Conservation in Zimbabwe. Your participation will financially support the sustainable conservation of African Wild Dogs. You will be following packs of African Wild Dogs in Mana Pools and Hwange National Parks, and experience cutting edge conservation  with Painted Dog Conservation.  The PDC team with you wlll include Patron and vet Steve Leonard, Managing Director Peter Blinston and chief field office Jealous.
The Safari
Victoria Falls provides the spectacular start of your visit. and then it's on to Mana Pools to track and follow the Vundu Pack. Time will be spent locating dens and observing pack dynamics, and there's a good chance of seeing pups.  From Mana Pools you'll fly to Hwange National Park to meet Peter Blinston and the rest of the PDC field officers, spending time visiting the wide ranging projects they have here.  Time will be spent tracking Painted Dogs in Hwange National Park. It is also hoped you'll be able to watch Steve Leonard in action – working in temporary bush clinics and vaccinating domestic dogs.  These vaccination programmes are free to villagers and play a vital role in helping to prevent the spread of diseases between domestic dogs and Painted Dogs.  Vaccines are kindly donated by Wildlife Vets International. Steve Leonard is Patron of PDC and Wildlife Vets International.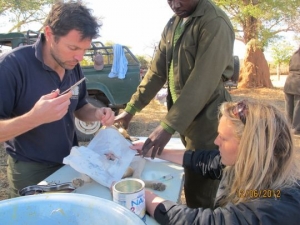 Steve Leonard working in the bush vet lab for PDC in Zimbabwe.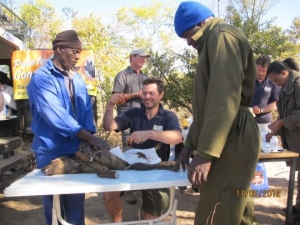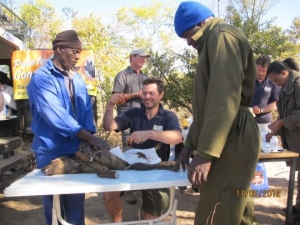 Steve Leonard is a veterinary surgeon and TV presenter. He comes from a family of vets and has his own practice in the UK and is Patron of Wildlife Vets International.  He was one of the students the BBC's series Vets School followed and he also appeared in Vets in Practice, Vets in the Wild, Vets in the Wild West and presented Steve Leonards Extreme Animals, Orangutan Diary and Safari Vet School. He is a charismatic and caring person and passionate about his work as Patron of Painted Dog Conservation and Wildlife Vets International.
Learn more about Steve Leonard and Wildlife Vets International.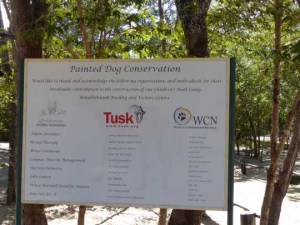 Painted Dog Conservation (PDC) works closely with local communities providing income from other sources (using snares to make crafts), developing an appreciation for wild dogs and the value of conservation through children's bush camps and offering free vaccinations against distemper and rabies for domesticated dogs. They also have an informative and well-presented visitor centre, anti-poaching patrols and rehabilitation centre for rescued and translocation programmes.
PDC's  fully comprehensive conservation model is impressive.
Read a diary from our first trip to see Painted Dogs in Zimbabwe.
Zimbabwe is safe to visit and there are no travel restrictions or problems for tourists.
Wildlife & photographic hosts

What the experts & clients say
"I have had the good fortune to work with Liz Drake at Spencer Scott Travel taking small groups on safari to East Africa and India. All aspects of the journey are handled in a most personal, thorough and sensitive way, and all the arrangements are organised with admirable attention to detail. I have always boarded the plane from London knowing we were all going to have the holiday of a lifetime."
"Thank you for all the organisation which gave us such wonderful and thrilling days in The Mara - a truly memorable experience.  We were so lucky all our sightings - the best view of leopard I have ever had.  The bonus was that beautiful black rhino - fighting fit and so close.  Of course, Simon's expert and enthusiastic guidance ensured the maximum benefit."
""I want to let you know that the workshop with Ken Howard in Santorini was simply the best workshop I have ever attended.  I was deeply inspired and impressed by Ken.  The group was a pleasure.  I hope this workshop will be repeated again."  "