Don't miss – Two New Exhibitions from our Painting Holiday hosts and See Lachlan Goudie on TV!
Paintings of London – Peter Brown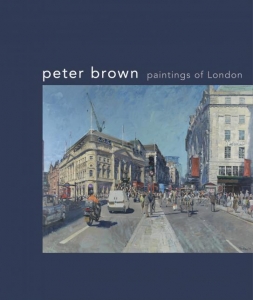 Messum's Galley
28 Cork Street, London W1
Peter Brown – Paintings of London
Open:
Runs from: 12th Jan 2016 – 12th Feb 2016
Monday – Friday: 10am – 6pm
Saturday: 10am – 4pm
Messum's Gallery in the heart of London's Mayfair plays host to the largest exhibition of artist Peter Brown's London Paintings. The show 'Paintings of London' is set to run up until February 12th and features a selection of Peter's best work, focusing on his favourite areas of the capital including Piccadilly & The West End.
Known as Pete The Street, Peter Brown is a British figurative artist famed for his love of 'plein air painting' out in the street, come rain or shine. His paintings capture the hustle and bustle of London's streets from a unique viewpoint, through a variety of seasons and lighting conditions – making this exhibition a must see.
Peter Brown is hosting an exclusive holiday painting in Florence during September. Ideal for experienced to intermediate level painters, work alongside Peter and gain a special insight into his methods.
Paint with Peter Brown in Florence
4 – 12 September 2016
---
From London To Venice – Ken Howard
Richard Green Gallery
147 New Bond Street, London W1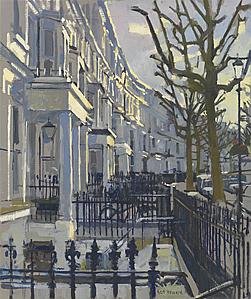 Ken Howard OBE RA – From London to Venice
Open:
Runs from: 13 January 2016 – 6 February 2016
Monday – Friday: 10am – 5pm
Saturday: 10am – 4pm
Ken Howard OBE RA is a highly acclaimed figurative artist and member of the Royal Academy of Arts.  Born and raised in London – his latest exhibition 'From London to Venice' celebrates his love of his two favourite subjects, London and Venice. Hosted at the Richard Green Gallery in Mayfair, the exhibition showcases 50 of Ken's recent works – with landmarks Big Ben, Westminster Abbey and the River Thames all featuring alongside the beautiful canals and architecture of Venice. 'From London to Venice' will be running until February 6th, so don't miss this chance to see some of Ken's finest work.
Join Ken Howard as he travels to Bruges this summer to paint on location in the 'Venice of the North.' Be inspired by Ken on this wonderful painting holiday which is a unique opportunity to paint with one of the world's leading figurative painters.
Paint with Ken Howard in Bruges
18 – 25 June & 25 June – 2 July 2016
---
The Story of Scottish Art – BBC Two – Lachlan Goudie
Written and presented by Lachlan Goudie
BBC Two – 9pm
Wednesday 6th, 13th, 20th and 27th January 2016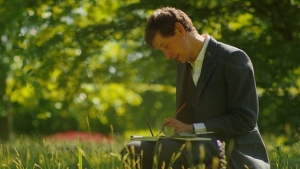 Lachlan Goudie – The Story of Scottish Art
In this four part television series currently showing on BBC Two, artist Lachlan Goudie presents the story of Scottish art and its global influence, from early Neolithic times right up to the present day. Seen through the eyes of an artist, Lachlan takes the viewer on a fascinating journey, beginning in Orkney exploring the ancient Ring of Brodgar, traveling across the continent to France and Italy, examining key influences and how Scottish artists have been pushing the boundaries of art itself across the world for over 5000 years.
If you've been inspired by watching The Story of Scottish Art – find out how you can paint with Lachlan Goudie on a special painting holiday he is hosting in the South of France this May.
Paint with Lachlan Goudie in the South of France
14 – 22 May 2016