Paint in Florence with Peter Brown NEAC
4th - 12th September 2016

Unique opportunity to paint alongside Peter Brown
Learn by example and from some individual guidance
Capture the essence of Florence
Monumental art and superb Renaissance architecture
Ideal for intermediate and experienced students
4 star hotel overlooking the River Arno and near the Uffizi and Ponte Vecchio
Direct scheduled flights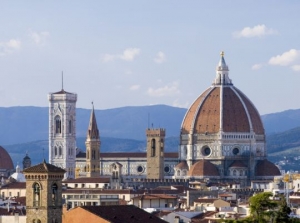 Painting Holiday with Artist Peter Brown
Join artist Peter Brown painting in Florence on this special holiday in Italy for experienced and intermediate painters.
Peter is a member of the NEAC (New English Art Club) and in 2006 became the first Artist in Residence at the Savoy Hotel, London. In 2008 he won the Prince of Wales Award for Portrait Drawing. Popularly known as "Pete the Street" from his practice of working on location in all weathers, he has developed a vigorous en plein air style, and happily interacts with passers-by while at work. He is a very talented figurative artist, best known for his detailed and atmospheric depictions of street scenes in Bath, London, Oxford,  Cambridge and India. Pete is an excellent guest artist to work alongside. Learn by example and from some individual guidance. He is helpful and tremendously inspirational and you gain an insight in to his philosophy of how he works. Pete hosted a group of artists to Arles in 2015 and thoroughly enjoyed it. He is very excited about painting the classical city Florence. Publications include My Indian Travels and Brown's Bath and Oil Sketches, APV DVD. Follow Peter Brown's 'Pete The Street' blog to see where he's working and what he's up to.
Painting in Florence
Pete has chosen to paint in Florence for its classical art and superb Renaissance architecture on this trip. The historical centre of Florence is flat and compact – you can walk from end to the other in 30 minutes. Radiating out from the central Duomo are neighbourhoods identified by their churches and piazzas. Although most of the famous sights are north of the Arno River, the area to the south known as the Oltrarno has its charms as well. The hotel is perfectly located on the banks of the River Arno near the Ponte Vecchio and the galleria degli Uffizi. You can paint from dawn to dusk with no need of transport and utilize the hotels roof top terrace to paint the River Arno and the terracotta roofs that Florence is so famous for. Every day will be spent painting with Peter in Florence. He will help you capture the rich layers that Florence has to offer and life scenes around the Duomo, in Piazza della Signoria and on the Ponte Vecchio as well as exploring the city's less famous streets. Pete will be giving plenty of encouragement and you will gain much from working alongside him.
Pete will be working in charcoal, oil and pastels. The informal style of this holiday will not include tuition, demonstrations or critiques and so is most suitable for painters with some experience. You cannot stay in Florence without seeing the great masterpieces of Leonardo, Michelangelo, Raphael, Botticelli and Caravaggio in the Galleria degli Uffizi and Michelangelo's David in the Galleria dell'Accademia, so these visits are included. You will be looked after by an accompanying travel escort, who will organise dinners each evening in nearby restaurants. Flights are direct to Florence on British Airways.
Paint in Florence Trip Details:
Price per person: £2,895.00
Single supplement: £450.00
Number of students: 8 – 12
Price includes: direct flights, hotel, breakfast and dinners, guest artist and travel escort.
This holiday is offered in association with The Artist Magazine
Professional artists
Other Trips
Past Trips