Go on safari with a wildlife film-maker, naturalist or conservation biologist
Safaris, and companies offering safaris, are not all the same.  Similarly, safari travellers, are far from an homogenous group. They each  hold a diverse set of must-sees and passions.  The hosts of our Specialist Hosted Safaris also bring with them individual passions, skills and knowledge that make them special, each offering something unique.
At Spencer Scott, we understand how important it is to choose wisely, after all, going on Safari is not cheap and could be just a once in a life times trip.   In the first of a series of blogs, 'Wildlife Encounters of a Different Kind', we set out to inform your choices and share  our years of experience working with some of the best wildlife film- makers, naturalists and conservation biologists out there.
So what are the different types of hosts we work with?
1. Naturalists
Going on safari with a good naturalist is like opening Pandora's box. They can not only predict animal behaviour but explain anatomically why species behave in such a manner and the influence of their ecosystem on their behaviour.  Their knowledge is global and expands across all species and any destination. If they have good communication skills then they are perfect safari hosts. 
You learn something every day on safari with a naturalist like Stephen Mills. He is also very switched on about current wildlife issues and conservation initiatives.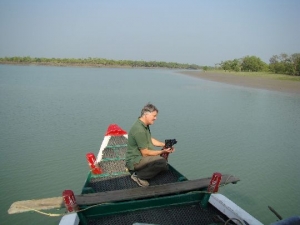 Stephen has always been fascinated by nature and all wildlife and much preferred to be out in the field than sitting in a class room.  He is an intellectual naturalist – a modern day Gerald Durrell and as knowledgeable and riveting to listen to as David Attenborough.  Stephen Mills is hosting our Tiger Safari and Gorilla Tracking in Rwanda & Uganda.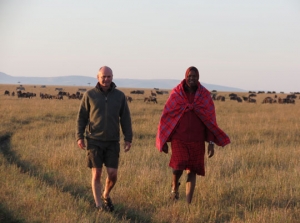 2. Wildlife film-makers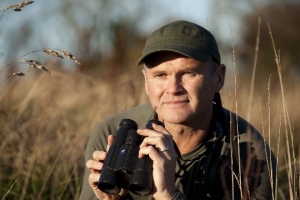 Superb at anticipating animal behaviour and know where to position themselves and their guests to be in the hot seat and to capture the best action.  They also have an eye for getting frame-filming images. They have unparalleled local knowledge of the destinations and weather patterns. Their network of contacts is invaluable in opening closed doors. They are celebrities of the bush and have many wild tales to tell. Spending time with people and sharing the love of their work is not for all film-makers but for someone like Simon King it comes naturally and is immensely rewarding.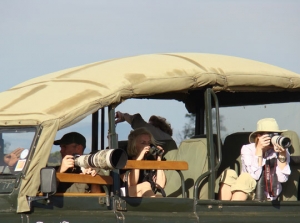 He is hugely popular with our guests, who value the specialised knowledge, enthusiasm and excitement he has for all creatures great and small, as well as his very stylish and personable hosting manner, in addition to his little surprises like cooking-up a bush-tucker breakfast on the back of a spade, over the camp fire! The filming world means that safari's with Simon happen last minute, but you can rest assured they'll be superlative –  always above and beyond the ordinary.
3.  Conservation biologists
Passionate about helping the survival of endangered species.  They can provide incredible in-depth knowledge about their favoured species, their  anatomy and ecosystem as well as localised human and environmental issues. These are focused safaris that show you hands-on conservation and how individuals can and do make a difference. Their dedication, energy and specific expertise is remarkable. They are dynamic and colourful characters, combining living wild to undertake pioneering research models, with making public appearances at show case conservation expos trying to spread the awareness of their work and fund raising. To travel on safari with world class field biologists is a life-shifting experience that has a lasting impact on you.  
We are currently working with two leading and very switched on conseravtion biologists. The unqiue ecological safaris we offer with conservation biologists financially support the long-term survival of wolves in Ethiopia and Wild Dogs in Africa.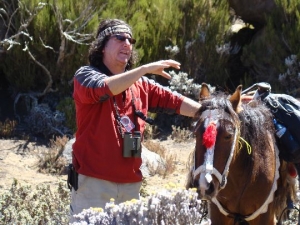 With Prof Claudio Sillero, Director of the Ethiopian Wolf Conservation Programme you can go Wolf Watching and experience their wild habitiat on horse back. Riding with wolves is truly awesome!.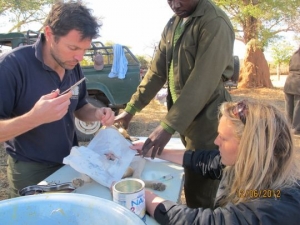 On our Wild Dog Safari in Zimbabwe you can see the benefits of the research model Dr Greg Rasmussen, Director of Research with Painted Dog Conservation, does in Mana Pools and witness the start of an all-important vaccination programme in Hwange National Park carried out by Steve Leonard, wildlife vet and Patron of Painted Dog Conservation. 
Going on safari ….. think twice about what you want to get out of your encounters with wildlife.  We hope one of these experiences resonates with your dreams and you choose wisely and sign up for one of our New Wildlife Trips in 2014.